Russia
Putin May Want to Pick a Male Interviewer Next Time
When Megyn Kelly turned up the heat, he turned to nastiness and eyerolls.
by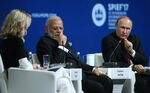 Russian President Vladimir Putin needed someone to deliver a message to his Western adversaries. He picked Megyn Kelly of NBC News, which was probably a mistake.
Kelly was invited to Putin's signature investment gathering, the annual St. Petersburg Economic Forum, to moderate a panel of four leaders: Putin, Indian Prime Minister Narendra Modi, Austrian Chancellor Christian Kern and Moldovan President Igor Dodon. The motley crew seemed calibrated to signal that Russia is working constructively with the developing world's giants, with European neighbors, and within its traditional sphere of influence. It's by no means isolated.
Next to this display, Kelly represented the U.S., the one "pole" in a multipolar world that's not engaged in constructive interaction with Putin's Russia. Mostly ignoring the other panelists, she grilled Putin on supposedly inconvenient subjects such as election interference and his support for Syrian President Bashar al-Assad. Putin, however, has heard these questions many times before, and was in a playful mood. Bored with reciting his now familiar answers, he shifted to tasteless jokes, mansplaining and mocking. He repeated his main message for Kelly about a dozen times for emphasis: "This has to stop at some point."
When the audience stood up to greet him, he barked, "At ease!" He joked that President Donald Trump and his stand on global warming must be to blame for the unseasonable chill in St. Petersburg and Moscow. He told Kelly a joke from the repertoire of Soviet comedian Arkady Raikin about a man who comes to a tailor shop to complain about a horribly ill-fitting suit, but no one will admit who made it. "I just sewed on the buttons," a worker tells the customer. "Got any problem with the buttons?" The Russian audience laughed, but the joke was incomprehensible in translation and Kelly looked baffled, just as Putin intended. He won a disbelieving look from the moderator when he likened the U.S. accusations of election interference to anti-Semitism: "The guy's an idiot and he keeps blaming the Jews: The Jews did it!"
Disconcertingly, Putin kept mentioning Kelly's children, about whom he seemed to know a lot ("They could have used your IP address and made it look as though your three-year-old did it," he said in answer to a question about all the traces that pointed to Russia in last year's Democratic National Committee hack). Twice, he asked the American TV anchor condescendingly whether she'd read a particular document -- first, the Paris climate accord (Kelly admitted she hadn't) and then the U.S. intelligence assessments concerning Russian meddling (she said she'd read the unclassified version; "That's nothing, I've actually read those reports," Putin replied to the audience's laughter, implying that he'd seen the classified versions, too). 
The naked misogyny Putin displayed was truly astounding. Kelly kept playing the hard-hitting journalist by asking follow-up questions, but all she got from Putin -- apart from the nastiness and the eyerolls -- were dismissive answers. There's no proof, Putin said, that Russia had meddled in the U.S. election. What disinformation? Weren't the leaks from the Hillary Clinton campaign all true? As for the Russian ambassador and his contacts with former National Security Adviser Michael Flynn, the diplomat was just doing his job.
He was indefatigable. There's no proof that Assad has used chemical weapons -- it was all a false flag operation to pin the blame on him. The Syrian opposition was a bunch of Islamist terrorists. The U.S. backed a coup in Ukraine and now was picking on Russia to unilaterally hold up the Minsk agreement, which was impossible without Ukraine's cooperation. Sanctions? They didn't work, all they did was mobilize Russia to develop certain industries.
The tone mattered far more than the words. Putin was telegraphing that he'd give these answers as many times as required, but there was nothing for Western negotiating partners to gain unless they moved on. That's also what he communicated in a meeting with U.S. businesspeople at the forum, exhorting them to "help us restore a normal political dialogue" with the U.S. government.
Putin is having a bad year as his geopolitical bets failed to pay off in Europe, the U.S. or the Middle East. But he's got more confidence in his nation's economy. At the forum, he boasted that investment in the Russian economy was growing faster than the gross domestic product, entering a new phase of growth. Indeed, in the first quarter of 2017, the Russian economy grew 0.5 percent while direct investment was up 2.3 percent. The punishing decline in retail sales, which had plunged Russia into a long recession, has also stopped. Russia's non-oil exports are beginning to grow slowly, and Putin says he's hoping for a technology-driven acceleration of growth (no, hackers have nothing to do with it). 
That's the second part of Putin's message, which he didn't need Kelly to deliver. He's telling the West that time is on his side: Sooner or later, business as usual will have to resume. 
It's unlikely, however, that Putin's messages will be heard as intended. In the U.S., his mocking, cheeky tone won't convince anyone to move past the Trump-Russia scandals. Europe could have been more receptive to the substance of Putin's arguments had he played to European leaders' disappointment with Trump. Instead, the Russian leader suggested that the Europeans had "bosses" in Washington whom they couldn't disobey -- not the right note to strike as Europe seeks to bolster its global role.
Putin's display was self-indulgent and likely ineffective, unworthy of the pragmatic image he tries to cultivate. Perhaps he would have done better with a male moderator.
To contact the author of this story:
Leonid Bershidsky at lbershidsky@bloomberg.net
To contact the editor responsible for this story:
Mike Nizza at mnizza3@bloomberg.net
Before it's here, it's on the Bloomberg Terminal.
LEARN MORE