Companies
Akzo Doesn't Worship Shareholder Value. Good for Akzo.
The Dutch company spurned a generous buyout offer because its ideals run deeper than Wall Street's.
by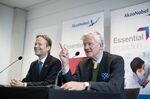 Contrary to Wall Street conventional wisdom, shareholder value isn't the only value. And you won't find a better recent example than the failed effort of Pittsburgh-based PPG Industries Inc. to take over Akzo Nobel NV, a Dutch paint and chemical manufacturer.
As detailed in an excellent story by Ellen Proper of Bloomberg, PPG's chief executive Michael McGarry spent three months, more or less nonstop, trying to persuade Akzo Nobel and its 70-year-old chairman, Antony Burgmans, to merge with his company. But, said McGarry in acknowledging defeat on Thursday, Akzo's board "consistently refused to engage." Indeed, Burgmans and chief executive Ton Buechner wouldn't even return some of PPG's phone calls.
PPG's opening bid would have given Akzo's shareholders a significant premium, 40 percent. Its last bid represented a mouth-watering 50-percent premium. Burgmans and Buechner were unmoved. PPG offered to include a $674 million breakup fee to be paid to Akzo if antitrust regulators rejected the deal. Burgmans and Buechner shrugged.
Hugh Grant, PPG's lead independent director, 1  suggested that Burgmans could have a seat on the board if he would help close the deal. PPG offered to set aside millions for Akzo's management and even suggested something called a "ticking fee," which would give shareholders a dime per share if the deal hadn't closed after 15 months. 2  No, no and no, said Burgmans and Buechner.
Meanwhile, even as McGarry was trying to use carrots to entice Akzo, another participant, Elliott Management Corp., the big activist hedge fund run by Paul Singer, was resorting to sticks. Elliott, renowned for its hardball tactics — remember when it seized an Argentinian ship five years ago during its battle with that country over bond repayments? — had never evinced the slightest interest in the Dutch paint maker before PPG went public with its offer.
But now, you see, it held 3.25 percent of the stock, which meant it was … a shareholder. And as a shareholder, it had every right to demand that Akzo and Burgmans maximize shareholder value by embracing PPG's generous offer. Angered by Burgmans's refusal to embrace PPG's proposal, Elliott actually went to court to try to get the Akzo chairman — "the elder statesman of the Dutch business world," in Proper's words 3  -- fired. Its argument? That Burgmans's opposition to a PPG takeover was in "flagrant breach" of his responsibility to the company's shareholders. Of course.
Instead, on Monday, the Commercial Court of the Netherlands ruled that Akzo Nobel had no obligation to involve shareholders in its decision-making. The shareholder vote Elliott was calling for was rejected. On Thursday, PPG folded its tent. As for Elliott, it declared itself "surprised and disappointed" by the court defeat and hasn't been heard from since.
To me, the surprise is that anyone could be surprised that a Dutch court would rule in favor of a Dutch company trying to remain independent. Outside of Wall Street and the City of London, shareholder value simply does not trump all. Like many European companies, Akzo Nobel talks not just about its shareholders but its stakeholders, which include employees, customers, community and even country. For example, Akzo's relationship with its unions is much more collaborative than is typical in the U.S. One of its most potent arguments was that a PPG takeover would cost jobs. 4
But it was always more than that. The Netherlands has a handful of big multinational companies, such as Royal Dutch Shell Plc, Philips NV and ING. It is a matter of national pride that those companies remain independent. Indeed, in March, when PPG first made its interest in Akzo known, the Dutch Economic Affairs Minister Henk Kemp said that a takeover was "not in the national interest." To many Dutch citizens, Burgmans's resistance to PPG's offer was an act of patriotism.
The shareholder-value absolutists in the U.S. and London would probably cast the Dutch view as silly; multinationals, after all, transcend borders and create jobs around the globe. Even Akzo, which has 46,000 workers, only employs 11 percent of them in the Netherlands. And, they would no doubt argue, companies that focus on shareholder value are more profitable and efficient.
But to the Dutch — and to people in many other countries — making money for shareholders is simply not necessarily the highest priority, not compared to job stability or national identity. Proper told me in an email that after PPG withdrew its bid, the Dutch newspapers cast both Burgmans and Buechner as heroes for repelling the barbarians at the gate. Presumably some of those cheering were Akzo shareholders, even though the two men had allowed a 50-percent premium to slip away.
In mid-April, in the midst of the takeover fight, Akzo held a conference call to report its first quarter earnings (revenue up seven percent; "adjusted earnings per share" up eight percent). Very late in the call, after the company had laid out its strategy to deliver "long-term value creation," as Buechner put it, Tim Jones, an analyst who works in Deutsche Bank's London office, got on the line.
"I'm a bit surprised I'm the first person to actually mention PPG in this whole set of presentations," he said.
He shouldn't have been. Repeat after me: Shareholder value isn't the only value.
To contact the author of this story:
Joe Nocera at jnocera3@bloomberg.net
To contact the editor responsible for this story:
Jonathan Landman at jlandman4@bloomberg.net
Before it's here, it's on the Bloomberg Terminal.
LEARN MORE