White House
When the Feds Come Knocking on Kushner's Door ...
The president's son-in-law will be a very different kind of target for the Russia investigators.
by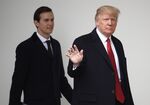 Jared Kushner, according to reporting on Thursday from NBC and the Washington Post, is now front-and-center in the FBI's investigation of Russia's intersection with the Trump presidential campaign and, apparently, the Trump White House.
There are some unanswered questions here: NBC noted that Kushner is being treated differently from Trump campaign aides, such as Paul Manafort, and former White House officials, such as Michael Flynn. Grand juries have subpoenaed records from both of those men, and it's not clear if subpoenas have landed on Kushner's doorstep.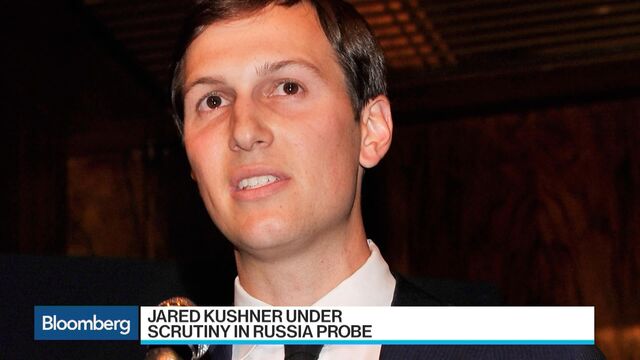 But the Washington Post also reported -- and this seems central and crucial as to why the president's son-in-law is a different sort of target here -- that the FBI is focusing on a series of conversations that Kushner had in December with Russia's ambassador to the U.S., Sergey Kislyak.
At the time, Kushner had already spent months trying to arrange fresh financing for a troubled building his family owns, 666 Fifth Avenue.
After one of those meetings, Kislyak arranged a meeting between Kushner and Sergey Gorkov, the powerful chief executive of a major Russian bank, Vnesheconombank, also known as VEB.
The U.S. had imposed financial sanctions on VEB because of Russian President Vladimir Putin's military incursions in Ukraine and annexation of Crimea. (During this period the Russians were also meeting with Flynn, Trump's incoming national security adviser.)
VEB has close ties to the Kremlin, and Gorkov attended a training academy for members of Russia's security and intelligence services. A Trump spokeswoman has described Kushner's meetings with the Russians as routine, which they may have been given his role at the time as Trump's liaison to foreign powers.
But given the significance of 666 Fifth Avenue to Kushner and his family's fortunes, it's also possible that he saw the Russians as potential investors.
It's worth recalling that Kushner had spent the prior months lobbying Anbang, an insurer and prolific deal-maker close to China's government, for a major investment in 666 Fifth Avenue. Anbang had considered investing $4 billion in the building.
Kushner overpaid for the building in 2007, when he bought it with the help of bank loans for $1.8 billion. When the financial crisis landed a year later, occupancy rates in the building plummeted and Kushner had to be rescued by outside investors.
Anbang's investment would have valued the building at a handsome $2.85 billion, and also refinanced about $1.15 billion in debt.
The possibility of a transaction brought scrutiny from two Bloomberg reporters, Caleb Melby and David Kocieniewski, as well as from Congress and the New York Times. I discussed it in a column here and here. The Anbang deal faded after the Bloomberg report.
There's good reason for all the attention being paid to these things: Kushner is a senior White House adviser and a pivotal voice on foreign policy issues. Kushner was also reportedly one of the leading voices telling Trump to fire James Comey from his job as FBI director.
"Mr. Kushner previously volunteered to share with Congress what he knows about these meetings," Kushner's lawyer, Jamie Gorelick, told CNN on Thursday. "He will do the same if he is contacted in connection with any other inquiry."
Kushner, at 36 years old, had little diplomatic or global business experience prior to the president giving him one of the White House's most powerful and multi-faceted portfolios. The prospect that he may have been jockeying for Chinese or Russian financiers to bail out him and his family from a potentially disastrous investment at 666 Fifth Avenue presents complex but obvious conflicts of interest as well as the prospect of injudicious or self-serving White House policymaking.
The Trumps and the Kushners have also played fast and loose with the norms of ethics and conflicts of interest standards as they've gone about mingling their political and business lives. It's visible in the Washington hotel that they continue to own and run not too far from the White House; it's visible in the Kushner family's recent fundraising tour in China for a New Jersey property, and it's visible -- in the very lack of visibility -- around the president's own financial holdings and tax payments.
Trump is insulated from some of this, legally. As he said just two weeks after his November election victory: "The law's totally on my side, meaning, the president can't have a conflict of interest."
The president can have a financial conflict, of course. But no federal ethics laws apply to the president. (There are anti-bribery clauses of the Constitution that do, however.)
Regardless, the president is, indeed, in a privileged legal position when it comes to financial conflicts.
Trump's advisers and relatives are not immune to those laws and others, however. To the extent that the FBI is knocking on Kushner's door with financial questions, the president's son-in-law could be in a very difficult situation.
This column does not necessarily reflect the opinion of the editorial board or Bloomberg LP and its owners.
To contact the author of this story:
Timothy L. O'Brien at tobrien46@bloomberg.net
To contact the editor responsible for this story:
Philip Gray at philipgray@bloomberg.net
Before it's here, it's on the Bloomberg Terminal.
LEARN MORE