Editorial Board
New Orleans Flees the Confederacy
Mayor Mitch Landrieu faces the past.
by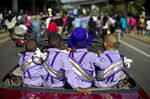 Whitewashing the ignoble aims of the Confederacy, and of the white supremacists who continue to glorify it, is a deeply ingrained political instinct. The lie of the "Lost Cause" owes its longevity not so much to the racists who believe in it as to the many politicians who enable it.
In many cities and towns across the American South, that political complicity is memorialized in granite and stone. Flags, statues and monuments, along with honorifics attached to schools, streets and public spaces, valorize the Confederacy. They also serve as a reminder that some whites persist in rationalizing the historical subjugation of one race by another -- while others are too indifferent to raise a ruckus about it.
In New Orleans, once the site of the largest slave market in the U.S., Mayor Mitch Landrieu has broken this chain of complicity. This past month, Landrieu oversaw the removal of four Confederate statues long afforded official reverence. And in a powerful speech last week, he explained why they had to go.
"These monuments purposefully celebrate a fictional, sanitized Confederacy; ignoring the death, ignoring the enslavement, and the terror that it actually stood for," Landrieu said. To the argument that removing the statues would be whitewashing history, he asked why there were "no slave ship monuments, no prominent markers on public land to remember the lynchings or the slave blocks; nothing to remember this long chapter of our lives." There is a difference, he noted, between "remembrance of history and reverence of it."
In removing the statues, Landrieu showed courage that others lack. But he also showed a respect for the democratic process. The statues were removed after public hearings, approvals from community commissions and a 6-1 vote by the city council, as well as lengthy judicial review.
A problem solver who has not shied from tackling chronic unemployment and other local ills, Landrieu was careful not to mount a pedestal himself. "I must have passed by those monuments a million times without giving them a second thought," he confessed. "So I am not judging anybody."
Landrieu was right, however, to judge the Confederacy, and to dethrone it in his polyglot city. 
--Editors: Frank Wilkinson, Michael Newman
To contact the senior editor responsible for Bloomberg View's editorials: David Shipley at davidshipley@bloomberg.net .
Before it's here, it's on the Bloomberg Terminal.
LEARN MORE