view
Where Immigrants Get the Job Done, and Where They Don't
The gap between foreign-born and native-born employment is especially wide in Europe's wealthiest nations.
by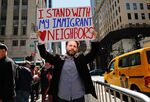 Overall, labor markets in the Netherlands and Sweden are pretty healthy. The two countries' unemployment rates are near the middle of the pack among members of the affluent-nations club called the Organization for Economic Cooperation and Development, and their employment-to-population ratios -- a measure I prefer because it doesn't ignore the labor-force dropouts who have become such a big issue in the U.S. -- are among the best around.

When you look at employment metrics for immigrants in the Netherlands and Sweden, though, things start to look really different. Among OECD members for which data is available, 1 they have the biggest gap in employment between native-born and foreign-born inhabitants:
Note where the U.S. is on that chart. Here, immigrants are more likely to be employed than native-born people are.
Sweden does have a pretty good excuse for its yawning immigrant employment gap: Over the past five years, the country of 9.9 million people has welcomed 127,000 refugees from war-torn Syria, 2 and before that a similarly large number fleeing conflict in Iraq. Syria will probably surpass Finland this year as the No. 1 country of origin for immigrants in Sweden. Iraq is No. 3. Recent arrivals who came seeking not so much economic opportunity as safety, and are certain never to have studied the Swedish language in school back home, are inevitably going to struggle to find work.

The Netherlands houses refugees from Syria, Iraq and elsewhere, too, but in much smaller numbers relative to its population than Sweden. It has large immigrant populations from Morocco, Turkey, and current and former colonies in the Antilles and Suriname that have all struggled to find a place in the labor market. This is a problem, as is apparent from the above chart, that's endemic to the wealthy nations of continental Europe. 3 Some combination of hard-to-break-into job markets, poor schools in immigrant neighborhoods, language barriers, generous welfare systems, and cultural factors is conspiring to keep immigrants from working. One of those cultural factors is that so many of its immigrants come from Middle Eastern and North African countries where women are less likely to work outside the home -- and yes, the immigrant employment gap is generally much bigger for women than for men.

Gender differences are apparent in the U.S. as well. That is, foreign-born women here are slightly less likely to have jobs than native-born women, while among men, immigrants are much more likely to have jobs.
So while resentment of immigrants -- or dislike of mass immigration -- has been a big political theme for the past few years all over the Western world, it's important to note how different the immigration challenges are in continental Europe from in the U.S. and other immigrant nations such as Canada and Israel. There, the main issue is one of integration -- and it's clearly a huge problem. Here, at least in terms of the labor market, there's no integration problem at all.
I got that simply by subtracting the 22,357 Syrian-born people in Sweden in 2011 from the 149,418 in 2016. So they may not all be formally refugees, but you get the basic idea.
To contact the author of this story:
Justin Fox at justinfox@bloomberg.net
To contact the editor responsible for this story:
Brooke Sample at bsample1@bloomberg.net
Before it's here, it's on the Bloomberg Terminal.
LEARN MORE