Editorial Board
Macron's Work Has Barely Begun
France's labor laws are blighting the country's prospects.
by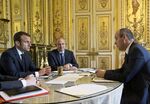 Emmanuel Macron is nothing if not persuasive. He's built a political movement from scratch and won enough votes from France's established parties to take the keys to the Elysee Palace. He'll need those skills and more to carry out an essential reform that has eluded all his predecessors -- freeing up France's labor market.
Just last year, France debated the latest of many attempts to make its labor laws less rigid. After furious protests, the plan was diluted down to not much -- and even then was implemented only by using a special constitutional provision that let the government bypass Parliament. This struggle pretty much sealed the fate of Macron's predecessor, Francois Hollande. Macron cannot be under any illusions about the challenge he faces.
The famed 35-hour working week is not the main problem, at least in the private sector. Many workers put in much longer hours (and are paid generously for it). The real issue is that labor laws leave almost no room for individual company-level negotiation. Terms are governed by complex regulations and collective bargaining that is highly centralized. Over 95 percent of employees are covered by such agreements  -- even though less than 8 percent of workers (even fewer in the private sector) are actually union members.
The El-Khomri law, as the 2016 effort was called, did make it a bit easier for companies to dismiss workers for economic reasons. It liberalized working hours some. But it fell a long way short of what was promised or needed. The permitted criteria for dismissal remain vague and their application can vary from local tribunal to local tribunal. If the French subsidiary of an international firm is in trouble, it can't fire staff if the parent firm is doing fine -- hardly a draw for foreign investors.
A system designed to protect workers has become a huge obstacle to growth and employment. And the labor code isn't the only thing keeping people out of work. France also needs education reform. There are too few opportunities to acquire workplace skills, creating a permanent class of unemployed and underemployed. France's apprenticeship system is more complex and much less effective than Germany's.
These failings have hit young people especially hard. The stresses have helped to fuel a rise in populism, leaving foreigners and free trade out of favor and even weakening support for the European Union.
Macron is aware of the stakes and apparently unafraid to confront the unions, which is encouraging. But winning the presidency wasn't enough. He now needs to convince voters to give his party a majority in parliament. Even with that, he'll have his work cut out. Without it, the prospects for the reforms France needs aren't bright.
--Editors: Therese Raphael, Clive Crook.
To contact the senior editor responsible for Bloomberg View's editorials: David Shipley at davidshipley@bloomberg.net .
Before it's here, it's on the Bloomberg Terminal.
LEARN MORE