Editorial Board
Assigning Credit for the Irish Economic Miracle
Ireland's voters should give departing Taoiseach Enda Kenny higher marks.
by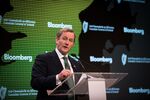 When Enda Kenny's center-right Fine Gael party came to power in 2011, Ireland was dealing with the collapse of its banking system and struggling to comply with the demands of an international rescue program. Six years later, the economy is booming. Unemployment has fallen from nearly 15 percent to a little over 6 percent, and Ireland pays less to borrow than the U.K.
Where does the credit for the Irish miracle belong? The country's voters aren't sure. The recovery hasn't helped everybody, and Fine Gael did badly in elections last year. Kenny is now stepping down as premier. Foreign observers are divided, too. Some think Europe's tough conditions worked, others that its demands delayed a boom that would have happened anyway.
Learning the right lessons from Ireland's experience would be good. The same questions will come up again -- if not in Ireland, then elsewhere in the euro zone.
Ireland's adjustment program had three main parts: budget cuts, bank restructuring, and economic reforms. The fiscal squeeze was painful -- but unavoidable. The budget deficit had climbed to an unsustainable level of well over 10 percent of gross domestic product in 2009 and 2010, even before counting the enormous cost of supporting the banks. Job losses and spending cuts in the public sector were necessary. Kenny forced them through, setting a good example by cutting his own pay and that of his senior ministers.
Concerning the banks, there were missteps early on. In 2008, the previous government gave a guarantee to all bank creditors, causing the public debt to balloon. A "bad bank" created to manage non-performing loans helped lenders to recover; later it even turned a small profit. When stress tests showed weaknesses in four of the surviving banks, Kenny committed more public funds to their support. It was a fiscal and political ordeal, but Ireland's banks returned fairly swiftly to serving the needs of the economy.
The least effective aspect of Ireland's program was structural economic reform. The idea was to boost competitiveness by curbing wages -- but Ireland's export performance has had more to do with attracting inward investment. This, in turn, relied on very low taxes and a friendly business environment. With those in place, Ireland's exports boomed as the global economy recovered.
Two lessons seem clear: Don't let budget imbalances get out of hand, and deal with bank restructuring promptly. A third is less straightforward: Relying on low corporate taxes as an inducement for inward investors is a risk. The EU is clamping down on tax avoidance, and this could drive capital away. 
So how much credit does the departing Taoiseach deserve? Despite the complications, more than the voters seem to think. It boils down to this: Kenny presided over a recovery that nobody would have predicted when he took office. Success like that shouldn't be taken for granted.
--Editors: Ferdinando Giugliano, Clive Crook
To contact the senior editor responsible for Bloomberg View's editorials: David Shipley at davidshipley@bloomberg.net .
Before it's here, it's on the Bloomberg Terminal.
LEARN MORE