Real Estate
The Return to Sprawl Is More About Supply Than Demand
Everyone wants walkable neighborhoods close to shopping, restaurants and highways. Not everyone can have them.
by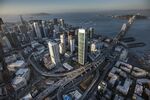 Getting new housing built in San Francisco is a famously difficult endeavor. The city is hemmed in by water on three sides, ran out of greenfield tracts to build on in the 1950s, and is full of people who think their city is perfect as it is and doesn't need to get any bigger -- especially not if the newcomers are (horrors!) tech workers.

Still, the city added 5,114 net new housing units in 2016, which appears to be the most net new units added in a year since the 1940s. 1  Another 4,087 units were permitted for construction last year. That was 28 percent of the housing permits granted in the entire San Francisco-Oakland metropolitan area, while San Francisco only accounts for 18.6 percent of the metro area's population. This new construction in San Francisco has been concentrated in and around the city's downtown.

So when you see headlines about "The Myth of the Return to Cities," it's important to note that it's not a myth everywhere. In fact, it's not really a myth at all. It's just ... complicated. That particular phrase was attached Monday to a piece in the New York Times by real estate economist Jed Kolko, where it was preceded by the words "Seattle Climbs but Austin Sprawls." That is, some metropolitan areas are getting to be more densely populated; most aren't. Yet another real estate economist, Issi Romem of the building-contractor site BuildZoom, described the same phenomenon Sunday in an examination of why housing construction has been so sluggish. What's going on, he wrote, is that:
In less costly metros, new housing is reverting to pre-recession growth trends, rebounding primarily at the outer fringe where vacant land is plentiful.

In expensive coastal cities, slow outward expansion and gradual development within the footprint have depleted the supply of vacant lots. As a result, new housing remains depressed wherever density is taboo -- from the interior suburbs right up to metropolitan fringe -- but it has rebounded near the center, where dense construction is allowed.
This center-city rebound is apparent even in what Romem calls "expansive cities" such as metropolitan Austin, Texas. It's just that their urban cores tend not to be all that big, while there's still tons of vacant space along the fringes.

Meanwhile, in an "expensive city" such as the San Francisco area, it has become so hard to build in the suburbs that the central city and nearby urban neighborhoods now lead the way in housing construction. 2

What's true in both kinds of metropolitan areas is that housing prices have been appreciating much faster in the center than on the fringes.

So when scholar/pundit Walter Russell Mead interprets Kolko's research to mean that "now that millennials are starting to get married and make more money and enter the housing market, the demand for suburban living is increasing," I don't think he's got it quite right. I'm perfectly willing to believe that most Americans still prefer detached houses to city apartments, but it is clear from the price data that there's much more demand for urban living relative to suburban living than there was 15 years ago.
The sweet spot of U.S. housing demand -- if I'm reading the most recent National Association of Realtors and Portland State University Community and Transportation Preferences Survey correctly -- is for neighborhoods of densely packed single-family houses with sidewalks and short walks to restaurants, shops and public transportation but with easy highway access as well. Such neighborhoods do exist in U.S. cities and inner suburbs, but they tend to be expensive and awfully hard to build new housing in. So we get center-city high rises and exurban sprawl instead. Supply constraints are dictating the shape of America's growth at least as much as demand is.
That's based on a chart that Eric Fischer compiled last year.
To contact the author of this story:
Justin Fox at justinfox@bloomberg.net
To contact the editor responsible for this story:
Brooke Sample at bsample1@bloomberg.net
Before it's here, it's on the Bloomberg Terminal.
LEARN MORE