Early Returns
The Non-Trump Budget Isn't Great for Trump
Jonathan Bernstein's morning links.
by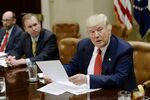 A president's budget, as many have pointed out over the last few days, is only a proposal, with presidents not even getting an opportunity to veto or sign the eventual congressional budget resolution. If Congress wants to ignore what the president proposes, it is free to do so at this stage of the budget process -- although it needs the president's signature later on for spending bills and any changes in taxes or entitlement spending (such as Social Security and Medicare). 
So what are we to make of Donald Trump's budget, which slashes numerous domestic programs? Politico's Ben White suggests:
I don't think so. The supposed budget "box" depends on an assumption that the deficit must be lowered (or even eliminated), and there's little evidence that either Trump or most Republicans care about that (and no, don't believe any nonsense you hear about this budget balancing). 
Meanwhile, I'm even more skeptical that we should think of this as Trump's budget. Instead, this appears to be basically a House Freedom Caucus budget, prepared by White House budget chief and former Freedom Caucuser Mick Mulvaney, since for whatever random reason Trump selected him as director of the Office of Management and Budget. It's unlikely Trump either knows or cares about how such a budget differs from a Paul Ryan budget, or a Senate Republican budget, or, for that matter, even a Democratic budget. But such a budget would normally get only some 40 or 50 votes in the House, and I suspect it's unlikely to do much better with Trump as the nominal sponsor. 
By (presumably) abdicating his responsibility, Trump is saddling himself and congressional Republicans -- even if they ignore his budget entirely -- with some pretty unpopular cuts to some pretty popular programs. All of which is unlikely to win the president any new friends right about when he could really use some.  
1. Rick Hasen on the Supreme Court decision on North Carolina's district lines. 
2. Dan Drezner predicted Monday morning that a Trump gaffe was coming, a prediction fulfilled by Monday afternoon.
3. "Trump ... has opted instead for an alliance strategy of concessions and warm embrace." Marc Lynch at the Monkey Cage on Trump's trip to Saudi Arabia. 
4. Don't miss the final report of Presidential Gender Watch 2016. 
5. My Bloomberg View colleague Cathy O'Neil with a very plausible explanation for how Trump "learns." 
6. Also here at View: Sarah Chayes on Trump and kleptocracy.
7. Kevin Drum breaks down some budget gimmickry in the financial regulation bill. 
8. And Seth Masket at Pacific Standard on the Kennedy myth. 
Get Early Returns every morning in your inbox. Click here to subscribe.
To contact the author of this story:
Jonathan Bernstein at jbernstein62@bloomberg.net
To contact the editor responsible for this story:
Brooke Sample at bsample1@bloomberg.net
Before it's here, it's on the Bloomberg Terminal.
LEARN MORE