White House
Don't Let the Original Trump-Russia Question Fade
Proving collusion is far more important to the nation's long-term interests than Trump's attempts to shake off the investigation.
by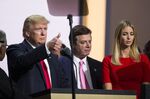 The Trump-Russia scandal has changed. The latest leaks are all about President Donald Trump's acute discomfort with the investigation into his 2016 campaign's possible collusion with the Kremlin, not about the collusion itself. This is a dangerous bit of bait-and-switch: Soon, it may not even matter whether or not Trump or his associates accepted help from President Vladimir Putin or those working for him.
In 2002, a poll revealed that 65 percent of Americans didn't remember enough about Watergate to tell the basic facts to another person. At the same time, 63 percent said Richard Nixon's actions were serious enough to warrant his resignation. Almost two-thirds of the American public would be unable to say exactly what Nixon did, whether he knew in advance about the Democratic National Committee burglary (there's no evidence that he did) and what he undertook to cover it up (schemed to replace the investigating agency and hide evidence).
In today's fast-moving world, it won't take 40 years to get there. No one will care about the major differences between Trump-Russia and Watergate if the basic plot appears similar -- and now, it does.
All the recent leaks are about Trump trying to shake off the Russia investigation. There is the "Comey memo" telling of Trump's suggestion that the former Federal Bureau of Investigation director drop the investigation of former National Security Adviser Michael Flynn. There's Trump's admission that he was thinking about the "Russia thing" when he fired James Comey. There's his alleged remark to Russian Foreign Minister Sergei Lavrov that firing "nut job" Comey eased the Russia-related pressure on him (Lavrov denies Trump said this). And there are the latest reports that Trump attempted to get Director of National Intelligence Dan Coats and National Security Agency Director Michael Rogers to say publicly that they had no evidence of Trump-Russia collusion.
That's suddenly sounding like an attempted cover-up, Nixon-style. Next thing we know, special counsel Robert Mueller will be demanding that the White House release recordings of Trump's conversations about the scandal (if they exist, as Trump has hinted), the way Archibald Cox once did with Nixon. And perhaps, who knows, there will be enough evidence to charge Trump with obstruction of justice tied to his trademark impatience or something far more serious. 
But where is Russia in this anymore? As a Russian opposed to the current Kremlin regime but interested in the long-term relationship between the U.S. and my country, I don't much care what Trump told members of the U.S. intelligence community and how they replied. Perhaps that's obstruction of justice and perhaps it isn't; we already know that Trump's handling of the situation is clumsy in the extreme. Instead of clearing the way for the investigation, he has been criticizing it, and that makes him look guilty. But I'm far more interested in the original subject of the investigation: Did the Trump campaign actually get help from Moscow, and if so, did they accept it wittingly or unwittingly?
Answering these questions would mean some specific steps on the part of a politically impartial investigation.
It would need to establish who hacked the DNC and Hillary Clinton's campaign officials. I know the U.S. intelligence community thinks it was "the Russians," but that's only an opinion, although, we're told, based on some non-public evidence. In the Watergate case, the burglars were exposed.
It would need to establish who handed over the stolen data to WikiLeaks. 
It would need to figure out whether anyone on the Trump campaign was in contact with the hackers, the leakers or those who controlled them; in the latter case, it would also mean establishing a connection between the controllers and the hackers and leakers. The Watergate investigation established a connection between the Nixon campaign and the burglary.
And if it succeeded at that -- and two years passed between the arrest of the plumbers and Nixon's impeachment -- it would need to find out whether Trump knew about the contacts and authorized them or hid them. The Watergate investigation never proved that Nixon had prior knowledge of the plot.
None of the many revelations so far have addressed any of these issues that must be at the core of a serious investigation. Sally Yates, the acting Attorney General fired by Trump for refusing to defend the travel ban, testified to senators that "we believed that Gen. Flynn" -- a top campaign adviser and Trump's first national security adviser -- "was compromised" with the Russians. There are stories about Trump's former campaign chief Paul Manafort's work for deposed Ukrainian President Viktor Yanukovych and his failed business venture with Russian aluminum magnate Oleg Deripaska; about a Russian state bank helping to fund a Trump-branded project; about a man named Carter Page, whom no one can remember in Moscow or Washington, but who apparently knows some suspicious Russians. But there are no leaks or journalistic investigations that would actually indicate collusion between the Trump campaign and the Kremlin in releasing material that may have helped Trump win the election.
On Tuesday, former CIA Director John Brennan testified to the House Intelligence Committee that he had concerns, without citing specific evidence. "I encountered and am aware of information and intelligence that revealed contacts and interactions between Russian officials and U.S. persons involved in the Trump campaign that I was concerned about," he said.
That's the really important matter to investigate. If Putin and Trump -- or people working for them -- actually made a deal to swing a U.S. election, that calls for impeachment and treason charges. If Trump was complicit in such a plot, he shouldn't be president. If he tried and failed to shut down investigations that later revealed collusion by his underlings without his knowledge, it's a more complicated matter.
For now, the public case against Trump appears to be about his clumsy interactions with U.S. intelligence officials, not about any evidence of collusion. This threatens to further chill delicate and extremely important relations between the U.S. and Russia for petty political reasons. I also fear that Russian people will be stigmatized in the U.S. regardless of whether they have anything to do with Putin's Kremlin. If Trump is undone by this secondary, derivative scandal, soon no one will remember exactly what happened and the collusion story may be validated by default, as far as most Americans are concerned.
I hope Mueller's investigators will remember what they're investigating, and I hope they do an honest job.
This column does not necessarily reflect the opinion of the editorial board or Bloomberg LP and its owners.
To contact the author of this story:
Leonid Bershidsky at lbershidsky@bloomberg.net
To contact the editor responsible for this story:
Mike Nizza at mnizza3@bloomberg.net
Before it's here, it's on the Bloomberg Terminal.
LEARN MORE