Editorial Board
The U.S. Has a Big Stake in Africa's Success
American engagement should go beyond more drones in the air and boots on the ground.
by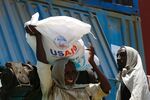 Troops mutiny in Ivory Coast. Ebola resurfaces in the Democratic Republic of Congo. Zambia jails its most prominent opposition leader. Corruption deepens in South Africa.
These recent headlines are a reminder that terrorism and violent extremism aren't the only challenges facing sub-Saharan Africa. Yet the Trump administration shows little interest in the continent beyond this narrow concern. That's a mistake. The U.S. also has a stake in Africa's broader stability and prosperity.
The continent didn't come up in the presidential campaign's three debates. Trump's tweets -- not counting a few pre-election blasts about crime in South Africa and the many times he unwisely called for ending air travel to West Africa during the Ebola epidemic -- are likewise unrevealing. Since taking office, Trump has left senior Africa-policy positions unfilled, and has had only brief single phone conversations with three African leaders.
Those calls stressed counterterrorism and security. Trump's preliminary budget for the next fiscal year squeezed U.S. aid programs in Africa more than in any other region, cutting humanitarian funding at a time of extreme need and eliminating cultural exchange and other so-called soft-power programs. His reinstatement of the rule banning U.S. funding for aid groups that "perform or actively promote abortion as a method of family planning" will also hit Africa hard.
Given the threat posed by Islamist militants across much of the region, the commander of U.S. defense operations in Africa is surely right to say that "the greatest threat to U.S. interests emanating from Africa is violent extremist organizations." In recent years, U.S. deployments (especially of special forces) have surged. But he also argued for a "whole of government approach" to the high unemployment and governance failures that help to breed extremism.
That calls for maintaining, if not stepping up, U.S. aid to Africa -- the approach that Congress wisely took in blunting the administration's cuts for the remainder of this fiscal year. It also calls for building a stronger partnership in the region with Japan, whose prime minister, Shinzo Abe, has made increased aid and investment to Africa a priority. And when it comes to tackling crises like Ebola or famine, geopolitical competition and old animosities should come second to working with countries such as China and, yes, Cuba on the problem at hand.
In the first instance, this would save and improve lives. It could pay other dividends as well -- like promoting African cooperation in implementing sanctions against North Korea, for instance. And speaking of dividends, don't forget that, despite an upsurge in Chinese involvement, the U.S. is still the continent's biggest investor, in a market projected to be worth nearly $6 trillion by 2025.
The U.S. and its partners have a compelling interest in helping to promote political stability and economic growth in Africa. There's nothing mushy about that idea, Mr. President. It's just good business.
--Editors: James Gibney, Michael Newman.
To contact the senior editor responsible for Bloomberg View's editorials: David Shipley at davidshipley@bloomberg.net .
Before it's here, it's on the Bloomberg Terminal.
LEARN MORE