Labor
The Limits of West Virginia's Recent Comeback
Coal mining won't attract the educated workers the state needs to thrive.
by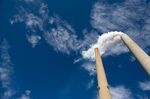 For all of 2014 and 2015 and the first half of 2016, fewer than 50 percent of West Virginians age 16 and older had jobs. Those dark days are over. In April, according to state jobs data released Friday, the state's employment-to-population ratio was up to 50.6 percent.
This shift in economic fortunes is also apparent in the state's unemployment rate, which has gone from one of the highest in the country in 2015 to middle of the road now.
The most obvious explanation is the modest resurgence of the coal-mining industry. As Bloomberg's Tim Loh wrote earlier this month:
Like a mountain stream reviving after a drought, money is trickling into Appalachia again -- at least, for now. It begins with a trio of global forces: Chinese production curbs, President Donald Trump's anti-regulatory policies and investor bets that have, over the last year, doubled the market value of publicly traded U.S. coal companies, to $15 billion.
On a national scale, this comeback doesn't amount to much, but for a state with a population of 1.83 million (down from 1.85 million in 2010), it's enough to make a noticeable difference in the labor market.
One thing the coal comeback hasn't put much of a dent in, though, is the remarkably large percentage of West Virginians who have dropped out of that labor market. The state's labor-force participation rate -- the percentage of civilians 16 and older who either have a job or are actively looking for one -- is, at 53.1 percent, only slightly above the lows of 2014 and by far the lowest in the country (Mississippi is next-lowest at 57 percent). As best I can tell, West Virginia's rate has been the lowest in the nation every month since January 1976, which is as far back the Bureau of Labor Statistics data series on state labor-force participation goes. West Virginia is also the only state to see its employment-to-population ratio drop below 50 percent at any time during that period.
I bring all this up not to pick on West Virginia, but to offer some context on a state that gets an inordinate amount of attention in national economic policy discussions. One reason it gets so much attention is that its fortunes have long been tied to those of the cyclical -- and in recent years controversial -- coal industry. Another is that, as the low labor-force participation rate indicates, its economy has been weak for a long, long time.
President Trump promised again and again on the campaign trail to "bring coal back." While there are some pretty strong forces that will likely keep depressing demand for the thermal coal used in power plants, a rebound in demand for the metallurgical coal used in steelmaking and the prospect of a regulatory respite for thermal coal appear to be have been enough to stop the industry's hemorrhaging. That's been good news for West Virginia's job market. But the bigger problem of a huge segment of the state's population being disconnected from that job market remains.

Why is labor-force participation in West Virginia so low? One reason is that so many people there are disabled -- the state and neighbor Kentucky lead the country in the percentage of residents receiving Supplemental Security Income (4.15 percent and 4.16 percent respectively in 2015). There are lots of potential causes for that, but the dangers of coal mining have to be among of them. West Virginia's population also skews old, with the state trailing only Florida and Maine in the percentage of residents 65 and older (18.2 percent in 2015). Unlike Florida, it's not exactly a magnet for retirees -- it's just that younger people are leaving, or not coming in. And the most obvious reason for that is that the state just isn't creating many jobs.

My Bloomberg View colleague Tyler Cowen recently extolled the West Virginia "productivity miracle" that has enabled those in the state who have jobs to do pretty well for themselves. But when it comes to job creation, most of the state has spent most of the current economic recovery going backward. Here's what's happened to nonfarm payroll employment since the beginning of 2008 in the state's five metropolitan areas: 1
Morgantown is home to West Virginia University, the state's lone research university. The state's other metropolitan areas don't have much in the way of employers or institutions to attract the well-educated workers who in recent decades have tended to define economically successful regions. And a coal-mining rebound won't do much to help with that.
To contact the author of this story:
Justin Fox at justinfox@bloomberg.net
To contact the editor responsible for this story:
Brooke Sample at bsample1@bloomberg.net
Before it's here, it's on the Bloomberg Terminal.
LEARN MORE