Companies
I Gorged on Annual Meetings. There's a Better Way.
In-person corporate presentations are relics. (They don't even have free coffee.)
by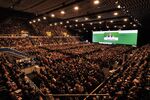 For the last three or four years, ISS Analytics, a division of the influential proxy advisory firm Institutional Shareholder Services, has sent out a press release to mark the busiest day of annual meeting season. This year, it was Thursday, May 18; 128 companies met with shareholders that day, from Fortune 500 companies like Intel Corp. to penny stocks like Osprey Medical Inc., a kidney-care company.
I hadn't been to an annual meeting in years, but back in the day I'd attended some classics. I was at the disastrous Home Depot Inc. meeting in 2006 where chief executive Bob Nardelli's contemptuous treatment of shareholders probably cost him his job. In 2008, I saw several members of the Rockefeller family turn against Exxon Mobil, the fount of their wealth, by offering several global warming resolutions. And in 2009, I saw hedge fund billionaire Bill Ackman shed actual tears at a Target Corp. annual meeting. (He'd just lost a proxy fight.)
So I decided to spend Thursday going to annual meetings. I suppose I was partly motivated by nostalgia. But with more companies moving to online-only annual meetings, I wanted to see whether in-person versions, a rite of corporate passage for over 100 years, still made sense. Here's what I saw.
8:30 a.m. SiriusXM. Market cap: $23 billion
I'll tell you one thing they did back in my younger days. Companies holding annual meetings early in the morning served coffee. And pastries. And maybe some goody bags. But as I head into my first meeting of the day, I see nothing. Feeding shareholders is apparently no longer thought to be a wise use of their money. 1
"We consider 2016 to be a breakout year," says chief executive Jim Meyer, standing in front of about 50 people in a small theater. "We had very strong Ebitda of $1.88 billion. We had free cash flow of $1.5 billion." The stock was up 22 percent. And, Meyer adds proudly, Warren Buffett's conglomerate, Berkshire Hathaway, "has taken a fairly big position in our company."
When it's time for questions, a ponytailed shareholder named Dana takes the microphone: "Congratulations on your 9 percent raise," he says to Meyer, his voice dripping with sarcasm. "But you really haven't addressed why the stock wallows."
Meyer reiterates that the stock, which rose to the mid-$4s from the mid-$3s, has performed quite well. "I think the stock deserves to be in the fives," Meyer adds. Dana is not mollified. "Forget the fives," he says. "What about the thirties?"
There are occasional questions about the business that merit a thoughtful answer. But mostly the questions are inane. Dana tells Meyer that Howard Stern is in decline. Another shareholder suggests that in the wake of misbehavior by Volkswagen, Wells Fargo and others, SiriusXM should start a "corporate apology channel."
Total meeting time: 45 minutes.
10:00 a.m. Marsh & McLennan. Market cap: $38 billion
With 60,000 employees all over the globe, more than $13 billion in annual revenue and $2.7 billion in operating income, the consulting company and insurance broker Marsh & McLennan plays in the big leagues. (And yet, no coffee.) At its annual meeting, held a few blocks from SiriusXM's, it's not just the executives who come dressed in suits and ties. So do most of the 100 or so shareholders in attendance.
After getting quickly through re-electing directors, rehiring the auditor and dealing with shareholder resolutions — the stuff that is legally required during an annual meeting -- CEO Dan Glaser takes the podium. "The essence of Marsh & McLennan is its people," he says. A surprising number of shareholders nod eagerly at this hoariest of corporate cliches.
These are happy shareholders, and it's easy to see why. "We returned close to $1.5 billion to shareholders in the form of dividends and share repurchases," Glaser says. "We have consistently delivered value over time." Indeed, since 2009, Marsh & McLennan's stock has mainly gone up. "Our annual earnings per share for the last nine years has consistently exceeded the S&P 500," Glaser says. Everyone applauds. The man behind me says, "Wow."
During the question period, I realize that most of these shareholders are former Marsh & McLennan executives; they still have warm feelings about the company. When the meeting ends — with a round of hearty applause — I ask the man behind me where he is from. Virginia, he says. "Why did you come all the way from Virginia to attend this meeting?"
"It's the best company in the world," he says.
Total meeting time: 38 minutes.
11:30 a.m. Vornado Realty Trust. Market cap: $17.8 billion
There was a time when the annual meeting could get a little uncomfortable for a boss like Steve Roth, the chairman and chief executive of Vornado Realty Trust, the big real-estate developer. 2  For one thing, the Wall Street Journal published an article two months ago exposing business ties between Vornado — "which relies on the federal government for a significant portion of its revenue" — and President Donald Trump. 3  That sort of thing used to be catnip for a certain kind of shareholder.
More to the point, Roth's compensation was $11.2 million, according to the company's proxy statement, while the stock, though up 4.4 percent, slightly lagged its primary index, the FTSE NAREIT All Equity REITS Total Return Index. Nor is this a one-off. While Roth's long-term record is good, the company's cumulative returns lag both the index and the broader S&P 500.
And yet at the meeting, which is being held in a B-grade hotel in Saddle Brook, New Jersey, only one shareholder rises to complain. "For the last year, you have lagged the market," the shareholder says in a thick Eastern European accent. Roth gives a "whaddayagonnado" shrug. "The price of the stock is the price of the stock," he says. "We live with that. It is not a surprise that I have said frequently that we think the stock is undervalued."
And that's that. No other questions about the stock. No questions about Trump, either. On the other hand, on the way out I see salads, sandwich fixings and coffee. Finally!
Total meeting time: 25 minutes.
2:00 p.m. Standard Motor Products. Market cap: $1.1 billion
Look, I get why good-governance types want to prevent companies from holding online-only meetings. As my old friend Nell Minow, a long-time corporate governance expert, put it in an email, "I think the threat of looking unhappy investors in the eye and having to answer questions in person still makes a difference." My Bloomberg View colleagues made a similar argument, among others, in an April 12 editorial.
But from what I can see, this reasoning, though sensible in theory, doesn't reflect reality. None of the shareholders I've seen are likely to strike fear in a chief executive or board member. And shareholders who do have the clout to shake up a company, like Carl Icahn, hardly wait around for the annual meeting. They own enough stock to command private meetings with management.
In defending annual meetings, Minow mentioned two recent shareholder proposals on climate change that were brought to a vote successfully. But when I questioned whether the annual meeting was necessary to get the proposals passed, she acknowledged that it wasn't — 99 percent of the voting had taken place beforehand. Online-only meetings, in which shareholders could text or email questions, could actually expand the number of people who watch, and learn.
Which brings me to Standard Motor Products, a family-run company that primarily sells engine replacement parts, and is holding its annual meeting in a Manhattan law office. There are maybe 20 people at the meeting, every one of them either an executive, a director, an auditor or a member of the Sills family. (Elias Fife co-founded the company in 1919; grandson Lawrence Sills is the executive chairman and great-grandson Eric Sills is the chief executive.) In other words, there is not a single outside shareholder in attendance.
And yet, Eric Sills gives a thorough overview of the business, noting happily that after 98 years, the company finally exceeded $1 billion in sales. The company's chief financial officer, James Burke, gives an equally comprehensive look at the financials. Listening to them, I get a sense of how competitive and complicated even a relatively small business like theirs is.
When the meeting ends, I lean over to Peter Sills, a director emeritus and Lawrence's brother, and ask him why they had gone through that extensive presentation when there were no shareholders present. "You want to be prepared in case someone shows up," he says. "That's what well-run companies do."
All I could think was: I wish other people had been able to see how well this company seems to be run. With an online meeting, they could have.
Total meeting time: 25 minutes.
This column does not necessarily reflect the opinion of the editorial board or Bloomberg LP and its owners.
(
Corrects quotation about Meyer's compensation in sixth paragraph, and corrects reference to Vornado stock price in 17th paragraph of article published May 22.
)
Later in the day, I was told by someone who used to work at a major pharmaceutical company that it stopped giving out swag when it realized that some shareholders were coming to the meeting just to get the goody bag.

Vornado developed Bloomberg's headquarters in New York. After the meeting, Roth sat next to me and humorously described how he came up with the idea for the building's design.

The Trump Organization holds minority stakes in two Vornado skyscrapers. Vornado has also done business with Jared Kushner's real-estate company, according to the Journal, which reported that the company's largest tenant is the federal government. In addition, Roth is co-chairman of the president's infrastructure council.
To contact the author of this story:
Joe Nocera at jnocera3@bloomberg.net
To contact the editor responsible for this story:
Jonathan Landman at jlandman4@bloomberg.net
Before it's here, it's on the Bloomberg Terminal.
LEARN MORE