Editorial Board
What It Will Take to Stop Corruption in Brazil
Changing a culture of impunity won't be easy.
by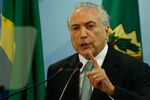 Investors dumped Brazil's stocks and currency Thursday as the country's ever-proliferating corruption scandal spread to President Michel Temer. This latest twist in a seemingly endless saga not only threatens to stall vital economic reforms but also comes close to showing that the corruption in Brazil's government is literally beyond control.
Proving otherwise will require drastic measures. Sitting federal lawmakers have put themselves, in effect, above the law, and that will have to change. Brazil also needs electoral reform to repair a fragmented legislature where money, and little else, talks. Neither will be easy; nothing less will suffice.
QuickTake Brazil's Highs and Lows
Investigators in the three-years-and-counting probe into bribery and kickbacks set their sights on Temer for allegedly approving hush money for the jailed former speaker of the lower house. Members of Temer's cabinet had already been caught up in the investigation. The scandals helped seal the impeachment last August of former President Dilma Rousseff for bypassing Congress to finance government spending. Former President Luiz Inacio Lula da Silva has been charged with corruption, along with politicians and corporate executives by the score.
Temer has denied the allegations, which arise from a sting operation involving executives from the world's biggest meat producer and one of Brazil's main political donors. This netted several other politicians and, more to the point, took place within the last two months -- suggesting that the vast and protracted Carwash probe (named for a favorite money-laundering venue) has not deterred this kind of crime.
Sitting federal lawmakers can only be prosecuted by the Supreme Court, which has a huge backlog of cases and isn't designed to handle criminal cases. From 2011 to 2016, only 1 percent of lawmakers brought before the court were convicted, and 30 percent of those cases had been on the docket for at least 10 years. Even after conviction, appeals can drag on, and statutes of limitation often apply.
The near-immunity that federal legislators enjoy has bred impunity. They should lose their special legal standing before the Supreme Court. The appeals process should be streamlined, statutes of limitation lengthened, and penalties increased.
More broadly, Brazil needs to fix an electoral system that has made campaigns absurdly expensive and turned its legislature into a multi-party bazaar where political support is for sale. The problem is all too obvious: The country's politicians must act to curb their own privileges.
Temer says he won't resign and complains that the charges could make it harder to push through difficult economic reforms. No doubt. He's also right that cutting pensions and loosening labor-market rules will be necessary to improve the economy's performance. Yet, regardless of Temer's own guilt or innocence, ordinary Brazilians can hardly be expected to accept such sacrifices when their legislators enrich themselves illegally with no fear of sanction. If that doesn't change, economic reform is a lost cause -- and so is Brazil.
--Editors: James Gibney, Clive Crook.
To contact the senior editor responsible for Bloomberg View's editorials: David Shipley at davidshipley@bloomberg.net .
Before it's here, it's on the Bloomberg Terminal.
LEARN MORE