Economics
Seeing a Debt Crisis That Isn't Really There
Yes, household borrowing has topped the old record reached right before the financial crisis. But that doesn't mean a meltdown is coming.
by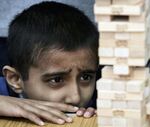 For the first time since the financial crisis, household debt levels in the U.S. have surged past old records. As the Federal Reserve Bank of New York reported, total household debt stood at $12.73 trillion as of March 31, a $149 billion increase, or 1.2 percent, from the fourth quarter of 2016. That put overall household debt $50 billion higher than its previous peak in the third quarter of 2008.  
A quick review of related headlines suggests calamity is nigh: "Household debt is dangerously close to 2008 levels," according to CNN. The New York Times ominously reported that borrowing had reached levels not seen since "2008, just as the global financial system began to collapse." The record debt risks "exposing some categories of borrowers to financial strain as they try to keep up with their obligations," the Financial Times intoned.
If you weren't inclined to take a deep breath, the only conclusion to reach is that another financial crisis is imminent, that markets will get eviscerated and that we shall soon all be wandering a post-apocalyptic war zone, trading our first-born children for bottled water.
Or, as the Los Angeles Times correctly observed, maybe not. 1
Anytime a splashy headline contains a frightening veiled warning, we should step back to consider the fuller details. In this case, much of the coverage revealed the usual denominator blindness -- looking at one aspect of a complex issue without considering the bigger picture.
Let's add some context:
Inflation: Keep in mind that the New York Fed's update only uses nominal terms. It is a mistake when contrasting data points almost a decade apart to ignore the impact of inflation. When comparing the $12.68 trillion in household debt from 2008 to the $12.73 trillion in 2017, the impact of inflation over that period must be taken into account. From July 2008 to March 2017, the consumer price index rose 11.48 percent. In real terms, for household debt to exceed the old record it would have had to reach almost $14.1 trillion (for fun, check this Bureau of Labor Statistics CPI calculator.) 2
GDP: Similarly, you should consider household debt relative to the total economy. In the third quarter of 2008, gross domestic product was $14.84 trillion; as of the first quarter of 2017, annualized GDP was $19 trillion. In other words, the U.S. economy is 28 percent larger today than it was in 2008.
Now look at the ratio of household debt to GDP: In 2008 debt it was 85.4 percent of GDP; today it is 66.9 percent. That is a substantial difference. 3
Population: Debt also should be evaluated on a per-capita basis: in 2008, the U.S. population was 304.1 million, according to Census.gov; recent estimates for March 2017 are 325 million, or about 21 million more people.
Delinquencies: We can't credibly discuss 2008 without considering serious delinquencies on debt repayment. The New York Fed states the obvious: "Flows into serious delinquency for all loan types except for student loans peaked during the Great Recession and are currently low or very low compared with historical levels." This chart helps make the point:

Quality: The composition and quality of the debt and debt holders are very different today from 2008: A much smaller portion of debt is in mortgages than in 2008; furthermore, debt balances have been shifting toward more creditworthy and older borrowers. The bad old days of 2008, when anyone could get a mortgage, credit card or auto-loan regardless of income or credit history, seem to be behind us.  4
Debt components: Student loans continued to rise in a straight line from 2008; auto loans, after contracting for roughly 20 quarters, have risen. Credit cards have yet to regain their 2008 peaks, and home-equity loans have drifted lower during the entire recovery.
Debt service costs: Finally, consider what might be the most telling data series of all: household debt service costs as a percent of disposable personal income. As the below chart shows, it reached its all-time highs in fourth-quarter 2007, then collapsed. It has remained at or near 35-year lows ever since.
Headlines designed to inspire anxiety or other emotional responses should be thought of as click bait. When considering new peaks in household debt, it is critical to view the data with proper context.
To contact the author of this story:
Barry Ritholtz at britholtz3@bloomberg.net
To contact the editor responsible for this story:
James Greiff at jgreiff@bloomberg.net
Before it's here, it's on the Bloomberg Terminal.
LEARN MORE