U.S. Economy
The Fed Is Making a $2 Trillion Mistake
Reducing its bond holdings will leave the economy vulnerable.
by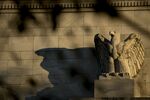 Sometime later this year or early in 2018, the U.S. Federal Reserve intends to embark on an unprecedented maneuver: Reducing the vast bond holdings that it has accumulated in its efforts to support the economy over the past decade. I think this is a mistake, in both concept and implementation.
The reduction is likely to be large. Fed officials have suggested that it would be appropriate to shrink the balance sheet, which currently exceeds $4 trillion, by $2 trillion or more over the next few years. They plan to do so in large part by letting bonds mature and not replacing them with new purchases.
Even if one assumes that the Fed is right to aim for a smaller balance sheet, letting it run off is the wrong way to go. The assets consist largely of mortgage-backed securities, which mature at a rate that depends heavily on when people decide to pay off their mortgages (because they either sell or refinance their homes). As a result, the central bank could lose control of an important monetary policy tool: If a lot of people suddenly chose to pay, they would slash the Fed's holdings and effectively tighten policy. Reducing assets through deliberate sales based on economic conditions would be a better approach.
That said, it's hard to see why the Fed should want to shrink its balance sheet at all. In choosing a "neutral" position consistent with its goals of low unemployment and 2 percent inflation, the central bank has essentially two options:
A smaller balance sheet and relatively low interest rates;
A bigger balance sheet and relatively high interest rates.
Which is better? The first approach requires the Fed to boost its balance sheet by buying a lot of assets whenever it confronts a deep recession -- a policy path that tends to generate intense political resistance (remember how Sarah Palin called on then-Chairman Ben Bernanke to "cease and desist" when the Fed launched its second round of bond-buying in November 2010). The second, by contrast, allows the Fed to prepare now by maintaining a large balance sheet. It can offset any resulting inflationary pressures by raising short-term interest rates -- a policy that has the added advantage of giving the central bank more room to lower rates when the next recession comes.
Granted, maintaining a large balance sheet would place some added burdens on the Fed. As the economy grew, for example, the central bank would have to increase its asset holdings to ensure that they weren't too small to deal with recessionary risks. This, rather than shrinkage, is the policy that Fed officials should begin to formulate and communicate.
This column does not necessarily reflect the opinion of the editorial board or Bloomberg LP and its owners.
To contact the author of this story:
Narayana Kocherlakota at nkocherlako1@bloomberg.net
To contact the editor responsible for this story:
Mark Whitehouse at mwhitehouse1@bloomberg.net
Before it's here, it's on the Bloomberg Terminal.
LEARN MORE