Europe
Merkel and Macron Inch Toward a Common Budget
Their relationship is off to a good start, but there are some big tests ahead.
by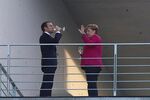 French President Emmanuel Macron's first trip to Berlin was a lovefest: If anyone thought German Chancellor Angela Merkel would push back on Macron's plans to reform the European Union, they were disappointed. It's not clear, however, if the young and impatient Macron is ready for a slow, clumsy but ultimately useful Merkel-style compromise, which appears to be in the cards.
Both leaders face elections soon: Macron hopes to muster parliamentary support for his agenda in the June legislative election, and a September vote will decide whether Merkel will get a fourth term as chancellor. A show of unity helps both.
But the substance of the future changes is more intriguing than the political messaging around them. Macron has spoken in favor of a common budget for the euro area and a finance minister to manage it. That's a potentially powerful integration tool, and there is broad consensus among Europe's big economies that it's the way forward.
Germany's problem is that it doesn't want less fiscally disciplined nations (and there's a long list of those) to free-ride. Spain, for example, proposes issuing common euro-area bonds for the budget -- but that means German liability for debt that will mostly be used by other countries, at interest rates higher than Germany alone can command. The German government has made it clear that it hates the idea. In Berlin, Macron denied he was ever in favor of it.
Direct fiscal transfers into the euro-zone budget would be politically unpopular too, but it appears that Merkel's Christian Democratic Party is willing to shoulder that risk. In a recent interview with the Italian daily La Repubblica, Finance Minister Wolfgang Schaeuble talked about expanding the role of the European Stability Mechanism, the bailout fund that has loaned out 264.8 billion euros ($292.5 billion) to overcome the euro zone's economic crisis, and turning it into the equivalent of the currency area's common budget. He even endorsed setting up a consultative euro-zone parliament, comprised of European Parliament deputies from countries that use the common currency, to oversee the reformed bailout fund (Macron himself proposed a euro-zone parliament in his election program). 
That's a workable idea because it won't require changes to EU treaties -- a process that requires ratification by all bloc members, and referendums in some of them. The ESM already exists, and so does its funding mechanism: Its members have contributed 80 billion euros so far, which is used to guarantee bonds issued by the ESM at low interest. So the fiscal transfers are limited and the bonds are not the direct responsibility of euro-zone states.
Renaming the ESM "the euro-zone budget," however, doesn't amount to much of a reform. Unemployment is the No. 1 issue Europeans want the EU to take on as a group. The Spanish proposal for the euro-zone budget includes a common unemployment insurance scheme on top of national ones. Macron's program didn't go that far; he proposed EU-wide unemployment insurance and minimum-wage standards that would take into account members states' varying economic development levels. Yet he backed a common unemployment insurance scheme while he was still French economy minister.
It's not clear when Germany might be ready for something like this and Schaeuble dodged the question in the interview. It won't be impossible for Macron, Merkel, Rajoy and other euro-zone leaders to agree on creating an anti-crisis budget based on the ESM. The bailout fund is not politically toxic: Though it hasn't achieved much in Greece, its programs for Spain, Ireland, Portugal and Cyprus have been successful, and it may yet be called on to rescue Italy, where a banking crisis looms. But going much further than loaning money against binding promises of tough reform will be difficult.
Macron, like Rajoy, wants the euro zone to fund common investment projects. Germany will resist it; Schaeuble keeps pointing out that the disgraceful Berlin airport project isn't failing because of a lack of funds but because of terrible execution.
Macron and Merkel appeared to connect well on a personal level. They may make progress in other areas of EU cooperation, such as closer military ties outside the North Atlantic Treaty Organization framework, border policy (both are in favor of strengthening the bloc's outside borders) and reciprocity in trade relations with third countries, including more forceful responses to trade restrictions in China and, potentially, the U.S. But major compromises on things like the beginnings of a common euro-zone fiscal policy will require much more than good personal chemistry. They will have to be politically sustainable, and they will need to produce results that can be sold to voters. 
That's why, as Macron pointed out in Berlin, his first priority was to develop some momentum at home, primarily in tackling unemployment. The lack of progress in that area was what destroyed Macron's predecessor, Francois Hollande. He ended up powerless to spur change in Europe because he couldn't achieve it at home. The more successful Macron is domestically, the more trust and meaningful concessions he'll earn in Berlin.
To contact the author of this story:
Leonid Bershidsky at lbershidsky@bloomberg.net
To contact the editor responsible for this story:
Therese Raphael at traphael4@bloomberg.net
Before it's here, it's on the Bloomberg Terminal.
LEARN MORE