view
Trump Makes a Decent Deal With China
It's not earth-shattering. But it could lead to something better.
by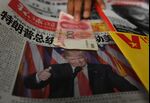 President Donald Trump's administration has just announced a deal with China to open its markets across a range of industries, from beef to financial services. "This is more than has been done in the whole history of U.S.-China relations on trade," declared Commerce Secretary Wilbur Ross, with Trumpian modesty.
Rhetoric aside, Trump has put China on notice that he intends to target a long list of protectionist economic policies. Given the industries covered, it seems likely that President Barack Obama's administration could have secured a similar deal had it been a priority. By repeatedly raising the issue, and demonstrating his commitment to it, Trump actually got it done. So give credit where it's due.
That said, this deal shouldn't be oversold.
Some of the measures China agreed to are long-time obligations that it has simply been refusing to abide by. For instance, it first committed to granting access to foreign payment providers as part of its accession to the World Trade Organization in 2000. It dragged its feet for so long that the Obama administration brought a challenge at the WTO in 2010. By now, though, the dominant Chinese card provider is UnionPay Co., which is owned by the People's Bank of China. Electronic payments are dominated by national champions such as Tencent Holdings Ltd. and Alibaba Group Holding Ltd. So it's no wonder that Beijing has now opted to yield, nearly 20 years after agreeing to: It has little to fear.
Likewise, the Trump administration is touting China's agreement to ease imports of natural gas from U.S. producers. But this is less about opening a restricted market than about new Chinese policy objectives. Facing criticism at home about extreme pollution levels, Beijing has made shifting away from coal a major priority. This means increasing generation of solar electricity, but also cleaner-burning fuels -- such as natural gas.
The U.S. concessions to Beijing are similarly modest. China thinks its banks are being subjected to unfair scrutiny in the U.S., so the Trump administration agreed to apply "the same bank prudential supervisory and regulatory standards to Chinese banking institutions" as it does to other banks. It also agreed to send a delegation to this weekend's Belt and Road Forum in Beijing. Neither is a concession of any consequence.
And potential pitfalls still abound. China remains fiercely protectionist, and U.S. companies will still complain about intellectual property theft and a hostile business environment there. Nor is the agreement likely to affect the bilateral trade deficit, a persistent fixation of Trump's.
But the reality is that the U.S. simply has a weak hand to play when it comes to negotiating with China. There's an inherent asymmetry to the relationship: With one of the world's most open economies, the U.S. has very little to offer China in terms of market access, while China has an enormous amount it could offer the U.S.
In that light, the agreement should be viewed as a stepping stone. Trump reached this deal because he highlighted real problems and prodded China relentlessly about them. He should continue to push for more openness and fairness. It would help if he did so in forums other than Twitter.
To contact the author of this story:
Christopher Balding at cbalding@phbs.pku.edu.cn
To contact the editor responsible for this story:
Timothy Lavin at tlavin1@bloomberg.net
Before it's here, it's on the Bloomberg Terminal.
LEARN MORE