Elections
Macron Has Been Elected, But Not Yet Empowered
France's president-elect needs a friendly parliament to avoid being a lame duck.
by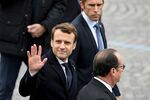 Given that he won with 66 percent of the vote, you would think that French president-elect Emmanuel Macron would have a sweeping mandate to implement his agenda. But that's not the case, or at least not yet. First, the mandate is less than it would appear because Macron's run-off opponent was populist leader Marine Le Pen, who is reviled by many French voters and virtually all the political class.
But second, because under the French constitution, the president only has significant powers when he has a majority in the 577-seat National Assembly, the lower house of parliament. This is a key question for Macron, since he has run without the support of a major party, having founded his own skeletal movement En Marche! only in 2016. On Monday, the party secretary announced the party will now be called Republique En Marche or Republic on the Move. Without a majority in parliament, his reform agenda is likely to remain a dead letter.  
This is politics, and anything could happen. However, here are the three most likely scenarios.
Scenario 1: An En Marche sweep
To listen to the President-elect, it's straightforward from here: Macron's new party will sweep the legislative elections, and he will have his governing majority. The group will announce its candidates for the parliamentary election on Thursday and already the party said its candidate would include those from the country's center-right Republican Party and also the Socialist Party, which got crushed in the elections.
Even with that momentum, it looks like an uphill climb. According to a Harris Interactive poll for Atlantico.fr, only 42 percent of French voters want Macron to have a majority in case he is elected. A recent OpinionWay-SLPV poll for Les Echos showed that En Marche! would come in first with 249 to 286 seats -- an astonishing accomplishment for a year-old party, but just shy of the 289 seats needed for a majority.
Still, Macron has pulled off the unprecedented before, and he could do it again. If the new Republique En Marche party wins a comfortable majority, Macron will have a governing mandate.
Scenario 2: A coalition led by Macron's party
Coming in first would entitle Macron to form a government, even though he would need a governing partner. But there are reasons to believe he might not even accomplish that. France does not have proportional representation, where high polling support directly translates to party representation. Instead, voting is by district, which favors large incumbent parties. (This is why the National Front, whose support hovers around 20 percent, has only two members in the National Assembly.)
It's become a cliché in countries that have district representation that the parties that are behind in the national polls say that the election is not a national election but hundreds of local elections. But there is truth to that. The incumbent parties have field offices, staff, volunteers and local elected officials to hit the stump. Their candidates have been knocking on doors in their various districts for months, while Macron's party has not yet announced all its candidates.
In this case, Republique En March would have to build a coalition with an existing major party, either the Republicans or the Socialists. It might even be the junior party. It is typical in France for major parties to forge "electoral alliances" with younger parties: the parties divide the constituencies among themselves, each endorsing the other's candidate in the various constituencies. Under this scenario, Macron's goal, then, would be not so much be to win an outright parliamentary majority, but to have additional bargaining chips with the other parties in a pre-election negotiation.
The natural coalition partner for Republique En Marche would be France's Socialist Party, since Macron was an economy minister in a Socialist-led government and since most of his major backers are figures from the Socialist Party. This would represent a betrayal of his promise to depart from past practices, especially from the crushingly unpopular incumbent government. More broadly, France's Socialist Party is split between a reform wing and a hard-left wing; the party's hard left would, while nominally being in a coalition with Macron, try to frustrate him at every turn.
Being a centrist, Macron could also form an alliance with the Republicans, the main center-right party. While the party maintains there will be no official alliance, Macron could conceivably form an alliance with a breakaway centrist wing of the party or with small factions from both the left and the right.
Whatever the scenario, the basic gist remains the same: While Macron would have a formal majority and be able to form a government, in practice, the majority would be weak because it would be riven by ideological differences, or made up of opportunists from different parties, or both. Macron has outlined an agenda of reforms to labor law and pensions, which are sure to trigger mass protests and strikes. In such a context, having a weak or fractured majority could doom controversial bills.
Scenario 3: A Republican-led government
A common phrase on the French right is "stolen election." With the incumbent Socialist Party highly unpopular, many on the right felt that it was their time to rule. François Fillon, the conservative nominee, was booted from the run-off not because his ideas but because he was tarred by a scandal that erupted right after his nomination. His Republican Party, and its junior partner, the UDI, have therefore stated their intention to win the legislative elections and rule the country from Matignon, the prime minister's residency.
In this case, we would have a period of "cohabitation." Having accomplished the unthinkable to become the youngest President in the country's history from a position outside a mainstream party Emmanuel Macron would be little more than a figurehead, at least on domestic policy. Macron's "march" would only be downhill from there.
To contact the author of this story:
Pascal-Emmanuel Gobry at peg@peg.im
To contact the editor responsible for this story:
Therese Raphael at traphael4@bloomberg.net
Before it's here, it's on the Bloomberg Terminal.
LEARN MORE