Economics
Unemployment Has Nowhere to Go But Up for Trump
Just once in the past four decades was the jobless rate lower. That didn't last.
by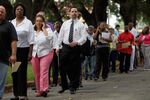 Fox News recently took some heat for posting a graphic listing unemployment rates at the 100-day mark of various presidents' terms. Here, for reference, is a slightly more complete list:
People ridiculing Fox's graph note that at this stage of a presidency, unemployment is almost entirely determined by what happened during the previous president's term. With the exception of 1980, the U.S. has tended to elect Democratic presidents when the economy is bad. If we look at how the unemployment rate changed during the course of each presidency, we get a different picture:
This is important, because when election day rolls around, voters probably care more about whether, in the words of Ronald Reagan, they're better off than they were four years ago. In 2011, forecaster Nate Silver looked at some of the most famous economy-based election forecasting models. He found that the economy's performance during a president's term had some ability to predict whether voters would toss the incumbent party out of power. He also did some analysis of his own, and found that the economic situation just before an election seems to be important as well.
Neither of these results is good news for Donald Trump. Because he's starting out his presidency with a low unemployment rate, the jobless rate probably has nowhere to go but up.
Only once during the past four decades has U.S. unemployment been lower than it is now. That was in the late 1990s, at the height of the dot-com tech boom:
Even during Reagan's term, unemployment never went lower than 5 percent. In other words, to drive unemployment even lower, Trump would have to get the kind of economy that has been seen only once since the 1960s. That's possible, of course, but the odds seem against it.
That's not to say that we should expect the economy to get worse. The business cycle isn't really a cycle -- expansions don't seem to die of old age. There's certainly a chance that the economy will keep humming along at about where it is now. The relatively low rate of labor force participation means the economy might even have a bit more room to accelerate without a historic boom.
But most of the risk is on the downside. No big shocks have hit the macroeconomy lately, but this could easily change. Since a stock market crash in 2015, China has seemed to be teetering on the edge of a major slump. The two years since that episode saw tremendous capital outflows, and though the government has managed to staunch that bleeding, it might have done so by creating even more bad investments at home. If China merely delayed its day of reckoning, the next few years could see another global economic shock that might spill over to the U.S.
Europe is a risk as well. The same populist politics that brought Trump to power -- and which he seems to support overseas -- might lead to a breakup of the euro zone, or even the European Union itself. That in turn could shatter the fragile compromises that have kept Europe's financial system afloat. A fractured Europe would create a deep crisis that would almost certainly hurt the U.S.
Then there are domestic risks. Bloomberg Gadfly's Nir Kaissar warns that the stock market looks overvalued:
As valuations rise, the probability of high returns gradually diminishes and is eventually replaced with low or negative returns. A [cyclically adjusted price to earnings] ratio of 30 or greater -- which is where we are now -- has historically been followed by low single-digit or negative 10-year annual returns.
Again, this doesn't mean a crash is coming, but it does suggest that there is a significant chance that future gains will disappoint. And, as macroeconomists were forced to remember quite painfully in 2008, financial shocks can easily derail the broader economy.
Finally, there's the risk of Trump himself. Usually, presidents don't do much to actually affect the economy (which makes it a bit ironic that they often get credited or blamed for it). And so far, Trump hasn't managed to make any real policy changes. But many of his promises and proposals are pretty radical -- tearing up trade treaties and expanding the national debt dramatically, for example. If the president inadvertently sparks a major trade war or a debt-default crisis, the economy would suffer, and the chief executive will rightfully get the blame.
So the low unemployment rate isn't good news for Trump. It's a warning sign: Tread carefully, and look out below.
This column does not necessarily reflect the opinion of the editorial board or Bloomberg LP and its owners.
To contact the author of this story:
Noah Smith at nsmith150@bloomberg.net
To contact the editor responsible for this story:
James Greiff at jgreiff@bloomberg.net
Before it's here, it's on the Bloomberg Terminal.
LEARN MORE