Jobs
Signs That First-Quarter Weakness Won't Last
If the April jobs report marks a trend, the Fed could raise interest rates as early as June.
by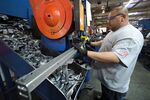 Friday's solid jobs report is consistent with the view that the soft economic patch signaled by first-quarter data, including disappointing GDP growth, is likely to be both temporary and reversible. It also suggests that the Federal Reserve may be tempted to hike rates again as early as June.
Friday's jobs report assumed greater importance because of concerns that recent data suggested that consumption, the longtime engine of the U.S. economic expansion, was facing headwinds. Such concerns were alleviated by data showing that two major drivers of consumer spending -- wages and job creation -- remain on track.
On the positive side, job creation came in above consensus expectations of around 190,000, the unemployment rate fell to 4.4 percent, and the more comprehensive "U-6" measure declined to a level not seen since 2007.
Less positive was the tick down in the participation rate, suggesting that structural headwinds to greater labor market activity remain consequential. Also, at 2.5 percent year-on-year, wage growth came in slightly lower than expected. That signaled a continued sluggish earnings' adjustment to declining slack in the labor market.
Overall, the report will give greater hope to those who sense that the first-quarter data are -- as in previous years -- signaling only temporary and reversible weakness as opposed to a prolonged softer economic patch. And it keeps the door open for three interest-rate hikes in total by the Federal Reserve in 2017, including one as early as next month.
To contact the author of this story:
Mohamed A. El-Erian at melerian@bloomberg.net
To contact the editor responsible for this story:
Philip Gray at philipgray@bloomberg.net
Before it's here, it's on the Bloomberg Terminal.
LEARN MORE