Cities
Why Putin Is Tearing Down My Childhood Home
About a million Moscow residents were told their homes would be demolished to make way for new buildings.
by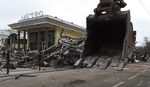 It's a sentimental moment when your childhood home is about to be demolished. For me, it comes as a logical conclusion to an ugly transformation of the city and country of my birth.
Few city governments would undertake a program as ambitious as tearing down 4,500 apartment blocks and resettling about 1 million people. Moscow, however, is about to do just that, and the way it's being handled illustrates two processes largely obscured by President Vladimir Putin's geopolitical razzle-dazzle. One is Russia's transformation into a country where the state is the only ambitious economic player. The other process is the erosion of basic individual rights -- not flashy ones like free speech and assembly but mundane ones, such as property and a voice in neighborhood affairs.

My family moved into the brand new five-story building at 16 Kerchenskaya street in southwestern Moscow in 1964, seven years before I was born. After decades of banging about communal apartments, where several families shared a bathroom and a kitchen, my grandfather, a cantankerous but irreplaceable civil engineer, finally secured something which most Soviet families could only dream of -- a place just for him and his. It was possible thanks to Soviet leader Nikita Khrushchev's program of industrial housing construction, started in 1955. Khrushchev's idea was to provide every family with an apartment of its own by the time the Soviet Union turned into a communist society, by 1980, according to Khrushchev's plan.
This was a gargantuan enterprise, begun before the Soviet Union became a major oil and gas power, so the buildings weren't just no-frills -- they were minimalist masterpieces, unadorned and boxy, with eight-foot ceilings. 
A U.S. real-estate agent would call our 57 square meter (614 square foot) apartment on the fifth floor (a walk-up, of course) a two-bedroom; in reality, all three rooms were used as bedrooms. Before I was born, seven people lived in it -- my grandparents, my mother, my uncle, their spouses and my little cousin. Walls were paper-thin. All the neighbors knew each other. I played in the wooden sandbox right in front of our hallway entrance, and as I got older, kids from our building split into teams to play war; there was competition to be the victorious Soviet Army, and the least popular and contrarian kids ended up representing the Germans.
The block is on the Moscow city government's demolition list now, along with 139 others in the neighborhood, Zyuzino. Mayor Sergei Sobyanin has declared it and other buildings from "the first period of industrial housing construction" impossible to renovate. In late February, he told Putin he wanted to eliminate about 8,000 of these apartment blocks, home to 1.6 million people, and erect modern housing in their place. Putin approved, saying only, "You need to do it in a way that makes people happy."
Moscow is Russia's biggest and wealthiest city. This year, it's expected to receive 1.6 trillion rubles ($27.3 billion) in tax revenue. The demolition and resettlement program is, however, huge even by the standards of this eastern European metropolis of at least 15 million. It's expected to cost some 3.5 trillion rubles, provided mostly by the city over 10 to 15 years.
Theories abound as to why Sobyanin decided to go for it. One is that the city's huge construction industry needs saving. Real estate prices have crashed since late 2014, when oil prices plummeted and Western sanctions set Moscow back in its quest for a global role. The average price of a square meter (10.8 square feet) fell to about $3,000 today from $5,000 in 2014. 

That made life difficult for Moscow's big construction companies, which have been erecting tall apartment blocks, mostly on Moscow's outskirts. Heavily leveraged, these firms are flooding a market where demand is low and buyers aren't optimistic. On average, 5 percent to 7 percent of apartments in a new Moscow building aren't sold by the time construction is finished, and some buildings have up to 40 percent vacancy -- an impossibility at the market's peak in 2008, when everything was sold long before buyers could move in. 
Historically, Moscow city officials have been close to the industry, receiving informal payoffs and shares in projects. Guaranteed payments under the city program and cheap land grants -- much taller buildings will be constructed in place of the 5-story walk-ups -- could make the construction companies' position far less precarious.
Even if it weren't for that possible motive, government contracts are the biggest source of private wealth in Putin's Russia. Most of the billionaires who have built their fortunes under Putin have been beneficiaries of state projects and infrastructural investment by state-owned companies. Under Sobyanin, Moscow has obsessively renovated its streets, sometimes re-paving roads twice in the same year without any clear need apart from providing an income to contractors and the bureaucrats who oversaw them.
Meanwhile, private investment has been falling since 2014, and government spending has been the only way to prevent steeper economic decline. A government program as enormous as the Moscow "renovation," as it was called, can turn hundreds of officials into multimillionaires and give a boost to the local economy at the same time.
The 1960s apartment blocks are generally unpopular, often called "khrushchoby" -- a play on Khrushchev's name and the Russian word for slums. The city government may have expected enthusiasm from their residents. If it did, it miscalculated.
The mayor's special bill on the demolitions, to which the national parliament immediately gave preliminary approval, allows the city to confiscate citizens' property, offer just one alternative and use the courts to evict residents who refuse. It also invalidates existing construction codes for renovation-related building work.
Immediately, khrushchoby residents began to organize. The main anti-demolition group on Facebook has more than 19,000 members, and a rally is planned for May 14 to protest against the program. Many of the protesters are happy with their buildings; they've renovated their apartments, sometimes at great cost, and gotten used to the greenery, the convivial spirit and the transportation convenience of their Khruschev-era neighborhoods. Others are more worried about the quality of the city's alternative offers. Though the city government has created a stylish website to tout the modernity of planned new buildings and the supposedly no-expense-spared standard of apartment renovation, dark rumors circulate among the affected residents of shoddily constructed tower blocks much further from subway stations than their current houses, with tiny rooms and cheap fittings. Given the perfunctory treatment Sobyanin's bill gives to property rights, these rumors are easier to believe than the government's promises.
Late last month, the discontent reached Putin's ears, and he told a government meeting that "nothing must be imposed by force." "This must be done in such a way, by such tools and means that do not violate citizens' rights," he said.
Immediately, legislators rushed to do the president's bidding and introduce amendments. Sobyanin took to the Russian social network Vkontakte to say that no building will be demolished until every resident agrees to a direct, square-meter-for-square-meter exchange for a new apartment and moves in. But he's still proving less than trustworthy. The parliament is likely to take the next step in passing the bill in July, after exploring whether Putin would sign it. Sobyanin, meanwhile, officially announced the list of buildings to be demolished and called on their residents to vote for or against the plan -- by June 15, before there is an amended bill or any clarity on the parameters of the alternative housing. Two-thirds of a building's residents must vote "yes" or keep silent for the city to proceed with its plans.
My mother leans toward voting "yes" to the demolition of the flat she now owns. She's not particularly sentimental about the building in which she has lived almost all her adult life. The apartment is cramped: By modern standards, it doesn't feel big enough even for one person. The ceilings are low, the rooms claustrophobic, the piping worn and hard to fix. She's ready for a change, just as my grandfather was in the 1960s.
It's been a long time since I lived in my childhood apartment. I've moved to a city -- Berlin -- where Communist-era blocks gradually have undergone renovation, some receiving loving, meticulous facelifts; the German capital has never had the money or the authoritarian political culture for a massive demolition program. I wish the city of my birth could have taken a similar approach to the problem, replacing the piping, wiring and windows, adding balconies and sometimes a floor or two on top. But then, it wouldn't be Sobyanin's Moscow or Putin's Russia -- the city and country where the state decides and pays. It's only fitting that I shouldn't recognize the place when I come back someday.
This column does not necessarily reflect the opinion of the editorial board or Bloomberg LP and its owners.
To contact the author of this story:
Leonid Bershidsky at lbershidsky@bloomberg.net
To contact the editor responsible for this story:
Therese Raphael at traphael4@bloomberg.net
Before it's here, it's on the Bloomberg Terminal.
LEARN MORE