Prophets
Options Signal Pragmatism May Trump 'America First'
There's more upside potential than downside risk for the U.S.'s three biggest trading partners outside of the European Union.
by and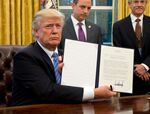 Although President Donald Trump's first 100 days in office have been deemed chaotic and unproductive by many, the options market has been consistent in its positive outlook for growth and equities. Other than for Japan, equity options markets are signaling more upside-to-downside potential in coming months, not only for Europe and emerging markets, but also for in the U.S., despite contradictory policy statements by the administration.
Conflicting pronouncements have led to negative press, sentiment shifts and increased volatility, but the options market, like any efficient market, has not been swayed by the noise. Almost all S&P 500 sectors are telling the same optimistic story. Apart from geopolitical tensions, which are outside Trump's control, the options market favors growth assets globally. It is pointing to larger expected tail gains versus tail losses for both emerging- and developed-market equities.
In the U.S., the green shoots of faster growth and inflation on the back of lower taxes, deregulation and infrastructure spending might have been delayed because of Trump's inability to pass his economic agenda quickly. The options market, however, has been more steadfast on the prospects for his economic programs by continuing to forecast the attractiveness of equities since his election, while showing greater uncertainty as to the course of interest rates and inflation.   
Immediately following the U.S. election, options markets pointed to large downside risk and limited upside potential to bonds. Early this year, however, options market participants began to change their views and currently forecast limited downside to U.S. bonds, likely because inflation risk has moderated at a level close to  2 percent, which many would call normalized, making it more likely that central banks will stay on a path of moderate interest rate hikes. The markets like this blueprint. 
Options, like insurance prices, provide extremely efficient estimates of the market's assessment of risk to both the upside and downside of different possible near-term future outcomes. Efficiency is gained by filtering out the noise and focusing on what is expected to be material.
So let's look at what the option market is telling us about an area fraught with noise -- global trade. Here it is seeing opportunity to the upside. Even with all the apparent fluctuations in "protectionist" policy plans since the U.S. election, the options market has consistently held a favorable view on the upside-to-downside prospects for those countries in the crosshairs for significant trade rule changes (such as imposing tariffs, labeling countries currency manipulators and even canceling long-standing trade pacts, such as the North American Free Trade Agreement). As recently as a week ago, the Trump administration shifted its stance abruptly on NAFTA, first indicating that preparations were being made for the U.S. to withdraw and then putting any such moves on hold pending a wide-ranging study of global trade policies.
Free and open global trade appears to be under attack by Trump and his "protectionist" allies. During the campaign, Trump threatened to label China a currency manipulator and to impose tariffs on U.S. imports due to perceived unfairness in trade agreements. And he has sought to demonstrate his determination by imposing tariffs on Canadian lumber. On the back of such rhetoric, it wasn't unnatural to expect free and open trade to be at risk, more so for countries that rely on commerce with the U.S.  
Options market prices, however, are telling us something different for countries with the most to lose in a trade war with the U.S. -- China, Mexico and Canada. Signals indicate more upside potential to downside risk for the U.S.'s three biggest trading partners outside of the European Union.  
For example, since the April visit of President Xi Jinping to the U.S., when Trump took a notably more diplomatic tone, the options market has been assigning improving and more expected upside than downside risk for China. This indicates that investors are less concerned about the prospect of a trade impasse between the two biggest economies and are encouraged by potential cooperation to address geopolitical issues involving North Korea's nuclear ambitions.  However, growing tensions in the region mean that the downside risk for South Korea has risen sharply.
Further, the options market sees newfound growth in Europe that has been missing since the great financial crisis, with both European equities and the euro exhibiting more upside-to-downside potential. Any such growth likely would be compromised if free trade was at risk.
While Trump may publicly lambaste countries for perceived imbalances in trade agreements, options signals indicate that, when it comes to renegotiating terms, the pragmatic businessman will likely win out over the hyperbolic politician. Or, maybe the markets have concluded that "making America great again" requires more attention to U.S. domestic issues and fiscal policies to redress so-called trade imbalances. 
This column does not necessarily reflect the opinion of the editorial board or Bloomberg LP and its owners.
To contact the authors of this story:
Myron Scholes at mscholes5@bloomberg.net
Ash Alankar at alankar@bloomberg.net
To contact the editor responsible for this story:
Robert Burgess at bburgess@bloomberg.net
Before it's here, it's on the Bloomberg Terminal.
LEARN MORE