Editorial Board
Trump's Tariffs Won't Work
Another day, another terrible trade idea.
by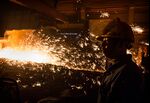 Is imported steel a threat to national security? How about aluminum? The White House has its suspicions, and plans to invoke an arcane statute to investigate. If the probes turn up anything, President Donald Trump will have essentially unlimited power to restrict or limit imports in response.
Despite the administration's claims, this sounds like a pretext for imposing tariffs outside of the normal trade-dispute system, in an effort to pressure China. That would be unwise: New tariffs won't do much to change China's behavior but will hurt U.S. consumers and businesses. Worse, relying on a flimsy national-security rationale could set a disturbing precedent.
The U.S. has already lodged a complaint that China provides aluminum producers with artificially cheap loans and subsidized inputs. It is being heard at the World Trade Organization, the proper forum for such disputes. Trump's predecessor brought 16 trade cases against China there, and has prevailed in every one decided thus far.
Trump's approach, by contrast, would only worsen matters. China has already warned that it could retaliate. Other producer countries might do the same, harming U.S. exporters, inhibiting growth and distressing financial markets. For all that, broad new tariffs probably won't make much of a dent in China's excess production.
They would, however, raise consumer prices for Americans, hurt companies that rely on steel and aluminum inputs, and prop up uncompetitive producers. When George W. Bush's administration imposed steel tariffs in 2002 it exacerbated price increases that clobbered manufacturers, infuriated trade partners and led to 200,000 job losses. There's no need to repeat the mistake.
More unnerving is the administration's rationale. It claims to be acting to protect national security, under Section 232 of the Trade Expansion Act of 1962. But this is implausible: The Defense Department's total steel needs amount to only a tiny fraction of domestic production, while most U.S. aluminum imports come from Canada, which isn't a noted security threat.
So why go this route? One possibility is that Trump hopes to circumvent the WTO. He threatened to withdraw from it on the campaign trail and has made clear that he may not consider its rulings binding. Invoking national-security exceptions at the WTO is often referred to the "nuclear option." It would encourage bilateral trade clashes and weaken a proven system of resolving disputes -- which seems to be just what the administration has in mind.
And that suggests a larger problem: On trade, Trump has bad ideas, misguided advisers and a free hand. It's an area where Congress must assert itself more forcefully, starting by demanding a review of duties imposed by the president. The White House, for its part, would be better off keeping up the pressure on China at the WTO, including denying it "market economy" status until it curbs unfair trade practices. Cracking down harder on shenanigans by Chinese exporters would also help. So would filling widespread vacancies among federal trade staff.
Above all, one thing should now be clear: If Trump asserts yet more power over trade, it will be a costly four years for America.
--Editors: Timothy Lavin, Michael Newman.
To contact the senior editor responsible for Bloomberg View's editorials: David Shipley at davidshipley@bloomberg.net .
Before it's here, it's on the Bloomberg Terminal.
LEARN MORE