White House
Trump's Jagged Argentine Connection
A 1980s New York City real-estate partnership went sour. Now it's casting a shadow over a state visit.
by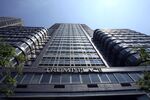 President Donald Trump will meet Thursday with President Mauricio Macri of Argentina. For most world leaders, a meeting with Trump is a first-time encounter. For Macri, however, the White House visit will be a homecoming of sorts, as the two men and their families share a long and picaresque history.
The story begins in the mid-1980s. Trump was trying to build a major development on Manhattan's West Side and he bought a large tract of land there from Mauricio Macri's father, Francisco Macri. Macri pere was a leading Argentine developer, auto dealer and financier who had weathered a series of financial ups-and-downs before trying to become a major player in New York real estate.
Macri purchased an option to develop the West Side Yards, a 77-acre expanse between 59th and 72nd Streets in 1979, for $6.5 million. At the time, it was the largest privately owned undeveloped parcel in New York City. Any builder who could successfully develop it would have vaulted into the top tier of New York developers.
Macri's banker was a veteran real-estate lender named Conrad Stephenson, who worked for what was then known as Chase Manhattan Bank. Stephenson told the Argentine that he could count on Chase's help if he found a New York developer to partner with him on the project. Stephenson, not incidentally, was also Trump's personal banker and had longstanding ties to the Trump family.
Before long, Macri and Trump were together. According to Trump's first biographer, Wayne Barrett, Macri made the move only because he felt pressured by Stephenson to involve Trump. For his part, Trump worked hard to cement the relationship. On one occasion, he and his first wife, Ivana, flew to Argentina to visit the Macri family in Buenos Aires. Trump even played golf with Mauricio, then a teenager who was working as an informal adviser to his father.
Happy golf games and overseas travel aside, the Macri-Trump relationship was troubled. Trump "feels like he is a bit like the owner of New York and he did not think I had the capacity to confront a project like this," Francisco Macri told Barrett in 1990. "He spoke as if I was a South American banana farmer. I wasn't a dummy, and he was very young."
(I was a research assistant on Barrett's book, "Trump: The Deals and the Downfall." I later wrote another biography, "TrumpNation," for which Trump unsuccessfully sued me for libel.)
For three years, between about 1982 and 1985, Trump and Macri jousted over the terms of their partnership, while Macri scrambled to meet shifting demands from Stephenson and other lenders about the scale of the development and the terms of the financing.
Macri and Trump argued over mortgage guarantees, responsibilities for projected costs and the specifics of Trump's investment and ownership stake in the development, which called for the construction of 4,300 apartments and more than a million square feet of office space housed in as many as 20 buildings. Meanwhile, New York residents -- concerned about the project's scope -- criticized Macri during public zoning hearings as a frontman for Trump.
Not surprisingly, the Trump-Macri relationship soured. Mauricio Macri later attended meetings in New York during which his father and Trump unsuccessfully tried to iron out their differences.
Francisco Macri and others involved in the project ultimately believed that Chase Manhattan and Stephenson had stalled the development by tilting various negotiations in favor of Trump. Macri appealed to Chase's chairman at the time, the late David Rockefeller, to intervene on his behalf. But Rockefeller, after looking into the matter, told Macri he couldn't help, according to Barrett's account.
Macri never got the site developed and Trump bought the property from him in 1985. After the purchase, Trump told the press that Macri had been a "know-nothing" and a "myth who's now safely back in Argentina." (Macri, now 87, still lives there.)
Trump would later describe purchasing the Yards in "The Art of the Deal" as "the easiest business decision I ever made," yet he also failed to develop the property.
After envisioning a new residential and television broadcasting complex on the site, Trump mismanaged negotiations with Mayor Ed Koch's City Hall and larded the Yards with debt he couldn't afford to pay back. In a transaction that essentially ended his efforts to become a major New York developer, Trump was forced to sell the site to Chinese buyers in 1994.
Now, 23 years later, Francisco Macri's son is visiting Washington to meet with his fellow head-of-state.
Old resentments may linger. Just about a year before Trump was elected president, Mauricio Macri described him as "totally crazy" and a "show off" -- and said, according to my Bloomberg News colleague Charlie Devereux, that he could never envision Trump becoming president.
On the other hand, Trump and Macri shared a congratulatory phone call the night Trump was elected, giving rise to speculation that Trump used the call to get favorable treatment for a Buenos Aires office tower he's building (Macri and Trump both said they didn't discuss that topic).
Since then, the U.S. and Argentina have squabbled over trade differences on products like lemons and biodiesel fuels.
While visiting Washington, Macri will be staying at Blair House and will be served lunch in the White House's Cabinet Room as a special guest of a president who may recognize that in politics -- as in real estate families -- memories are long.
To contact the author of this story:
Timothy L. O'Brien at tobrien46@bloomberg.net
To contact the editor responsible for this story:
David Shipley at davidshipley@bloomberg.net
Before it's here, it's on the Bloomberg Terminal.
LEARN MORE