Cities
It's Time for Buffalo to Secede, and Join Canada
The U.S. side of the Great Lakes has a far chillier economic outlook than its northern counterpart.
by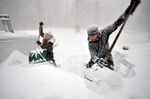 "The Great Lakes-St. Lawrence region," BMO Capital Markets senior economist Robert Kavcic wrote in a report published Tuesday, "is a vital driver of North American economic output, employment and trade, accounting for nearly a third of combined Canadian and U.S. output, jobs and exports." Economic growth in the region, he continued, "is expected to accelerate in 2017." Almost one-third! And growing! Go, Great Lakes!

The region does have its fast lanes and its slow lanes, though. Here's my rendition of a chart from the report:
The fast lanes, then, are mainly on the Canadian side of the Great Lakes-St. Lawrence region. Especially when you consider that the two U.S. Great Lakes states that are growing fastest, Minnesota and Indiana, don't really have what you'd call Great Lakes-oriented economies (that is, their main cities are 150 miles from the nearest Great Lake).
The disparity gets starker the deeper one digs into the data. The two Great Lakes that are most intensively shared by Canada and the U.S. are Lake Erie and Lake Ontario. There are lots of cities along both lakes, on both sides of the border. To be more precise, there are seven metropolitan areas of more than 250,000 people within 50 miles of the two lakes in Canada, and seven in the U.S. 1 Here's how their population growth since 2010 stacks up:
On the U.S. side, all these places are shrinking except metro Detroit, which is just holding even. On the Canadian side, they're all growing. This is not because Canada as a whole is leaving the U.S. in the dust. Real gross domestic product growth has been almost identical in the two countries since 2010, while Canada's population has been growing modestly faster (6.7 percent to 4.7 percent). And in the one other place where major metropolitan areas square off across the border, metro Seattle is actually growing faster than metro Vancouver. So no, these glaring Erie-Ontario disparities seem like mainly a regional thing.

Weather could be one factor, as the U.S. cities tend to be on the wrong side of the lake effect. Rochester's average annual snowfall, for example, is twice that of its fellow Lake Ontario metropolis, Toronto. Syracuse's is even higher. Then again, Quebec City, on the St. Lawrence River, gets almost as much snow as Syracuse, and its metro area population has grown 5.3 percent since 2010.

Another possible explanation is that the cities around lakes Erie and Ontario have long been big on manufacturing -- and manufacturing employment has held up better in Canada than in the U.S.
Why is this? In 2005, after Toyota chose to put a factory in Ontario instead of the U.S. South, economist and newspaper columnist Paul Krugman hypothesized that a better education system and cheaper, non-employer-funded health care gave Canada a leg up in such location decisions. Maybe so, but it's also true that if I had indexed my chart to January 2000 instead of November 1976 (the first month for which Canadian employment data is available online), Canada's manufacturing employment edge would almost entirely disappear. So far, this millennium has been brutal for manufacturing jobs in both countries.
It has not, however, been as bad for manufacturing jobs in Ontario as in the states immediately to the south and west of it. 
In this chart, I used actual employment numbers instead of an index (because I thought seeing the actual numbers would be more informative), but trust me: Ontario's 27.1 percent manufacturing job loss since January 2000 was smaller than that of any of its Erie-Ontario neighbors. New York's was the worst, at 42.1 percent. One reason: In the U.S. there's been a shift in manufacturing activity toward southern states with more management-friendly labor laws. That hasn't really been an option in Canada.

It hasn't been an option because of a basic geographic reality that may well explain most of the growth disparity. The economy that developed around lakes Ontario and Erie in the 19th century was built around the huge transportation advantages of being on the lakes, the Erie Canal or other waterways that connected to them. Those transportation advantages have long since mostly disappeared, so in the U.S. economic activity has shifted toward the South and West for reasons including labor costs, climate and transportation links. In Canada, you can't go any farther south than Southern Ontario and still be in the same country. You can't even move farther south and still be in the same province, whereas in Ohio, Pennsylvania and New York, one encounters much more economically vibrant cities a good distance south of the lakes. So Toronto is Canada's financial and media capital. Waterloo is Canada's Silicon Valley. Nearby Buffalo is none of those things.
It is, however, nearby -- just 58 miles as the crow flies (and about 100 miles by car) from the bustling global metropolis that is Toronto, and just slightly farther by car from Waterloo. The city's proximity to an economic boom region came up last week in a conversation I had with Alex Armlovich, a fellow at the Manhattan Institute in New York City who grew up in a Buffalo suburb. Buffalo, he joked, needed to secede and join Canada. When I contacted Armlovich this week to see if he was OK with having his name attached to a secession movement, he said sure, as long as I made clear that "secession is just an exaggerated 'modest proposal' case for greater trade links with our global city neighbor."

I tried the idea of greater trade links out on John Manzella, chief executive officer of the World Trade Center Buffalo Niagara, and he was all for it. He added, though, that the trade links are already quite well-developed, thanks in large part to the North American Free Trade Agreement. Still, there are irritants -- like the long waits for trucks to get through customs at the border. "That's always been an issue, and then after 9/11 it became an issue again," he said. Efforts to speed things up by allowing U.S. customs agents to pre-clear cargoes on the Canadian side of the border have met with difficulties, although they do seem to have been getting somewhere lately. And then there are President Donald Trump's occasional threats -- seemingly revoked Wednesday, but really, who knows -- to pull the U.S. out of Nafta. "Scrapping an agreement that works exceptionally well doesn't seem like a good idea," Manzella said.

So why not remove the risk? If Buffalo joined Ontario, it would instantly be transformed from frozen, remote, shrinking northern outpost of the U.S. to affordable architectural gem of the burgeoning Southern Ontario megalopolis. It would have the lovely Niagara wine country in its backyard (it already does, but those vineyards would seem closer). The State University of New York at Buffalo would go from somewhere in the 100s in the U.S. 2 to top-20 school in Canada, according to the Academic Ranking of World Universities. The University of Rochester, if the secessionary impulse carried that far, would be in the top 5. The Buffalo Bills would be the best football team in Canada (I think). Rick James would enter -- nay, dominate! -- the pantheon of greatest-ever Canadian pop stars.
OK, there might also be some complications. But a guy can nibble on a beef on weck and dream ...
I spent a while poring over the map and the population data on this, so I'm pretty sure I got them all. But if I missed one, please let me know.

The ranking puts it in a range from 99 to 119.
To contact the author of this story:
Justin Fox at justinfox@bloomberg.net
To contact the editor responsible for this story:
Brooke Sample at bsample1@bloomberg.net
Before it's here, it's on the Bloomberg Terminal.
LEARN MORE