Photographer: Ben Nelms/Bloomberg
view
Trump Fixates on Canadian Softwood. You Shouldn't.
It's a perennial trade dispute that Hillary Clinton would have handled the same way.
by
The next time you find yourself in a mixed group of Canadians and Americans, try this exercise: casually drop the words "softwood lumber dispute" into the conversation. If your experience is anything like mine, you will be met with two reactions, neatly divided by nationality.
Canadians (with faces ranging from earnest to a bit cold): I'm sorry, but I think your country is wrong about this. The Canadian government has a right to decide how it wants to manage its forestry resources.
Americans (brows furrowed in puzzlement): What the heck is softwood lumber and why is there a dispute about it?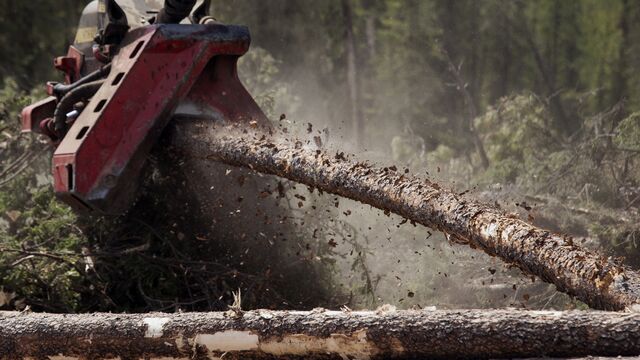 I myself am aware of the Great Softwood Lumber Standoff only because one of my early jobs in journalism was to provide web updates on Canada for the Economist. I'm dusting off some of that knowledge for confused Americans who have just learned that softwood lumber is a Thing because President Donald Trump is threatening tariffs on Canadian imports (and this morning, added insult to injury by complaining about Canadian dairy policy).
What is softwood lumber?
It's not necessarily soft, but it is wood. From coniferous trees like pines. That definition will suffice for our purposes. (There's more to it.)
So what's wrong with Canadian softwood lumber?
There's nothing wrong with it. It's great. Canada sells us lots of high-quality softwood lumber. Roughly $5 billion a year, apparently. It gets used in construction and things like box springs. American softwood lumber producers understandably wish that we used rather less Canadian lumber and more of the patriotic American kind.
How come they sell us so much of it?
According to American lumber producers, this is because of the nefarious subsidies the Canadian government has granted to its timber producers. In America, most softwood timbering takes place on private land, and the lumber is priced to recover the full cost of owning and maintaining many acres of trees. In Canada, forest resources tend to be owned by the government, which sets "stumpage fees" (the cost for cutting down a tree, which used to be assessed per stump and is now usually assessed by board feet or cubic meters).
The American producers complain that these fees are set too low, providing an unfair subsidy for Canadian timber, especially because British Columbia (which has a lot of timberland) bans the export of Canadian logs, so that American lumber mills are unable to get in on this sweet, sweet deal.
For variety, American producers occasionally also complain that Canada is "dumping" (basically meaning that a country is selling goods in a foreign market below the price at home. Since this is -- except in rare cases such as pharmaceuticals -- a stupid business practice, accusations of dumping tend to exceed actual instances by a healthy margin.)
Canadians dispute all this. Those who are not politic trade negotiators will add that anyway, it's not the American government's job to tell Canadians how to run their forests.
Who's right?
The history of litigation on this is long, rich and arcane. Since the 1980s, the U.S. and Canada have been locked in a cycle whereby the U.S. complains that Canadian softwood lumber is too darn cheap, complaints are filed with various entities, and eventually both sides decide it's easier to come to some sort of settlement rather than subject everyone to another endless hearing on the minutiae of the lumber industry. Then an agreement expires, American lumber producers say "Now's our chance, guys! We're going over the top!" and the magical cycle of birth and death, conflict and resolution, begins once again in the forest lands.
When trade bodies get around to ruling, those rulings are often mixed: "Yeah, okay, maybe there's some subsidy in there somewhere, but you Americans are wildly overreacting, so cool it with the huge tariffs." Which was basically my take on the dispute in 2004, when I last covered it. Research does not reveal any good reason to revise that view, especially because Canadian stumpage has evolved somewhat over the years. British Columbia now uses auctions in its coastal forest areas, which should tend to drive the price of stumpage there to par with the world market.
We should also note that any subsidy, however bad for American softwood lumber producers, is actually good for the vast majority of Americans who do not work in forestry. This morning, people were throwing wild numbers around about how much a tariff would increase the price of a house or a box spring. I'd take those numbers with a hefty dose of salt, but undoubtedly, they will drive the price of softwood lumber products up somewhat, which means less money in the pocket of you, The Modern American Consumer. So even if American timber producers were completely right and their tariff were warranted, the American consumer would suffer.
Why is Trump making a big deal of this?
Americans who have never heard of softwood lumber were probably surprised to learn that Trump had announced new tariffs personally last night at a reception with conservative journalists. These sorts of trade disputes aren't necessarily what we normally think of as presidential press fodder. Even Bush's steel tariffs, which were a considerably bigger deal politically, seem to have been announced by press release, not a Rose Garden signing ceremony.
Also of note: The Bush administration also slapped tariffs on softwood lumber, so it's not like Trump is engaging in some wildly unprecedented step. And no one at the time noticed except the handful of folks whose job it was to know the latest developments in the world of Canadian commerce.
I'd say it attracted more attention this time around because it's seen as an essentially Trump kind of move. Trump wants to be seen as a tough trade negotiator. And folks busily scrutinizing his administration for signs of protectionism run amok probably paid more attention to the announcement than they would have if it had come from another president. Or than they did when it came from another president.
In fact, this was a basically predictable development in a dispute that has now been running on for more than three decades. It might well have occurred the same way under Hillary Clinton, because that's just where we are in the cycle, the last bilateral agreement on the issue having expired in 2015. And it will probably end in much the same way under Trump as it would have under Clinton -- in an eventual agreement that few Americans outside of the lumber industry will ever hear of.
To contact the editor responsible for this story:
Philip Gray at philipgray@bloomberg.net
Before it's here, it's on the Bloomberg Terminal.
LEARN MORE