Food
Subway Sandwiches: Death by a Thousand Cold Cuts
Customers with more money can go to better chains. Customers with less money can make sandwiches at home.
by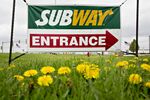 The thing about Subway's sandwiches is that they're … adequate. If you are trapped somewhere with nothing but fast-food options, and you don't want to blow most of your day's calories on something deep-fried or slathered in cheese, there's always Subway. Your sandwich will be bland, the bread spongey, the cold cuts … well, best not to pry too deeply into the quality of the cold-cuts, because you're hungry, aren't you? But it won't make you sick, and if you're reasonable about the cheese and the mayonnaise, it won't make you fat, either.
A few decades ago, "adequate" was a market space where a food purveyor could make some serious money. Subway franchises were a cheap way to own your own business, because they required little in the way of space or fancy equipment, and they required relatively small staffs. And thus the chain grew like wildfire, dominating even McDonalds itself for the title of "most ubiquitous eatery."
But Bloomberg's own Leslie Patton reports that for the first time, the chain is shrinking. The company closed 359 stores last year, reducing its total count by 1.3 percent. It's still growing internationally, but in the U.S., its future no longer looks quite so bright.
What's happening? Most of the articles noting the decline cite competition from upscale "fast casual" chains like Panera. But that's a little unsatisfying -- true, but not adequate. What we want to know is why Subway was hit so hard by that competition, after so many years of strong performance.
The first thing we should note is that Subway was born into a much different fast-food environment. Quick, cheap food came largely from either megachains, which mostly served a limited variety of hot foods, or from local stores, which were distinctly hit or miss. It was a time when it was relatively easy to break into the market, pushing out local chains that couldn't match the prices made possible by a vast supply chain, and taking business from franchises that specialized in hot, fattening food. Compared to those places, Subway offered not only lighter fare, but also a wider variety of options for large groups or families that might otherwise spend all afternoon trying to choose a lunch destination.
However, there was always a weakness at the heart of the Subway model: a sandwich is one of the easiest things to make. Good French fries are hard, and so are the logistics of keeping a steady stream of burgers flowing to meet customer demand -- making neither too many, so that they get tasteless under the heat lamps, nor too few, so that customers have to wait while you fry up a bunch more food. Getting these things right requires experience and quite a bit of research and equipment.
A sandwich shop, on the other hand, uses ordinary supplies, and pretty much every American has mastered the essential skills by the time they leave grammar school. That means they face three kinds of stiff competition: upmarket competition from either local shops or fancier chains that can provide a substantially higher-quality product; lateral competition, from similarly priced entrants that copy the business model; and downmarket competition from customers themselves, who can, after all, fairly easily replicate what you do with a modestly priced assortment of supermarket goods. As customer tastes changed, supermarkets improved, and competition proliferated, the sandwich shop was in one of the most vulnerable market niches.
Meanwhile, Subway was badly positioned for what became a critical niche in America: the drive through. It isn't that you can't have a Subway drive-thru; it's that its value proposition to the customer (getting to choose from an array of toppings visible behind the sneeze guard, and personally overseeing the construction of the sandwich) is lost when ordering from your car. Nor is something like a meatball sub particularly easy to eat with one hand while piloting your automobile through local traffic.
Subway's niche proved valuable for years, but it was hard to protect when conditions changed. If you're going to have to get out of your car to order, you might as well go to one of the many better sandwich shops that have become available; if you can't afford to do so, you might as well get a bag of cold-cuts and a Kaiser roll from the supermarket and make yourself a better sandwich.
Of course, it's hardly time to start composing the funeral oration; the company still has a whole lot of locations, and presumably, a whole lot of people ordering sandwiches at them. But its vulnerabilities are large, and unless the company figures out some hard-to-copy way to differentiate itself in an increasingly crowded marketplace, they are likely to grow larger still.
To contact the author of this story:
Megan McArdle at mmcardle3@bloomberg.net
To contact the editor responsible for this story:
Philip Gray at philipgray@bloomberg.net
Before it's here, it's on the Bloomberg Terminal.
LEARN MORE