Europe
Portugal Is a Keynesian Mirage
Lisbon's fiscal miracle reflects deep cuts in capital spending.
by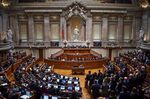 Throughout the euro-zone crisis, the European Commission has been accused of imposing unnecessary austerity on countries in distress. Economists, particularly from the left, argued that tax hikes and spending cuts were self-defeating, as lower growth only makes budget targets harder to achieve.
The supporters of this view felt vindicated last week, when Portugal posted the best budget figures since becoming a democracy in 1974. Despite raising pensions and public-sector wages, the left-wing coalition government led by Prime Minister Antonio Costa announced a government deficit just below 2.1 per cent of gross domestic product. The European Union had set Portugal a target of 2.5 per cent.
Keynesians shouldn't celebrate too soon, however. The Portuguese fiscal miracle also reflected deep cuts in capital spending, to make up for a shortfall in tax receipts. So yes, the government boosted transfers and lowered the budget deficit -- but at the cost of forgoing productive investment for the future.

According to data from the Portuguese Public Finance Council, Lisbon cut public investment by 28.9 percent last year. Only 2.9 billion euros were spent on roads, hospitals, and suchlike. This is equivalent to a meager 1.6 percent of GDP, the lowest since at least 1995, and less than a third of the pre-crisis peak of 2010.
This collapse shouldn't be blamed entirely on Portugal's government. Funding from the EU for capital investment halved from 1 billion euros to 503 million euros. Yet the government did little to counter this decline. Instead, it oversaw an increase of 1.4 percent in current spending, as the total public-sector payroll climbed by 2.8 percent and transfers increased by 1.1 percent.
Overall, Portugal's improving fortunes offer a heartening example for countries such as Greece that are struggling to leave behind years of crisis. But the Lisbon approach doesn't amount to an alternative, left-wing model for sustainable growth. Portugal's government is redistributing the fruits of this recovery, but failing to plant the seeds for a new crop.
To contact the author of this story:
Ferdinando Giugliano at fgiugliano@bloomberg.net
To contact the editor responsible for this story:
Clive Crook at ccrook5@bloomberg.net
Before it's here, it's on the Bloomberg Terminal.
LEARN MORE