Federal Reserve
Don't Appoint Clones to the Fed
Trump's reported nominee, Randal Quarles, is too similar to the current group of governors.
by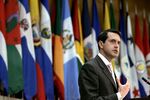 Donald Trump has reportedly zeroed in on a candidate to be the top financial regulator at the Federal Reserve. Unfortunately, his choice lacks one of the fundamental requirements for the job: a background and perspective different from that of other Fed governors.
I'm not personally acquainted with Randal Quarles, Trump's purported nominee to be vice chair for supervision and regulation on the Fed's Board of Governors. His education and experience, though, suggest that the Trump administration is looking for a clone of current Fed Governor Jay Powell.
Both have Ivy-league undergraduate degrees and juris doctorates from top law schools. Both worked in the Treasury Department under President George H.W. Bush (Quarles also worked there under George W. Bush). Both worked in the private sector at the Carlyle Group, a politically well-connected investment firm.
At first glance, these are excellent credentials. Powell has certainly been a great governor. But I think this approach to choosing a new governor is flawed for at least a couple of reasons.
First, it's not consistent with the intent of Congress as expressed in the Federal Reserve Act. The Act says that in appointing members to the Board, "the President shall have due regard to a fair representation of the financial, agricultural, industrial, and commercial interests, and geographical divisions of the country." Appointing yet another governor with a resume similar to the others isn't consistent with this vision.
Second, it won't be conducive to effective decision-making. It's well-known (and intuitive) that homogeneous decision-making teams don't explore a sufficiently broad range of ideas.  More interestingly, research suggests that such groups don't process relevant information sufficiently carefully and are overly confident in the quality of their decisions. These are all criticisms that have been made about the Fed's approach to financial stability and monetary policy.
The Board of Governors has seven members so that its decisions can be shaped by seven different perspectives. But that can happen only if the president appoints governors who have sufficiently diverse life experiences. Quarles doesn't come close to meeting this basic criterion.
This column does not necessarily reflect the opinion of the editorial board or Bloomberg LP and its owners.