view
The Daily Prophet: What Trump Got Wrong About the Dollar
Connecting the dots in global markets.
by
President Donald Trump sent currency markets into a tizzy late Wednesday when he signaled his preference for a weaker dollar. "I think our dollar is getting too strong, and partially that's my fault because people have confidence in me," Trump told the Wall Street Journal.

Although the greenback immediately dropped before stabilizing Thursday, that's only part of the story. In fact, it has been falling all year as traders lose confidence in Trump's ability to push his pro-business, pro-growth policies through Congress. Judging by the Federal Reserve's U.S. Trade Weighted Real Broad Dollar Index, the currency is weaker now than at the end of November, the month of Trump's election victory. Other markets are sending similar signals. Stocks are rolling over and yields on Treasuries suggest optimism for stronger economic growth is quickly fading.




"His claim that the dollar is too strong is not new, but it is the first time he has ventured down that path since the inauguration," the currency strategists at Brown Brothers Harriman said in a report. "If a leader of another country said what he did, they likely would be accused of manipulating their currency. That said, in the U.S. Treasury's criteria of currency manipulation, jawboning does not count."

BOND BULLS VINDICATED
Trump's comments also gave a boost to Treasuries, which were already benefiting from traders seeking a haven amid heightened geopolitical risks around the world. That's because besides talking about the dollar, Trump also said the U.S. wouldn't designate China a currency manipulator. The bond market let out a sigh of relief because that lessens the chance that China, which is America's largest foreign creditor after Japan, would retaliate by purchasing fewer Treasuries. According to the strategists at BMO Capital Markets, current yields suggest that traders have "now priced out a significant amount of the optimism linked to Trumponomics."  Treasuries are poised to rally for the fifth straight week, the longest stretch since July. Unlike at the beginning of the year, almost no one is talking about looming selloff.  



STOCKS CONTINUE TO WOBBLE
The Trump bump is quickly becoming just a memory to stock traders, too. The S&P 500 Index fell for a third straight day and is now down 2.80 percent from its post-election high on March 1. The cost of hedging against a 5 percent decline in the S&P 500 Index over the next month has jumped at the fastest rate since June's Brexit referendum, relative to options betting on a gain of that magnitude. The Credit Suisse Fear Barometer, which measures the cost of buying protection against declines in the S&P 500 Index, neared an all-time high this week. All that comes despite forecasts that first-quarter corporate earnings to be released in coming weeks will show strong increases approaching 10 percent on average. Here's one more ominous sign: The S&P 500 has fallen below its 50-day moving average for the first time since Nov. 8.


BULLISH ON GOLD
It's no wonder that perhaps the only market hotter than the one for Treasuries is the one for gold. Bullion is up 11.4 percent this year to $1,289.10 an ounce. In a survey this week, traders and analysts were the most positive on gold since December 2015, according to Bloomberg News' Eddie van der Walt and Ranjeetha Pakiam. In yet another bullish sign, prices have climbed above the 200-day moving average and Britain's Royal Mint said bullion purchases jumped 20 percent in the first quarter. "We have all these latent threats that have been around for a while, Trump, European elections, Brexit, and they're all just becoming a little more acute," said Mark O'Byrne, a director at broker GoldCore Ltd. in Dublin.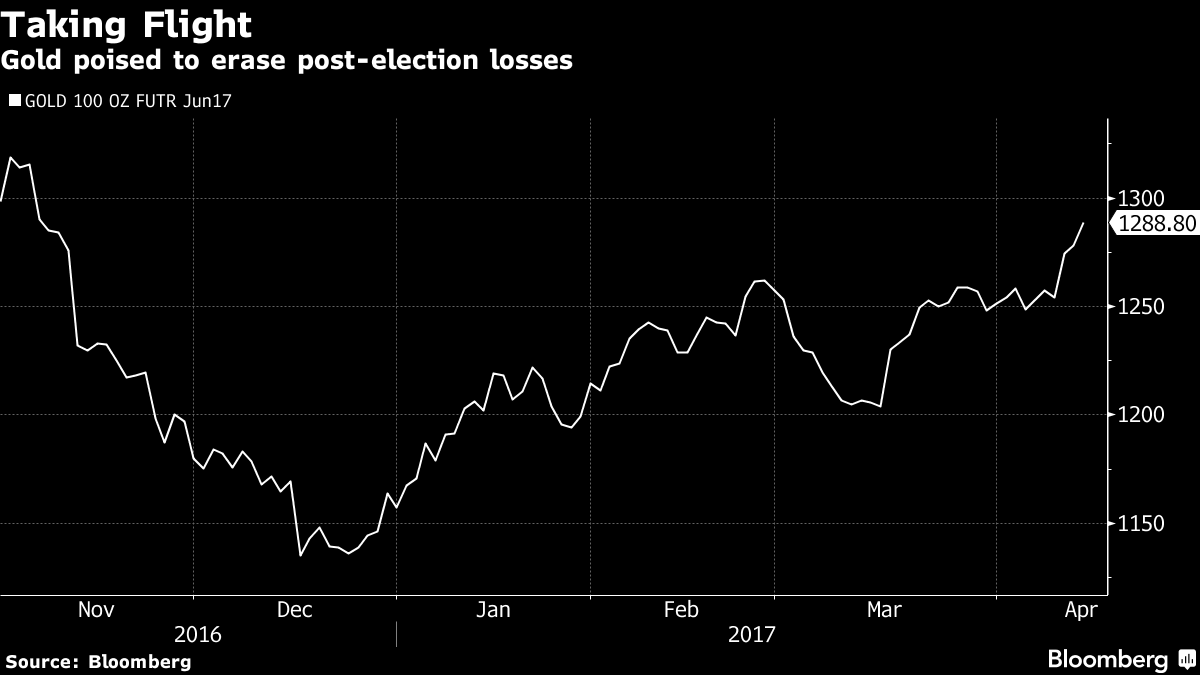 ENOUGH WITH THE BAD NEWS
It's around this time that analysts are usually busy trimming their overly optimistic corporate profit forecasts. Not this year. With the return of inflation and improving economic growth, they are instead upgrading their 2017 estimates for earnings around the world, according to Bloomberg News' Blaise Robinson. Positive revisions are outnumbering negative ones, data compiled by Bloomberg show, which bodes well for equities in the coming months. The upgrades are uncommon, say JPMorgan Chase strategist say, especially since consensus projections at the start of the year were already elevated. First-quarter earnings are expected to rise 15 percent for European companies, 9 percent for those in the U.S. and 16 percent for Japanese firms. Bank of America-Merrill Lynch says a global earnings upgrade cycle has begun, with the number of profit upgrades outnumbering downgrades for the first time in six years. Previous instances of the earnings revision ratio rising above 1 have flagged a stock rally in the following 12 months on average, the firm says.



TEA LEAVES
Many investors around the world will enjoy a long weekend due to the Easter holiday, but that doesn't mean they will be able too completely tune out. Even though U.S. stock and bond markets will be closed for trading Friday, it's not a federal holiday and that means the government will release important reports on inflation and retail sales. On Sunday, Turkey will hold a vote on changes to its constitution that would endow President Recep Tayyip Erdogan with sweeping executive powers. A 'yes' vote could prompt a relief rally as Erdogan's role is formalized, ending months of political turmoil compounded by a failed coup attempt, credit-rating downgrades and the lira's slump to a record. In North Korea, a series of events over the next 13 days -- from founder Kim Il Sung's 105th birthday to the army's anniversary -- raise the chance of provocative action from the nuclear-armed state.
If you'd like to get The Daily Prophet in e-mail form, right in your inbox, please subscribe to this link. Thanks!
DON'T MISS
Housing Trends Keep U.S. Interest Rates Suppressed: David Ader
The Ruble May Be Down, But It's Hardly Out: Jason Schenker
Statistical Significance Is an Overrated Concept: Noah Smith
The Greece-EU Settlement We Need Still Isn't In Sight: Editorial
Cohn Should Make Financial Reform About Simplicity: Editorial
To contact the author of this story:
Robert Burgess at bburgess@bloomberg.net
To contact the editor responsible for this story:
Max Berley at mberley@bloomberg.net
Before it's here, it's on the Bloomberg Terminal.
LEARN MORE