Europe
Behind Hungary's Latest Move Against George Soros
The attack on the liberal financier's university in Budapest was long expected. Now what?
by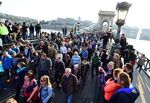 On walls, pillars and billboards across Budapest, the far-right Jobbik party has plastered the face of Hungarian Prime Minister Viktor Orban and assorted cronies above a simple slogan: "They Steal."
Corruption has been an increasingly salient feature of Orban's rule, but the heist most recently contemplated by Orban and his Fidesz party, which dominates Hungary's parliament, is an unusual one: They want to steal a university.
On Monday night, Hungary's president, Janos Ader, signed amendments to the national higher education law that are designed to make it impossible for the Central European University, which is based in Budapest, to function. One stipulation requires schools to establish campuses in their home countries -- CEU is accredited in the state of New York but has no campus there -- by the end of the year. Another requires bilateral agreements with the home countries of universities from outside the European Union. Central European University is the only school to which the otherwise pointless new rules apply.
In a statement, the university denounced what it called "a premeditated political attack on a free institution that has been a proud part of Hungarian life for a quarter of a century."
Tens of thousands turned out in the capital on Sunday to protest the legislation targeting CEU, which was established in 1991 by Hungarian-born financier George Soros. Like local nongovernmental organizations promoting integration and human rights, many of which Soros also supports, the university represents an affront to Orban's ideal of "illiberal democracy," which increasingly looks like populist autocracy sanctioned by elections, a kind of Putinism with Hungarian characteristics.
In an email interview, Kim Lane Scheppele, a Princeton University professor who has studied Hungary's constitutional transition from communism, provides some context:
Since summer 2015, Orban has been demonizing George Soros and blaming the refugee crisis on him. Orban has argued that the refugee crisis is Soros's way of guaranteeing pluralism in Europe because Soros doesn't support the current government's defense of Christian Hungary. …

Over the two years, anti-Soros public rhetoric coming from the Orban government has been intensifying so everyone has been expecting a crackdown on Soros's organizations in Hungary, including CEU and the various NGOs that Soros has funded.
Orban has been a relentless foe of Muslim refugees, constructing fences and excuses to keep them out of Hungary. He has been undermining independent media, courts and civil society for several years. He may have felt that with the presidency of Donald Trump in the U.S., he finally had the opportunity to eliminate CEU, a globally recognized vessel of the kind of European liberal values that Orban opposes -- all while Hungary reaps the benefits (including subsidies) of membership in the European Union.
Orban was a lonely European leader supporting Trump's candidacy last summer. Trump, like Orban, scapegoats both Muslims and Soros. Trump said Soros belongs to "a global power structure that is responsible for the economic decisions that have robbed our working class, stripped our country of its wealth, and put that money into the pockets of a handful of large corporations and political entities."
A Trump campaign ad featured Soros, Federal Reserve Chair Janet Yellen and Goldman Sachs Group Inc. CEO Lloyd Blankfein -- all Jewish -- as representatives of nefarious forces that "control the levers of power in Washington." 
So far, Trump appears too distracted, uninterested or oblivious to lend American support to Orban's crusade. (Hungarian universities are not a staple of discussion on the "Fox & Friends" sofa.) Trump has said nothing. But the U.S. State Department, with or without the president's knowledge, has officially urged Hungary not to imperil the university with legal technicalities.
Support for the university from local Hungarian sources, who risk Orban's wrath, comes at a potentially higher cost. As Bloomberg reporters Zoltan Simon and Edith Balazs reported, Orban's control is extensive, and expanding:
Independent institutions are run by his people: the head of the state prosecutor's office is a former lawmaker of the ruling party, the central bank chief is an ex-minister Orban once called his "right arm" and the Constitutional Court is stacked with loyalists. Parliament, dominated by Orban's lawmakers, routinely fast-tracks government legislation. Independent media is disappearing and outlets have come under the control of Orban's allies.
In an interview in her office, Eva Fodor, the university's pro-rector for social sciences and the humanities, said that members of Hungarian civil society and academic institutions have nonetheless come to the university's defense. "We did not realize they were going to be brave enough to stand up," she said.
"CEU specifically and the Soros network generally have pulled out all the stops to defend CEU and the Soros-funded civil-society sector," said Kim Lane Scheppele. "They have known since 2010 that this day would come."
A vice president of Orban's Fidesz Party said earlier this year that the party would "sweep out" NGOs that "back political correctness over national governments." 
Orban has failed, thus far, to get his American counterpart's attention, for better or worse. That could change with a tweet, of course. But until then, the European Union will be left to confront the latest attack on democratic freedoms in Hungary. If the EU doesn't move quickly to protect the university, it could be snatched from the heart of Budapest.
To contact the author of this story:
Francis Wilkinson at fwilkinson1@bloomberg.net
To contact the editor responsible for this story:
Katy Roberts at kroberts29@bloomberg.net
Before it's here, it's on the Bloomberg Terminal.
LEARN MORE