Currency
China Finally Halts Outflows. Now What?
Trapping money at home is only creating new problems.
by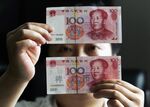 Is China finally making headway in its battle against currency outflows? On the surface, yes: People's Bank of China foreign exchange reserves are effectively unchanged since December at $3 trillion, and data for February released by the State Administration of Foreign Exchange showed a significant narrowing of net outflows of capital based on international bank settlements and sales.
That's a major accomplishment, given that yuan had been leaving the country at an average rate of almost $60 billion per month in the middle of last year. But how this turnaround was achieved raises some serious long-term questions for China.
For one thing, it wasn't driven by economic strength. Officially recorded payments and receipts are both down significantly across all categories. Total foreign bank inflows are flat, while payments abroad were down by 15 percent through the first two months of the year. With total outflow payments from banks of $3.1 trillion in 2016, a 15 percent drop represents a large decline in absolute terms.
In other words, balance wasn't achieved by increasing exports or investment into China, but rather by preventing Chinese from buying from and investing in the rest of the world. Some of the government's restrictions on currency-exchange transactions-- such as cracking down on fake trade data and overpayments for imports -- were justified and sensible. But others were more dubious and have led to significant distortions.
Most banks, for instance, now can only pay for international transactions if they've balanced their books with a corresponding level of inflows. Beijing-based banks are under particular pressure, required to bring in 100 yuan for every 80 they use to pay for overseas transactions. Unsurprisingly, given these regulations, official bank payments and receipts are now almost perfectly balanced. But accomplishing this has required major declines in foreign investment as well as triple-checking what used to be routine transactions of virtually any size.

Foreign firms don't have it much easier. Although China still officially permits foreign companies to move capital for standard operating transactions, such as dividend payments, more than a few firms have complained about not getting permission to do even that. The risk is that foreign investment in China, which has declined, will fall even further if investors worry about not being able to bring profits back home.
Similarly, stepped-up capital controls on Chinese looking to move cash abroad has increased the attractiveness of gray-market money changers in Hong Kong, who have little difficulty finding firms in China hoping to move large sums. Although their volumes have dropped somewhat, the money changers still do a thriving business selling U.S. dollars at a typical discount of 2 percent to 5 percent from the official rate.
Beyond such distortions, the primary effect of these restrictions has been to severely curtail outward investment, which is down 55 percent year-to-date. Rather than celebrating the balancing of capital flows, China should be concerned that it took such a wide variety of strict controls only to return to no net outflows. Absent increasingly harsh measures to keep capital in China, it's likely new and creative ways will be found to smuggle money out. 
For China hasn't addressed what is pushing capital out of the country in the first place: a lack of appealing investments. Last year, private companies were responsible for only 33 percent of fixed-asset investment in China. In an economy beset by overcapacity and rising costs, it's not surprising that they want to move capital abroad.
In trying to prevent that, and forcing capital to remain inside China, the government is allowing banks to continue a lending binge. This is delaying much-needed financial reform and serious efforts at deleveraging. It is also leading to some absurdities as asset prices rise, including real estate priced at $1,000 per square foot in some cities, a surge in commodity-based wealth-management products, even a tripling of donkey prices.
China is also essentially sacrificing its ambitions to internationalize the yuan. With yuan deposits in Hong Kong down 39 percent from last year and currency flows to pay for overseas investment down 41 percent through the first two months of 2017, it's clear that the government has concluded its global currency ambitions are less important than domestic stability.
More fundamentally, though, the government seems to be losing its influence over an increasingly affluent and business-savvy population. If people feel their interests are better served by moving money abroad, they'll do so, and companies will find ways to help them. China may have stopped the outflows for now. Until it addresses the reasons money is leaving, that will be a Pyrrhic victory.
To contact the author of this story:
Christopher Balding at cbalding@phbs.pku.edu.cn
To contact the editor responsible for this story:
Timothy Lavin at tlavin1@bloomberg.net
Before it's here, it's on the Bloomberg Terminal.
LEARN MORE