U.S. Economy
Banks Hire Like They Believe in Trump
Financial-industry employment has accelerated under the new U.S. president.
by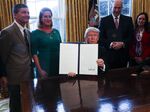 Time and again, President Donald Trump and administration officials have promised to cut regulations that they say hold back the financial industry. The latest jobs data suggest that bankers might be buying it.
In an otherwise mixed jobs report for March, finance was among the sectors that outperformed. During the three months through March, employment in the category (which includes real estate and insurance) averaged an estimated 8.4 million, up an annualized 2.7 percent -- or 56,000 jobs -- from December. That's the fastest quarter-on-quarter pace of growth since 2006, and compares with an annualized gain of 1.5 percent for nonfarm employers overall. Here's a chart: 


The hiring doesn't seem to be primarily a Wall Street phenomenon. State-level data, which go through February, suggest that a lot of the job growth is happening outside New York, in states such as Illinois, Texas and Ohio. Here's a chart showing the states with the largest gains since October, the month before Trump was elected:
So why the hiring? Well, banks have been getting pretty fired up about the prospect of deregulation. Encouraged by Trump's rhetoric, bank lobbyists and Congressional Republicans have put forth proposals that range from defanging the Financial Stability Oversight Council to providing relief for community banks.
Granted, financial companies may have other reasons to add jobs. For one, profitability has been on the rise: The industry's profits amounted to about $114 billion in the fourth quarter of 2016, up 22 percent from a year earlier, according to the Bureau of Economic Analysis. That said, cost-cutting has played a significant role.
Beyond signing memos and meeting with executives, the president hasn't yet done much to put his words into action. Any efforts to rewrite the 2010 Dodd-Frank Act will face a battle in Congress. It's also possible that change will be more radical than what banks expected: White House economic adviser Gary Cohn, for example, has come out in favor of restoring the Depression-era Glass-Steagall Act, which separated bread-and-butter commercial banking from high-octane investment banking.
So to the extent that financial companies are getting excited about deregulation, their enthusiasm might be premature.
This column does not necessarily reflect the opinion of the editorial board or Bloomberg LP and its owners.