Prophets
Qatar's Bold Move to Reassert Its Grip on Natural Gas Market
The prospect of more competition may not please the Russians, as the market is already in the midst of a three-year slump.
by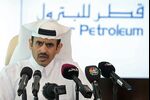 Half of the world's biggest natural gas field is back in play. The Qatari moratorium on development of the North Field has been lifted, ending a frustrating 12-year wait for gas companies and customers. This move challenges rivals around the world and across the Gulf and broadens the tiny emirate's political footprint, but it also speaks of domestic imperatives.
Saad Sherida Al Kaabi, the chief executive of state-owned Qatar Petroleum, announced the plans for new development of the North Field on Monday. The southern part of the field, largely untouched, and which runs just to the country's onshore, will be developed to produce 2 billion cubic feet per day gas, about 10 percent of the field's current output. With 135 years of gas reserves at current production rates, Qatar can certainly afford to step up output.
Doha shares the giant field with its neighbor Iran, where it is known as South Pars. Iran allowed Qatar a head-start in development, and only has about a third of the combined field reserves within its waters. But after lengthy delays due to sanctions and management problems, South Pars production is set to overtake that from the North Field by next March. The French oil company Total SA, involved on all sides, signed a preliminary agreement to develop a further phase of South Pars in November. Doha and Iran have diligently developed lines of projects along their shared border, to capture as many resources as possible. In Iran, though, the perceived loss of gas to Qatar has been a sensitive political issue.
QP's move comes as the global liquefied natural gas market remains deep in a three-year slump, which most observers don't see ending until 2020 or even 2022.
Four countries are vying to be the world's biggest exporter: Qatar, the current leader, with 78 million tons per year capacity (10.3 billion cubic feet of gas per day), is likely to be overtaken by Australia this year. The U.S., awash with cheap shale gas, is building five projects totaling 74 million tons per year, and expansions could boost this further. On Thursday, Russian President Vladimir Putin said his country would become the top exporter, though that seems a distant aspiration.
The prospect of more competition may not please the Russians, whom the Qataris helped late last year when buying a share in state oil champion Rosneft PJSC in a convoluted part-privatization deal. New supplies are also set to come from big fields off Mozambique and Tanzania. Gas is easy to find around the world; the tough part is getting it to market at a competitive price.
All these aspirants now realize the giant of the LNG world is back in the game. With its prolific reservoir, existing infrastructure and large scale, new Qatari LNG should again be the world's cheapest to produce. Developing more at home will be lower-cost and less risky than searching for gas in Morocco and Cyprus, which QP recently entered. Qatargas may even be able to inexpensively de-bottleneck existing "trains" (LNG-producing units), rather than having to construct new ones at a cost of some $14 billion.
So, this move is partly about deterring new LNG projects, with the threat of new ultra-competitive Qatari gas arriving around 2022, just when many observers expect the market to be tightening again. Al Kaabi has not named an international partner for the project, with ExxonMobil Corp., Total and Royal Dutch Shell Plc -- the leading foreign players in Qatar -- likely contenders.
But Al Kaabi has also pursued a policy of strategic ambiguity. He said QP had not decided whether the gas would be exported as LNG, or "other products." Assuming the country does not intend to build more gas-to-liquids plants, like Shell's Pearl, which produces diesel, jet fuel and other synthetic oil from gas, the only other large-scale export option would be by pipeline.
And this is where Qatar comes into direct competition with Iran. Last summer, Dolphin Energy, the joint venture between Abu Dhabi's investment vehicle Mubadala Development Co., Total and Occidental Petroleum Corp., signed deals to sell more Qatari gas through its underutilized pipeline to the UAE. That pipeline runs on to Oman. The Sultanate is currently in talks with Tehran for a 1 Bcf per day undersea pipeline. Iran has also offered gas to the UAE, Bahrain and Kuwait but politics and sanctions have stymied any deals, though it is beginning exports to ally Iraq.
Qatar's ambitions in the early 2000s to build pipelines to Bahrain and Kuwait were kicked into touch by Saudi Arabia, which did not want its upstart rival to gain political influence within the six-member Gulf Cooperation Council. The United Arab Emirates and Kuwait both import LNG, while Bahrain is building an import terminal -- a necessary absurdity, when all lie within easy reach of the world's biggest gas field.
Now with additional gas available, Qatar could even look to its big southern neighbor as a customer. Saudi Arabia has been expanding its own gas production rapidly, but still barely keeping up with rampant electricity demand, for which it burns a million barrels per day of crude oil during the summer. The Saudis have considered building their own LNG terminal, probably on the Red Sea coast which is far from their main gas fields. But to import gas from upstart Doha may be too sensitive.
Finally, ending the moratorium meets QP's domestic needs, too. With oil production in slow decline, and no new gas projects, it has been under pressure to show growth. After heavy spending cuts, the national economy also needs a tonic beyond the infrastructure for the 2022 World Cup. Qatar probably won't win that tournament, but this new project keeps it as the gas world's champion.
This column does not necessarily reflect the opinion of the editorial board or Bloomberg LP and its owners.