Editorial Board
Nicolas Maduro Hasn't Gotten the Message
Venezuelans could use the help of a few good neighbors.
by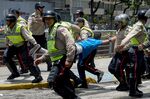 Another day, another cloud of pepper spray and tear gas in the streets of Caracas. The autocratic government of President Nicolas Maduro has hardly changed its spots.
It may have seemed otherwise, after the Venezuelan Supreme Court was forced last month to reverse its unconstitutional takeover of the country's legislature. But Maduro has continued to suppress peaceful protests of his rule. So it will be up to Venezuela's neighbors to restore democracy, stability and prosperity to the country with the world's biggest oil reserves.
The U.S., given the resentment of both its current leadership and past role in the region, can play but a limited role. U.S. Senator Marco Rubio discovered as much when he threatened the governments of the Dominican Republic and El Salvador with cutbacks in U.S. assistance unless they voted with the U.S. against Venezuela at the Organization of American States. They reacted as one might expect -- with disdain.
To its credit, the U.S. has wisely refrained from calling for Venezuela's suspension from the OAS. For one thing, it doesn't have the votes to prevail -- and ham-handed threats won't win them. But even then, kicking Venezuela out won't solve the country's problems. Better to keep it subject to steadily increasing regional suasion with a credible threat of expulsion hanging over Maduro's head.
Twenty OAS members have made clear in two back-to-back meetings that they are determined to hold Venezuela to account and push it to restore democracy. Moreover, Argentina, Brazil, Paraguay and Uruguay have started a process that could drop-kick Venezuela from the Mercosur trading bloc.
Mexico, which will host the OAS General Assembly in June, is also playing a constructive role (another reason, if any were needed, for President Donald Trump to reconsider his bullying of America's southern neighbor). More energetic U.S. diplomacy -- conducted by confirmed appointees, not stand-ins -- would also help. And wooing Caribbean countries ready to be weaned from subsidized Venezuelan oil would also pay diplomatic dividends for the U.S. outside the hemisphere.
Venezuela's deepening economic chaos and tightening repression demand a response, not least for the growing burden they impose on its neighbors. Political prisoners should be freed; long-delayed elections must be held; and the integrity of its institutions restored. Drawing on its own hard history, the hemisphere has long argued that such changes can only be helped, not imposed. Now it must prove that this approach can work better than its oft-tried alternatives.
--Editors: James Gibney, Michael Newman.
To contact the senior editor responsible for Bloomberg View's editorials: David Shipley at davidshipley@bloomberg.net .
Before it's here, it's on the Bloomberg Terminal.
LEARN MORE