Prophets
The Daily Prophet: Admit It, Stocks Are Pretty Boring These Days
Connecting the dots in global markets.
by
You're not imagining things. The U.S. stock market is about as much fun these days as watching paint dry. The S&P 500 Index is basically flat over the past six weeks. The reason most often cited is the realization that President Donald Trump may not have such an easy time pushing through such market-friendly stimulus measures as tax cuts, bank regulatory reform and infrastructure spending after his health-care defeat.

Rather than seeking to soothe investors' nerves as valuations hover near record highs, an increasing number of influential analysts are sounding concerned. Bob Doll, the chief equity strategist and senior portfolio manager at Nuveen Asset Management, said sentiment on the U.S. economy may be too high, leaving investors vulnerable to negative surprises. Stocks and junk bonds may suffer in the short-term, with the chance of a deeper sell-off growing, he said. Thomas J. Lee, managing partner at Fundstrat Global Advisors, said in a report Friday that the recent rise in junk bonds yields have equated to S&P 500 losses of 4 percent or more since 2010.

Wells Fargo strategists said last week that they are worried stocks have gotten too pricey after the S&P 500 rallied more than 12 percent from the day after the election to the beginning of March "with nary a whiff of a pullback." That "just doesn't occur all that often in any market environment." That may be so, but this bull market in stocks has continuously found ways to prove the doubters wrong over the past eight years.

WHAT JUST HAPPENED AT THE T-BILL AUCTION?
The U.S. government's weekly auction of one-month Treasury bills turned out to be a dud in what may be a reflection of early jitters about raising the nation's debt ceiling. House and Senate appropriators are working this week to resolve more than 100 issues in the 10 spending-bill omnibus package needed to keep the government open after April 28. But that isn't assured. At today's auction, Treasury Department received bids of just 3.03 times the $55 billion amount offered. That's the lowest bid-to-cover ratio this year, and among the lowest for any auction going back to 2009. House Speaker Paul Ryan recently said Republicans will likely attach some kind of additional legislation when Congress tries to address the ceiling, raising the risk of a showdown. Democratic leaders have said they will only support a "clean" extension, without partisan riders.

POLITICS SPOOK EUROPEAN BOND TRADERS
The French elections are heating up, and so is the hand-wringing among bond investors. Yields on French 2-year bonds have risen to their highest levels since 2012 relative to similar maturity German bunds. France's presidential candidates are holding TV debates with Francois Fillon desperate to revive his campaign, Jean-Luc Melenchon looking to maintain his recent momentum and everyone taking aim at front-runner Emmanuel Macron. For more than a month, polls have shown Macron and the National Front's Marine Le Pen taking the top two spots in the first round on April 23. That would qualify them for a runoff two weeks later where Macron is seen winning easily in his first ever political campaign. Dig a little deeper into the numbers, though, and the polls show that Le Pen's supporters are committed, whereas Macron's are more driven by dissatisfaction with the other offerings and less certain to back him, according to Bloomberg News's Gregory Viscusi and Mark Deen.

YEN FINDS LOTS OF LOVE
With the stock market wobbling, optimism waning that Washington will be able to get anything meaningful done anytime soon and European politics in flux, it's no wonder that traders can't get enough of the yen. Japan's currency, a traditional haven in times of turmoil, has been steadily moving higher. It has appreciated over the last week, month and three months against its developed market peers, according to Bloomberg Correlation-Weighted Indexes. It's the only currency to accomplish that feat. Its 3.24 percent gain over the past month against the basket is more than twice that of the second-biggest gainer, the British pound at 1.29 percent.

NATURAL GAS IS SOARING
The market for U.S. natural gas is having a moment, with futures surging to a two-month high. Today's move was no one-hit-wonder. Gas just capped the best one-month rally since June, buoyed by traders wagering that shipments to Mexico and overseas buyers will leave stockpiles of the fuel below normal by the beginning of next winter, according to Christine Buurma. Bank of America Corp. has predicted that prices will jump about 20 percent from current levels by the end of 2017 as output from shale basins slows. Gas explorers including Range Resources Corp. and Chesapeake Energy Corp. were among the best performers in the S&P 500 Index on Tuesday amid the rally in energy prices.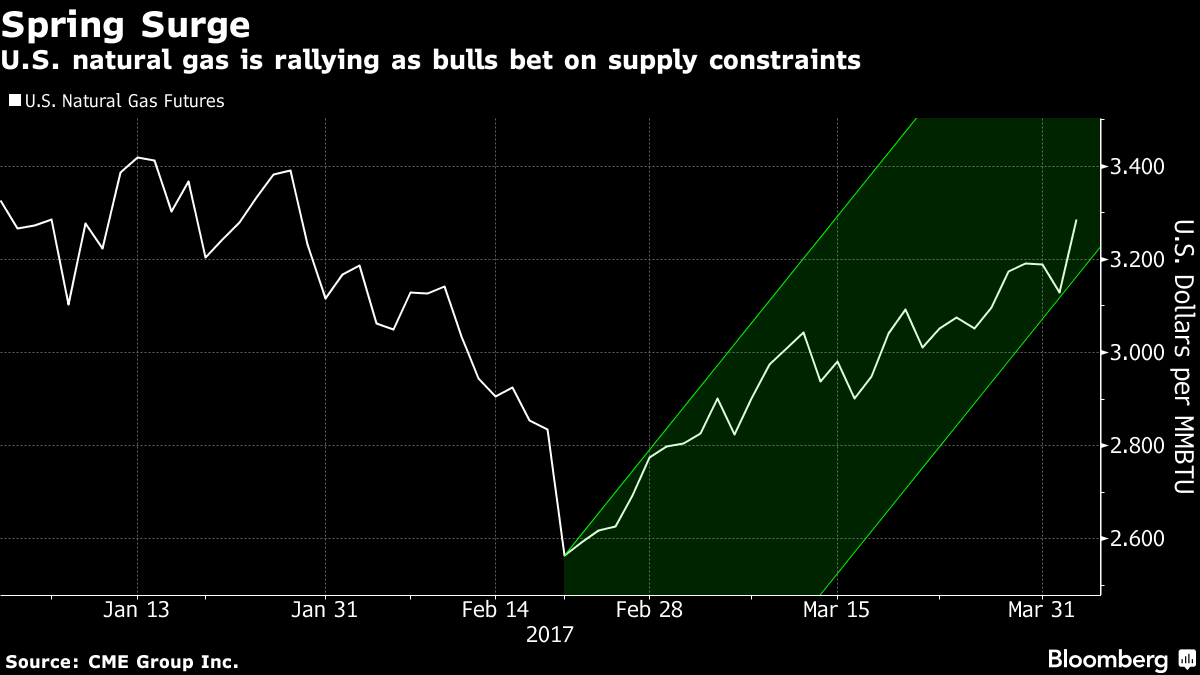 TEA LEAVES
The Federal Reserve on Wednesday will release the minutes from its last meeting, on March 15. What traders will be most focused on is what policy makers had to say about the central bank's $4.5 trillion of assets, made up primarily of the Treasuries and mortgage-related bonds it bought through its quantitative easing measures. When the Fed does begin shrinking its balance sheet, it may also take a breather from interest-rate increases, New York Fed President William Dudley said in a March 31 Bloomberg Television interview. "If we start to normalize the balance sheet, that's a substitute for short-term rate hikes," and "we might actually decide at the same time to take a little pause in terms of raising short-term interest rates," Dudley said. His remarks caused traders to mark down the chances of a rate boost in the first half of 2018 to the lowest since November, prices of federal funds futures contracts show, according to Bloomberg News's Jeanna Smialek, Liz McCormick and Matthew Boesler.

DON'T MISS
Falling Real Yields Key to Understanding Markets Now: Ben Emons
Housing Boom Is Anything But as Ownership Falls: Gary Shilling
Why Economics Failed to Warn of Looming Disaster: Noah Smith
New Currency Peg Is No Panacea for Iceland: Mohamed A. El-Erian
What's Driving the U.S. Trade Deficit With China: Michael Pettis
To contact the author of this story:
Robert Burgess at bburgess@bloomberg.net
To contact the editor responsible for this story:
Max Berley at mberley@bloomberg.net
Before it's here, it's on the Bloomberg Terminal.
LEARN MORE