Middle East
American Protesters' Cause Isn't Clear to Israel
A movement of young Jews is more willing to commit to a Palestinian state than to the Jewish one.
by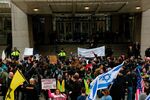 Israel's left-leaning daily newspaper, Haaretz, sent an email alert last week with the tantalizing headline, "Why U.S. Jews will never be the same after mass AIPAC protests." The reference was to a protest organized by a relatively new organization of mostly young American Jews called If Not Now, at the American Israel Public Affairs Committee's recent policy conference.
If Not Now, which calls itself a "movement," took its name from the Talmudic sage Hillel, who said, "If I am not for myself, who will be for me; and if I am only for myself, what am I? And if not now, when?" Several hundred protesters (which If Not Now described as "more than a thousand") marched, danced and sang outside the convention center in Washington where Aipac had gathered; a few chained themselves to the pavilion's doors.
What the protest organization seeks is not clear. After all, inside the Aipac conference, Republicans and Democrats spoke and disagreed, as did members of Israel's ruling Likud Party and the head of the opposition. If Not Now's website states that its principles emerged during the 2014 Gaza War: "Stop the War on Gaza, End the Occupation, and Freedom and Dignity for All." The Gaza war is over, while "freedom and dignity for all" remains equally uncontroversial and elusive.
As for how to "end the occupation," If Not Now has no position. "The occupation is a daily nightmare for those who live it -- and it is a moral disaster for those who support it and who administer it," its website says.
Millions of Israelis agree. Indeed, many of the Israelis at the conference (myself included) said exactly that. Yet Israelis, when asked why the occupation has not ended, point to Israeli Prime Minister Ehud Barak's proposed settlement, which Palestinian leader Yasser Arafat rejected. They know that Prime Minister Ehud Olmert made an even better offer, which Mahmoud Abbas, Arafat's successor, also rejected. Some are also aware that behind-the-scenes negotiations were taking place under Benjamin Netanyahu even in early 2014, but Abbas pulled the plug on those as well.
Why doesn't If Not Now address any of those attempted deals? One real possibility is that they know nothing about the conflict. Why not learn? Because another possibility is that the members of the organization are interested in little more than venting anti-establishment rage at their parents' generation, couched in the form of objection to Israeli foreign policy.
When the group protested at the Anti-Defamation League's New York national headquarters last year, Jonathan A. Greenblatt, the ADL's chief executive, told them that his organization also supports both an end to the occupation and a two-state solution -- and he invited them in to discuss their mutual work. The If Not Now protesters, however, refused the invitation. They preferred to stay in the lobby until they were arrested. That is not how serious people shape policy.
No less likely, however, is that these are not rebels without a cause, they are rebels with an insidious one. It is quite possible, even leaders on the left have noted, that If Not Now is one of several organizations masquerading as pro-Israel groups who wish to end the occupation, when what they really wish to end is Israel. That would explain the peculiar statement on If Not Now's website: "We do not take a unified stance on BDS, Zionism or the question of statehood."
That unwillingness to take a unified stance on Zionism or (Israeli?) statehood is a departure from American Jewish protests against the occupation a generation ago. Then, young liberal Jews seeking changes in Israeli policy went to great lengths to assure both Israelis and Americans Jews that their commitment to Zionism and Israel was absolute.
Today, things are drastically different. If Not Now is hardly the only "anti-occupation" voice unwilling to declare itself Zionist, unwilling to state unequivocally that it believes in the legitimacy of the Jewish state.
During the recent U.S. presidential primary season, Simone Zimmerman (also a co-founder of If Not Now) served as Bernie Sanders' representative to the Jewish community for five days until he summarily fired her when he discovered she had posted obscenities about Netanyahu on her Facebook page. Now an unofficial spokeswoman for the Jewish progressive left, she recently made a brief video statement to Haaretz in which she noted that she considers the Boycott, Divestment and Sanctions movement a "legitimate tactic," even though BDS then had a clear statement on its website (since emended) asserting that Israeli occupation began not in 1967, but in 1948 -- meaning that the state itself is illegitimate.
The activist group Jewish Voice for Peace is yet another example. Haaretz recently posted a profile of executive director Rebecca Vilkomerson, "the Jewish voice at the heart of the boycott Israel movement." As if to highlight her Jewish credentials, Haaretz noted "she spent three years in Israel, is married to an Israeli and has relatives in the West Bank." That biographical curiosity and the name of her organization notwithstanding, Jewish Voice for Peace recently invited Rasmea Odeh, a Palestinian terrorist convicted of planting a bomb in 1969 that killed two Israelis (she has never expressed remorse) to speak at their conference. Also featured at the conference was a leader in the Black Lives Matter movement, Rachel Gilmer, who said, "Many liberal Zionists believe that the problem with Israeli apartheid is simply a few bad policies, or Netanyahu, or the wall, but the problem is with the ideological foundation of the state itself: Zionism. Zionism at its core is white supremacy." How Jewish Voice for Peace intends to achieve peace is no secret, and If Not Now may not be very different.
Israelis are growing tired of what they see as widening and dishonestly masquerading anti-Israel sentiment among American Jews, and are beginning to push back. Israel just passed a law (controversial among American Jews but much less discussed in Israel) giving the government permission to refuse entry to foreigners, Jewish or not, who support a boycott of Israel.
At a Jewish town-hall meeting near Boston last week, a member of the audience spoke to four visiting members of Knesset, referring to Operation Protective Edge in the summer of 2014. "I cannot look the other way when three Israeli teenagers are brutally murdered," she said, "and the response is to kill 2,300 Palestinians." The four lawmakers, representing a broad swath of Israeli politics, all chastised her for that lopsided characterization of the conflict.
Likud's Amir Ohana responded most pointedly: "War is horrible. I lost friends, I lost family. … But to say that the response to the murder of the three youngsters was the killing of 2,300 [Palestinians] is to ignore the thousands and thousands of rockets thrown from Gaza to Israeli citizens. Each and every one of them [was] targeted to kill us. And if I will have to choose between losing more lives of Israelis, whether they are civilians or soldiers, or losing you, I will sadly, sorrily, rather lose you."
Haaretz was right that something is shifting, and may never be the same. What will change because of these protests, however, is not U.S. Jewry, but the relationship between American Jews and their Israeli counterparts. Growing groups of each community are now willing to disown the other. Given political and cultural trends in each country, the widening chasm may be inevitable -- but given how interconnected the flourishing of the two communities has long been, it could well also prove trouble for both.
To contact the author of this story:
Daniel Gordis at danielgordis@outlook.com
To contact the editor responsible for this story:
Stacey Shick at sshick@bloomberg.net
Before it's here, it's on the Bloomberg Terminal.
LEARN MORE