view
Women Don't Get to Run Top Board Committees
Plenty of evidence suggests it would pay off for their companies.
by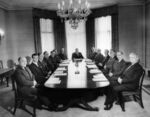 Women now hold about a fifth of board seats at big U.S. companies. 1  That share has gone up over the past couple of decades; in 1999 just 11.2 percent of Fortune 500 board members were women. But what kind of roles and responsibilities are these women getting?
This question occurred recently to Deb Henretta, a former top Procter & Gamble Co. executive who is now a senior adviser at G100 Companies and serves on several corporate boards (Corning Inc. and Staples Inc. among them), and Kimberly A. Whitler, a marketing professor at the University of Virginia's Darden School of Business. "We felt all the focus was on getting women on boards," Henretta said, "but we realized that just getting women on boards isn't necessarily going to give women the voice they need in the boardroom."
So they dug through the board rosters of the companies on the Fortune 500 to see what sorts of committees women were put in charge of. Here's what they discovered:
Executive, compensation, audit and what Henretta and Whitler classified as "strategy/financial" committees tend to be prestige posts, generally run by top executives or subject-matter experts with long board experience. Human resources and corporate responsibility/public policy, not so much. Nominating/corporate governance committees seem pretty important, though -- and I guess you could make the argument that HR and corporate responsibility committees are becoming more important over time.
So what's going on here? Whitler, in an email, offered four possibilities:
One argument could be that some of these committees may become power committees in the future. Another argument could be that the skill set of the women that they are bringing onto boards better fits with these committees. If you bring a woman with expertise in talent management, it would make sense to have her lead a talent-focused committee. A third argument could be that the women are new(er) to the board (and/or newer to board positions) and that these committees are learning and growth opportunities that are stepping stones to a bigger committee chair position at some point in the future. A final argument could be -- and this is an uncharitable point of view (remember we don't have any data so this is just supposition) -- that the women are being given token appointments.
Henretta, in a phone conversation, put most of the weight on argument No. 3: "We don't think there's anything intentional going on here; women have to grow into leadership positions," Henretta told me. "But as we get to a fair share of women on boards, we should be looking to get a fair share of representation across all the committees. We shouldn't have the male committees and the female committees."
Why shouldn't we want that? And why should we want more women on corporate boards? One set of arguments has to do with simple equity: Women make up almost 51 percent of the U.S. population, and 48 percent of the private-sector workforce, so 20 percent board representation seems awfully low. More intriguing (to me, at least), though, are the arguments that putting more women on boards leads to better decisions.
One aspect of this is that women make a lot of consumer purchasing decisions, so companies that sell to them (such as Henretta's former employer, P&G) would be wise to have women well represented in their executive and board ranks. To some extent, they already do: Corporations that sell mostly to consumers have a higher percentage of female board members than those that sell to other businesses, according to research by Credit Suisse AG.

Another, more universally applicable hypothesis is that, in decision-making groups, diversity pays. Here's Whitler:
The theory behind the benefit of diversity, including diversity of experience, knowledge, skill, and demographic diversity, is that more diverse perspectives/experiences/skills/viewpoints can broaden the lens through which the board identifies problems, considers options, and makes decisions, translating into better outcomes.
As the University of Michigan's Scott E. Page, a leading researcher on the impact of diversity on decision making, reported in his book "The Difference":

If I formed two groups, one random (and therefore diverse) and one consisting of the best individual performers, the first group almost always did better. In my model, diversity trumped ability.
I don't think Page is going to be able to persuade corporations to start randomly choosing their directors anytime soon -- there does seem to be some basic level of competence and know-how required. But adding well-qualified women is at least a step in the direction of more diversity, and there is evidence that suggests the presence of women on boards improves performance.
Catalyst, an advocacy group, has produced several studies showing that Fortune 500 corporations with high percentages of female board members outperform those with low percentages. Global surveys by Credit Suisse and index provider MSCI found similar evidence that companies with women on their boards did better than those without -- and MSCI also found that "companies lacking board diversity tend to suffer more governance-related controversies than average."

Then again, none of these correlations proves anything, and there have been multiple lower-profile studies that have failed to show such a link. At this point the "high-quality scientific consensus," Northwestern University psychologist Alice E. Eagly wrote in a survey article last year, is that "diversity-performance relations are mixed and produce null or very small means when aggregated across studies."

So we don't know for sure that adding more women to boards makes companies perform better, although there are intriguing arguments for why it should. Given how underrepresented women still are on U.S. corporate boards, and especially on key board committees, it does seem reasonable to conclude that adding and promoting more women is awfully unlikely to hurt.
It's 22 percent at Standard & Poor's 500 Index companies, according to the EY Center for Board Matters, and just under 20 percent at the Fortune 500 companies examined by Henretta and Whitler in the study discussed in this column. The share is smaller for smaller companies; women make up 15 percent of board members at S&P SmallCap 600 companies.
To contact the author of this story:
Justin Fox at justinfox@bloomberg.net
To contact the editor responsible for this story:
Brooke Sample at bsample1@bloomberg.net
Before it's here, it's on the Bloomberg Terminal.
LEARN MORE