view
Oil Traders Are Looking at the Wrong Inventory Data
There is plenty of crude, which is a raw material, but there is a decline in the actual refined products that drivers consume.
by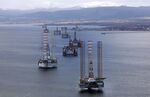 Traders in the energy market are too focused of late on crude oil inventories. When oil inventories rose in last week's Department of Energy report many zeroed in on the fact that they increased less than expected to explain a bump higher in the price of crude. Traders largely ignored recent trends showing sharp drops in gasoline and distillate inventories.

With the U.S. summer driving season approaching, the short-term focal point should not be on oil inventories, but rather on product inventories and refinery margins, known as crack spreads. While U.S. oil inventories are at record highs, oil cannot fuel the summer driving season. Only gasoline and diesel can. And gasoline inventories fell last week for a sixth consecutive week, while distillate inventories -- which include diesel -- fell for a seventh consecutive week.

In other words, there is plenty of crude oil, which is a raw material, but there has been a decline in the actual refined products that drivers consume. Product inventories fell in last week's DOE report by a combined 6.2 million barrels, bringing the total product inventory decline over the past six weeks to 36.5 million barrels. That's the biggest six-week drop in almost 11 years -- and the summer driving season doesn't even start for another seven weeks.
Energy markets reflect the importance of refined products through crack spreads. This is a market proxy for the profit margin refineries receive, and its named is derived from the refining process known as cracking, whereby hardrocarbon molecules are broken down – and cracked – into petroleum products, such as gasoline. The gasoline crack spread is a calculation subtracting the price of one barrel (or 42 gallons) of oil from one barrel of gasoline. There is also a crack spread for heating oil, and a 3-2-1 crack spread, which is designed to represent the split of refined products in American refiners of light sweet crude oil, which yield about 2/3 gasoline and 1/3 heating oil. The 3-2-1 crack spread is calculated by adding the price of two barrels of gasoline to the value of one barrel of heating oil, minus the price of three barrels of crude oil.

But at this time of year, with the summer driving season contracts trading on the NYMEX and Memorial Day weekend quickly approaching, the gasoline crack spread is a more significant leading indicator of crude oil prices. After all, wide profit margins logically incentivize refineries to buy more oil and turn it into refined products. This should drive up demand for oil, sending oil inventories lower and prices higher.



The gasoline crack spread rose like a rocket in recent weeks, despite a decline in long oil positions held by speculative traders just as the fundamental reality of the imminent summer driving season began to come into view. This doubling of the gasoline crack spread in recent weeks contributed significantly to the critical turn higher in West Texas Intermediate prices last week -- prices which had fallen for over a month following the recent high on Feb. 23.



While the crack spread is leading the price of crude oil higher as refinery demand picks up, market fundamentals are also supportive of oil prices. On the supply side of the equation, the Nov. 30, 2016 OPEC agreement to reduce crude oil production looks increasingly likely to be subject to a rollover at the OPEC meeting on May 25, 2017. On the demand side, global dynamics are looking up, with the Chinese Caixin manufacturing PMI continuing to expand and a modest acceleration in the pace of global GDP seems likely through 2018. These demand factors are likely to engender an increase in oil demand growth.
Technicals have also recently improved for WTI crude oil prices, with trading patterns such as stochastic, volume, and relative strength indicators showing bullish confirmations. Plus, the rise in prices maintained the trend of higher lows in place since August. If technicals were to break the trend of higher lows, this would likely trigger a significant selloff. But with product inventories recently falling by the most in more than a decade, very wide gasoline crack spreads, OPEC supply cuts likely to continue, and expansions in global demand, it is difficult to imagine how oil prices could collapse immediately ahead of the summer driving season
To contact the author of this story:
Jason Schenker at jasonschenker@prestigeeconomics.com
To contact the editor responsible for this story:
Robert Burgess at bburgess@bloomberg.net
Before it's here, it's on the Bloomberg Terminal.
LEARN MORE