view
The Fed Is Bedeviled by Keynes's Paradox
Savers have $11.7 trillion in bank deposits, up from $7.23 trillion since the Fed cut rates to near zero.
by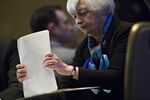 The economist John Maynard Keynes warned that ultra-low interest rates would backfire on central banks seeking to spur borrowing and spending, yet they seemed surprised that the current recovery is the weakest in postwar history after cutting rates to near zero, or even below in some cases.
Keynes is credited with popularizing the "paradox of thrift," which is the economic theory that posits people tend to save more during recessions as rates fall to offset the income their savings is not generating. Of course it is the case that when you save more, you spend less. Since the U.S. economy is fueled by consumption, it also stands to reason that growth suffers as a result.
It's been two years since Swiss Re produced a report that calculated U.S. savers had foregone some $470 billion in interest income. The analysis was based on what rates would have been had the Federal Reserve followed the Taylor Rule, which would have put rates, then at zero, at 1.7 percent.
Even as the Fed has begun to raise rates, it is clear that hundreds of billions of dollars have been squirreled away as savers play defense to counteract the Fed's ultraloose monetary policy. Some $11.7 trillion is sitting in bank deposits, up from $7.23 trillion at the start of 2009 shortly after the Fed cut rates to near zero, central bank data show. 

Although the Swiss Re report acknowledged that higher home prices and stock market values somewhat offset what households missed out on in earned in interest, the caveat was that the bulk of the wealth created via those two avenues flowed to the wealthiest. Two years on, the skew is, if anything, more acute. Even as the prices of stocks and luxury homes have scaled new heights, for the vast majority of Americans, so has the cost to buy or rent a home and that of healthcare.
The recessions of the early 1980s marked a turning point for U.S. households as the increase in the cost to rent shelter began to outpace that of the overall consumer price index. But the past five years have been an especially difficult period for workers. With the exception of a few months here and there, rental inflation has not only outrun the CPI, but also income growth. At last look, average weekly earnings were growing at a rate of 2.5 percent, versus 3.5 percent for rental inflation.

Tack on an overabundance of debt tied to student loans and car payments and it's easy to connect the dots to the record number of Millennials who continue to live with their parents. At the opposite end of the demographic spectrum, the statistics are equally harrowing. Baby Boomers are carrying unprecedented debt levels relative to prior generations of retirees and rightly overwhelmed at the prospect of retiring on fixed incomes.

The growth in inflation-adjusted credit card spending has galloped ahead of income growth in recent years, reflecting the stress that's been slowly building for many households.
Friday's report on personal income and spending will shed fresh light on the savings many continue to stockpile. With one-year certificate of deposits paying an average rate of 1.25 percent, it's fair to say many consumers will continue to save more than they spend. As to the why, compare the CD rate to the most forgiving inflation gauge, released in the same report Friday and preferred by Fed officials -- the "core" personal consumption price index that excludes food and energy.
January's 1.7 percent reading in the core PCE may have been the quickest since July 2014, sending off alarm bells for Fed officials. That said, the still-low level, which remains shy of the Fed's 2 percent target, continues to outpace what savers can generate in income.
As Keynes's paradox dictates, retirees have nothing but impossible choices to make. Either they sleep with one eye open, hoping they don't outlive their prudently stashed savings which are not keeping pace with the rising cost of living. Or they sleep with the other eye open, with their principal at risk, the price they pay for being exposed to risky securities whose returns do outpace inflation. Paradox indeed.
To contact the author of this story:
Danielle DiMartino Booth at Danielle@dimartinobooth.com
To contact the editor responsible for this story:
Robert Burgess at bburgess@bloomberg.net
Before it's here, it's on the Bloomberg Terminal.
LEARN MORE