view
When Russia and Ukraine Battle in Court, the West Wins
Even Putin has decided to rely on the Western legal system to help settle a bitter feud.
by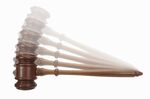 In addition to the skirmishes in eastern Ukraine and a full-scale trade and economic war, a battle is raging between Russia and Ukraine in Western courts. For now, the score is just about even.
On Wednesday, Judge William Blair of the High Court of Justice, the older brother of former British Prime Minister Tony Blair, ruled that Ukraine had presented "no justifiable defense" for not paying on a $3 billion Eurobond deposed President Viktor Yanukovych sold to Russia in December 2013, less than three months before he fled Ukraine. 1  The judge refused Ukraine's request to hold a trial in the case and said he would like to distinguish between the law in the case and the "troubling" political and military background such as the Russian annexation of Crimea and its backing for separatists in eastern Ukraine.
This is only an interim judgment, but it's likely now that the London court, in which Russia sued after Ukraine refused to pay the debt, will decide that Ukraine must pay up with interest, which adds $700,000 a day to the bill. It's more important for London courts to reinforce the ironclad protection English law affords to Eurobonds than to uphold Ukraine's political arguments.
If that happens, Ukraine, with its tight budget, uncertain growth and troubled relationship with the International Monetary Fund, is looking at something like a 15 percent increase in government debt. Former Finance Minister Natalie Jaresko, for whom not paying on the bond was part of a supposedly successful debt-reduction strategy, was recently picked to resolve Puerto Rico's debt restructuring, a $625,000-a-year gig.
This, however, is not the only front on which the legal war between Russia and Ukraine and its Western allies is playing out. Rosneft PJSC, the state-owned Russian oil company, attempted to persuade the European Court of Justice to lift Ukraine-related sanctions against it. It argued the sanctions violated its freedom of doing business and its right to private property, as well as created an uneven playing field for industry players. The court, however, ruled this week that the European Union was entitled to "increase the costs to be borne by the Russian Federation for its actions to undermine Ukraine's territorial integrity" and that it was only fair that Rosneft, as a state-controlled company, had to bear some of that cost. 
Had the court decided for Rosneft, it would have been a far bigger victory for Russia than a favorable ruling on the $3 billion debt. It would have opened the floodgates for all the sanctioned Russian entities to seek redress, too, and it would have effectively limited European sanctions to the Russian government and its employees. President Vladimir Putin's Russia, however, is a business entity as much as a state, and it would have celebrated such a turn of events.
Russia's chances aren't great in one other case. Earlier this month, the United Nations' International Court of Justice held hearings on Ukraine's lawsuit against Russia for the Crimea annexation and for supporting terrorism in the separatist "people's republics" of eastern Ukraine. The Ukrainians made a convincing case: Apart from the self-evident fact that Russia controls Crimea, there's plenty of evidence of Russian involvement in the eastern conflict.
When Georgia sued Russia at the ICJ following the brief war between the two countries in 2008, and Russia's recognition of two breakaway Georgian regions as independent states, the court dismissed the complaint on procedural grounds, namely that Georgia hadn't tried to negotiate a solution before coming to the court. That's going to be harder with Ukraine: Negotiations have been incessant but solutions have been elusive. It'll be a victory for Ukraine if the court decides to delve into the substance of the accusations. And, down the road, there could be significant monetary compensation for Kiev.
Russia has deep pockets and skillful lawyers. It can obfuscate, score procedural points and win on legal formalities. It can even inflict further economic hardship on Ukraine for cutting corners legally. But in the end, it recognizes -- and relies on -- the the same world of rules, dusty legal books and fair play that Ukraine wants to join and Russia has tried to leave behind in recent years to settle its bitter feud with Ukraine. In that sense, no matter what the final score is, the West is winning.
To contact the author of this story:
Leonid Bershidsky at lbershidsky@bloomberg.net
To contact the editor responsible for this story:
Mike Nizza at mnizza3@bloomberg.net
Before it's here, it's on the Bloomberg Terminal.
LEARN MORE