Companies
A Hedge Fund's GM Plan Gives Hedge Funds a Bad Name
Creating two classes of the automaker's stock won't sell cars. It could hurt the company. It's just a gimmick for Wall Street.
by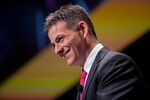 What exactly is the purpose of GM?
If your answer is "to manufacture and sell automobiles" then you obviously haven't been listening to David Einhorn, whose hedge fund, Greenlight Capital Inc., owns 13.2 million shares (0.88 percent) of the company's stock, according to Bloomberg. In Einhorn's view, it would appear, General Motors Co. exists to "unlock value" for shareholders like himself, while getting its dividend to be "respected by the market."
GM's essential problem, as he put it in a slide deck posted on Greenlight's website, is that GM's price-to-earnings ratio is a suboptimal 5.6 -- the lowest among the S&P 500 -- while its dividend yield of 4.4 percent is high relative to the market. In other words, the market is not giving the company credit for its high dividend -- and is undervaluing GM's shares.
Seven months ago, Einhorn went to GM with a pretty wild proposal to fix the situation. He wanted the company to create two classes of stock. The "dividend shares," as he called them, would be held by shareholders who only cared about collecting the dividend. The "capital appreciation shares" would be held by shareholders who wanted to buy into the company's growth prospects. GM is trading around $35 a share. Einhorn claimed that his proposal -- "which would allow investors to optimize to income and/or growth" -- would cause the shares to rise to as high as $60 a share.
Although Einhorn is a clever fellow, there is no guarantee that this idea would work. It could just as easily backfire. And in any case, GM would seem to be the worst company imaginable to press such an idea on. It is a conservatively managed company that would never take a flyer of the sort Einhorn was suggesting. Nor should it: It's a giant company that tens of thousands of people rely on for jobs and millions rely on for that steady dividend. And America relies on it for cars.
Yet once Einhorn tossed his idea into the company's boardroom, the company had no choice but to drop everything and evaluate it with a seriousness it didn't deserve. Company officials met with Einhorn 15 times. The board met five times to discuss his proposal. The GM finance staff pored over his proposal, testing it and retesting it. During the last three months, chief executive Mary Barra was also deeply involved.
Finally, on Tuesday, the company turned Einhorn down, noting that creating two classes of stock would probably "lead to selling pressure by a significant universe of institutional owners and cause concern and confusion among retail holders." It would also change the company's capital structure and put the company's credit rating at risk. All while doing nothing to, say, improve the company's cash flow or, for that matter, help it sell cars. Einhorn's play was an exercise in financial engineering, pure and simple.
Ploys like Einhorn's are what give hedge funds a bad name. (When he brought a similar proposal to Apple Inc. -- calling for it to issue preferred shares -- he nicknamed the shares iPref.) Einhorn can say he is a long-term holder of GM who believes in GM's prospects, but proposals like his take management's eye off the ball. They are about making a short-term killing. They consume bandwidth that would be better spent competing with Toyota.
Me, I think the purpose of GM is to make and sell automobiles. If it does that well enough, the profits will allow shareholders to share in the company's success. But then, I'm old fashioned that way.
(
Corrects description of GM's price-to-earnings ratio in third paragraph. Corrects description of GM board meetings in sixth paragraph.
)
To contact the author of this story:
Joe Nocera at jnocera3@bloomberg.net
To contact the editor responsible for this story:
Jonathan Landman at jlandman4@bloomberg.net
Before it's here, it's on the Bloomberg Terminal.
LEARN MORE