Prophets
Saudis Thinking Beyond Oil in Asia Courtship
The partnership between Saudi Arabia and Asia has been gaining in importance over the last decade.
by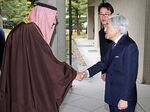 King Salman bin Abdulaziz's trip to Asia has been characterized as either a routine visit to bolster the already strong trading ties between Saudi Arabia and Asia, an effort to diversify ties away from the U.S. or as a way to attract investments into Saudi Arabia and promote its own. The reality is that it's a combination of all the above. Yes, oil is an important part of the story, but not the only part.

About two-thirds of Saudi Arabia's oil exports end up in Asia. The perception in the Middle East is that the U.S. in recent years has de-emphasized the region while initiating a type of rapprochement with Iran. By initiating investment deals with Malaysia, Indonesia, Japan and China, Saudi Arabia is hoping to spark reciprocity and presence in Asia. The partnership between Saudi Arabia and Asia has been gaining in importance over the last decade, and strengthened in 2016 when Asia overtook the European Union to become the largest trading partner with the Gulf Cooperation Council.
Japan imports 83 percent of its oil from the Gulf, with more than a third sourced from Saudi Arabia. Both countries enjoy excellent diplomatic ties that date back to 1938 when Saudi envoys visited the country for the opening of a mosque in Tokyo. The Toyota Land Cruiser is the best-selling and most celebrated SUV in Saudi Arabia, and Toyota Motor was asked again to launch a feasibility study to produce certain vehicles in the nation.
For the Saudis, technology acquisition with high value added content is essential. Besides assembling vehicles which might take long to decide, if the right incentives are put in place, an SME sector in producing spare parts for the global vehicle industry could be a viable alternative.
The visit to Japan was also about getting Saudi Aramco listed on the Tokyo Stock Exchange once it sells shares to the public. Competition from other exchanges such as those in New York, London, Hong Kong and Singapore is fierce for what could be world's largest ever initial public offering.
China's role and influence in global markets is a big lure to Saudi Arabia. It is the world's largest energy consumer and the second-biggest importer of crude, after the U.S. Just like the Japanese, China is driven by its need to secure sources of energy. That gives Saudi Arabia an opportunity to solidify its market presence in Asia amid rising competition from Russia. Although Saudi Arabia now ships more of its oil to China than the U.S., China now buys more of its oil from Russia than Saudi Arabia. While in China, King Salman oversaw the signing of $65 billion of potential deals in everything from energy to manufacturing, and even a theme park. Although some analysts quickly dismissed the amount as little more than an eye-catching headline, it does serve signal a deepening of ties between the two countries.
More importantly, it is the first time specific bilateral targets and institutional channels have been set up for government entities to follow up, which will help in realizing these projects and agreements. Many of these investments will be spread over several years in order not to overburden the balance sheet of the state, especially its reserves, which help maintain the pegged currency. In its latest report, Fitch Ratings reiterated that the government's balance sheet remains strong relative to "A" and "AA" peers.
It should be noted that China is increasingly thinking about a maritime commercial transport corridor to Europe. Chinese-built port installations are a core strategy, connecting the Indian Ocean, the Red Sea and the Suez Canal, culminating with Greece's port of Piraeus, which, thanks to its new Chinese owners, is one of Europe's largest and most efficient. Logistics is a key part of Saudi Arabia's Vision 2030, with the nation seeking to raise its global logistics ranking to 25 by 2030 from 52 in 2016. More than 10 percent of global maritime trade passes through the Red Sea each year.
Saudi Aramco's downstream expansion, which refers to the refining of petroleum crude oil, led the way in Indonesia and Malaysia. Unlike with Japan and China, the visit to Indonesia was the first for a Saudi monarch in 47 years. The $6 billion investment between Saudi Aramco and Pertamina was inked to expand an Indonesian oil refinery. In Malaysia, a $7 billion deal was finalized with state-owned Petroalim Nasional to develop an oil refinery and naphtha cracker as well as provide 70 percent of its crude requirements. This is slated as the largest Saudi Aramco investment outside the kingdom.
All this is not to say that Saudi Arabia is ignoring its old allies. As King Salman was visiting China, the deputy Crown Prince, Prince Mohammed bin Salman, went on a short visit to meet U.S. President Donald Trump. Some $200 billion in investments in the next four years were announced in a statement by the White House, focused on energy, industry, infrastructure and technology. For Saudi Arabia, both the U.S. and Asia bring unique cards on the table that would help diversify the kingdom's economic diplomacy options.
To contact the author of this story:
John Sfakianakis at jsfakia@gmail.com
To contact the editor responsible for this story:
Robert Burgess at bburgess@bloomberg.net
Before it's here, it's on the Bloomberg Terminal.
LEARN MORE