Editorial Board
What Trump Can Do for Venezuela
Let Latin America take the lead.
by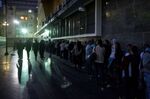 In between tweets last weekend, President Donald Trump took time to talk with Brazilian President Michel Temer and Chilean President Michelle Bachelet. Top of mind in both calls were efforts to encourage "respect for democratic and humanitarian rights in Venezuela."
A worthy goal, but if Trump really wants to restore democracy in Venezuela, he should let Latin America take the lead.
It's not that Trump is wrong when he says that Venezuela "has been run into the ground by socialists." Despite its world-beating oil reserves, Venezuela's economy continues to shrink. Food and medicine are in short supply. Asylum requests by Venezuelans in the U.S. have spiked; hundreds of thousands of would-be emigres can't even get passports. Inflation is so bad that people weigh currency instead of counting it. President Nicolas Maduro continues to repress his opponents, suborn political institutions, and deflect outside calls for dialogue.
Yet whereas Trump's predecessor Barack Obama did too little to pressure Maduro, the danger is that Trump may do too much, undermining more promising multilateral efforts to resolve the country's political crisis.
Maduro is well positioned to turn another thwacking from Uncle Sam's big sanctions stick to his political benefit. Trump's declared policies on immigration, trade and Cuba -- all sharp departures from Obama's -- have set Latin America on edge. His attacks on the judiciary and free press in the U.S. make him an implausible champion for those causes abroad. And the empty halls and depleted budget of his State Department have made it a poor vessel for effective diplomacy.
The political tide in Latin America is turning against Maduro. In December, the Mercosur trading bloc in effect suspended Venezuela's membership -- a move that could lead to expulsion under the group's democracy clause. Now Luis Almagro, the secretary general of the Organization of American States, has revived his call to invoke the OAS's democratic charter, which would empower its members to nudge Venezuela to honor the rights of its citizens.
At the moment, Almagro doesn't have the votes to win, but heavy-handed pressure from Trump isn't going to help. It will be up to Argentina, Brazil, Chile, Colombia, Peru and Venezuela's other neighbors -- all of which have paid a price for Venezuela's dysfunction -- to rally other members.
Meanwhile, the U.S. can work behind the scenes. Filling empty ambassadorial slots at the OAS and Argentina wouldn't hurt. U.S. influence at the United Nations and with the European Union can also be brought to bear. In lieu of more sanctions, the U.S. could step up investigations and prosecutions of Venezuelans responsible for drug trafficking, corruption and money laundering. Weaning Caribbean countries off the subsidized Venezuelan oil that has kept them in Maduro's corner could be fruitful. Maybe the new secretary of state and former CEO of Exxon Mobil Corp. has some ideas on that.
Leading from behind may not be Trump's style. That's a pity, because it's the surest way for the U.S. to get results in Venezuela.
--Editors: James Gibney, Clive Crook.
To contact the senior editor responsible for Bloomberg View's editorials: David Shipley at davidshipley@bloomberg.net .
Before it's here, it's on the Bloomberg Terminal.
LEARN MORE