Brazil
Don't Throw Out Your Brazilian Beef Just Yet
An overblown scandal over tainted meat could end up doing the country more good than harm.
by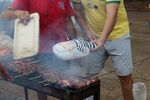 Barbecue, like samba and plea bargains, is big in Brazil. Beef, pork and poultry kicked in $145 billion to its economy in 2015, the last year for which there is complete data, and generated 15 million jobs from the farm to the freezer trucks, according to agribusiness think tank Agroconsult. So no wonder President Michel Temer answered the national stink over dicey practices by meatpackers and bent inspectors with some classic native sizzle. On Sunday, he hastily summoned resident ambassadors to a rodizio, a Brazilian-style protein orgy where roving waiters with carving knives ply patrons with braised meat until they can take no more.
Ok, so the beef was mostly imported, and doubtlessly fly-specked to preempt diplomatic dyspepsia. And yet the scandal illustrated not just how important agro-industry is to Brazil's prostrate economy, but also how over-eager sleuths have been driving the increasingly excitable Brazilian political cycle -- and occasionally turning facts into fireworks.
The scope of the March 17 police dragnet, codenamed Operation Weak Flesh, was startling: 1,100 federal agents placed 27 suspects under temporary arrest and served 194 search and seizure warrants. Three processing plants were shuttered on charges ranging from turning out adulterated or spoiled meats to paying off inspectors to turn a blind eye to irregularities. By Monday, Chile, China, the European Union and briefly Korea had temporarily suspended orders for some meats from Brazil, the world's largest supplier. Korea lifted its ban on Tuesday after Brazil blacklisted 21 processing plants.
The final tally of the police round-up, however, was somewhat less impressive. Most of the alleged irregularities centered on small, local meatpackers, although some shipments by food giant BRF SA and three plants owned by global conglomerate JBS SA, the world's largest meat producer, were also targeted. Police also ordered the preventive detention of a JBS veterinarian and several BRF executives, including the institutional relations director accused of trying to influence government inspectors. Of Brazil's 11,000 plant inspectors, 33 were suspended pending investigation. Agricultural inspectors in three states stand accused of taking bribes, including a dodgy safety superintendent in the southern state of Parana, who was already under official scrutiny.
As potentially damaging as the charges may be to Brazil's already-hobbled economy and image, Operation Weak Flesh could end up doing the country more good than harm. Industry analysts note that Brazil is one of the few countries that posts inspectors inside meatpacking plants, where their job is to flag and halt irregularities on the spot. "Federal oversight goes back 100 years. It's a career job and extremely rigorous," said Andre Nassar, an economist at Agroicone, an agroindustry think tank. Agronomist Maurício Nogueira, who analyses the farm economy for Agroconsult, agreed. "The police operation ended up showing how robust the country's system of controls really is," Nogueira told me.
Most of the irregularities caught by police (adding ascorbic acid to freshen meat, injecting water to add weight to poultry, mixing ground pig's head for sausage filler) were more of a threat to pocketbooks and taste buds than good health. (BRF also claimed that the particular strain of salmonella found in some of its meat shipments was not barred by European clients and easily eliminated when cooked.) One of the scarier allegations -- that plants stretched some meat products by adding minced cardboard -- now looks like a misunderstanding. (The cardboard apparently was for wrapping meat.) And despite the carnival of meat memes circulating on the web and Temer's barbecue diplomacy, none of the suspicions fell on fresh beef, its marquee export.
Still, Brazil is a country with big ambitions, and in a globalized economy taint travels. Shares of JBS and BRF tanked after the police raid on March 17, though they bounced pack partially late Monday. It didn't help that JBS's name had just been dragged through the mud of the Carwash case, the massive investigation into contract fraud, bribes and political payola that has shaken Brazil's political and corporate establishment. Keep your eyes on the company's public stock offering, now in the works.
For all the industry's regulatory rigor, government and Big Meat would do well to take a cue from the wider anti-corruption drive gripping the country. Brazil might rethink sanitary protocols. The system of posting inspectors inside processing plants leaves health monitors vulnerable to Stockholm Syndrome-like temptations by shady operators. Another vulnerability: The Agriculture Ministry's regional authorities are usually political appointees, not career specialists, as was the Parana station chief jailed last week on suspicion of heading a "criminal organization."
One solution might be swapping in-house oversight for a U.S.-styled system of spot checks by external inspectors, who test samples at random and can shut down a scofflaw plant with a pen stroke. But at a time of national clamor over yet another corruption imbroglio, increased laissez faire might be a hard sell. "For now, the demand is likely to be for more and closer inspection," Nassar told me. "What we really need is better inspection."
What's certain is that in a land where investigative "hyperactivism" -- to use the Eurasia Group's coinage -- is the new normal, the grilling is far from done.
This column does not necessarily reflect the opinion of the editorial board or Bloomberg LP and its owners.