view
Price and Value Are Increasingly Distorted in Markets
It's more important than ever to understand the distinction between noise and information.
by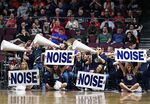 In his 1986 paper "Noise," Fisher Black -- the Goldman Sachs economist who developed the Black-Scholes option pricing model with Myron Scholes -- discussed two kinds of volatility: price and value. According to this theory, when there is short-term volatility in the prices of assets, the long-term value of those assets can be affected.

In Black's analysis, there is a distinction between what causes volatility: noise or information. In today's markets, given the heated election rhetoric in Europe, tweets from the White House and geopolitical saber rattling in Asia, it's more important than ever to understand the interplay between noise, actionable information and ultimately value. 

In general, noise causes short-term volatility in prices, whereas information can alter valuation. Sometimes the two collide, and when that happens, options on stocks, bonds, commodities and currencies become "overpriced," affecting the value of underlying assets. According to Black, the situation should correct itself once investors are able to sift through the noise.

Take yields on shorter-maturity U.S. Treasuries. Federal Reserve officials have made it clear in recent weeks that it is ready to accelerate the pace of interest-rate increases. The comments caused traders to reprice the probability of a hike this week, and the price volatility of federal funds futures expiring in April and May has skyrocketed. The volatility of Treasury note futures, however, has fallen. If Black's logic were to be followed, options tied to fed funds futures may appear "overpriced" because the Fed's initial message could be seen as noise. Nonetheless, with a probability of a March hike close to 100 percent, noise has become information. Thus, if the implied volatility of fed funds futures were to be used to price U.S. Treasury futures, the value of long-term Treasury bonds could be quite different.

To see why this is the case, look at the next graphic. Short positioning in Treasury futures by noise traders (i.e. short-term speculators) exceeds those positions held by value investors (i.e. asset managers). The positioning suggests a possible inflection point in Treasury markets, suggesting that an attempt to breach 3 percent on the 10-year Treasury yield is possible.

Noise and value can also do a sort of role reversal. That's the case with China's yuan. Premier Li Keqiang dropped a pledge to maintain the stability of the yuan in a recent speech. In the market for currency options, the fallout can be seen via the ratios between implied and realized volatility. Those have fallen for emerging-market currencies, except for the yuan, and are the direct result of a large drop in short-term historical volatility of the yuan relative to long-term implied volatility. Now the Chinese government is suggesting a possible greater flux within the +/- 2.5 percent band, the potential "noise" of the Chinese yuan basket volatility may affect other emerging-market currencies that have had benign volatility in 2017.

In Europe, short-term rates have become subject to two-way "noise." On one hand, expectations of a future rate hike by the European Central Bank are building. The probability of an increase in the second half of 2017 stood at 15 percent at the ECB's January meeting, and has risen to 35 percent to 45 percent after the March meeting. Futures show the ECB policy rate will be increased by 40 basis points two years from now. On the other hand, German two-year bund yields remain well below zero percent, driven by haven flows and ECB purchases. The volatility of those expectations may increase as German yields normalize amid faster inflation rises and fewer ECB bond purchases.      

In the crude oil market, an awakening occurred when U.S. inventories jumped and production rose. That may have set in motion expectations that OPEC production cuts may not be sufficient to offset U.S. production increased, making it harder to maintain a $50 to $60 per barrel price range. Thus, crude oil implied volatility has risen, especially in longer maturities of more than one year. Long speculative net positions in oil futures by money managers stand at record highs. This may exacerbate volatility if those positions are unwound when future OPEC cuts disappoint. Over time, long- and short-term volatility may converge as spot prices are likely to settle in a potential new, lower range of $45 to $50 per barrel.        

What do these four examples mean in terms of noise and information? U.S. Treasuries, the Chinese currency, German yields and oil prices are correlated. So, noise created by traders in the yuan may affect Treasury yields and the dollar, and that could affect oil prices. Without noise, however, any volatility would not give a more accurate picture about potential value. Value can be bought or sold, as Black said, depending on the price and the identity of the price setter. Noise on the other hand is a sell most of the time, especially when the insurance value of options is "overvalued."
Currently, markets are looking at noise as rising volatility because broad market sentiment has been complacent. Now a period of noise stemming from political risk in Europe, the Fed meeting, and uncertainty from Washington is coming to the fore, interesting opportunities for value investors will soon appear.          
To contact the author of this story:
Ben Emons at bemons8@bloomberg.net
To contact the editor responsible for this story:
Robert Burgess at bburgess@bloomberg.net
Before it's here, it's on the Bloomberg Terminal.
LEARN MORE