Editorial Board
Trump's Reckless Plan to Starve NOAA
The National Oceanic and Atmospheric Administration conducts essential weather and climate-science research. Let's not skimp here.
by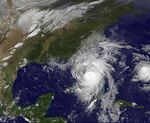 The National Oceanic and Atmospheric Administration is just one of many federal agencies marked for drastic funding reductions to enable a big boost in military spending. But the cuts proposed for America's center of weather and climate research reveal alarming pitfalls in President Donald Trump's approach to budgeting: a reluctance to invest in the future, a disregard for science and a willingness to damage a well-functioning government operation for a minimal pay-off.
According to an outline recently obtained by the Washington Post, NOAA's budget is set to lose almost $1 billion, a crippling 17 percent hit. The cuts would be especially deep to divisions that work on climate modeling, so they might seem unsurprising targets for a climate-change-doubting president. NOAA's satellite office, in particular, recently angered climate deniers in Congress when it demonstrated that there's been no slowdown in the relentless pace of global warming.
But even those who question the human contribution to climate change should recognize the need to carefully monitor climate patterns and carbon levels in the air and oceans. Data that goes uncollected today cannot be retroactively gathered tomorrow.
In any case, NOAA also works on weather models and forecasts, which protect all Americans and many businesses from storms and flooding -- a service worth an estimated $100 annually to every household in the country. TV weather reports and forecast apps depend on data collected and processed by NOAA, as do the insurance and aviation industries.
The satellite program needs consistent funding to maintain a well-operating and up-to-date fleet. Jeopardizing the next generation of satellites puts at risk the ability to manage accurate forecasts two decades from now.
Some parts of NOAA are marked for elimination altogether, such as a program that helps localities protect against rising seas and one that supports coastal research at 33 universities. Direct cuts to the National Weather Service and the National Marine Fisheries Service would amount to just 5 percent, but that's enough to strain their operations and make improvements difficult.
Arguing against budget cuts is a time-honored Washington tradition, and just about every department can argue that its spending is but a tiny fraction of the Pentagon's $600 billion budget. What makes the proposed cuts at NOAA especially pointless, however -- besides the meager savings they would bring -- is their shortsightedness. Accurate weather forecasts will remain a daily necessity. And NOAA's role in assessing the existential threat of climate change is vital.
Fortunately, the administration's budget proposal for NOAA is not yet written in stone. When it comes up for legislative review, Congress should reject these reckless cuts.
--Editors: Mary Duenwald, Michael Newman
To contact the senior editor responsible for Bloomberg View's editorials: David Shipley at davidshipley@bloomberg.net .
Before it's here, it's on the Bloomberg Terminal.
LEARN MORE