Companies
Here's One Company That Hopes Trump Succeeds
Investors are already rewarding the engineering giant AECOM in anticipation of a big infrastructure spending plan.
by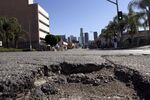 Throughout the campaign and during his speech to Congress last week, President Donald Trump promised $1 trillion for road, bridge, tunnel and airport repairs as well as new construction that could employ millions of Americans. There is no pending legislation for such an initiative and it may be years before any of his proposed big digs begin. But infrastructure already is the stock market's favorite holding since Trump won the White House.
Shares of Los Angeles-based AECOM, an engineering giant with the ambition to become the largest infrastructure company, gained 44 percent in the month after Trump was elected on Nov. 8 and retained most of its record advance in 2017. That's more than double the 11 percent for the Russell 1000 Index the past four months and substantially better than the 23 percent for Russell 1000 Engineering & Contracting Services Index. The Dow Jones Industrial Average and S&P 500 have returned 15 percent and 11 percent, respectively, since the election.
AECOM raised $1 billion last month in the market that allows borrowers to privately sell bonds without registering them with the Securities and Exchange Commission. The offering, of 10-year, non-callable notes rated Ba3 by Moody's Corp. and BB by Standard & Poor's, was increased from $750 million and priced to yield 5.125 percent, according to data compiled by Bloomberg. "It was a perfect execution," said Chairman and Chief Executive Officer Michael S. Burke in an interview at Bloomberg's Los Angeles bureau earlier this week.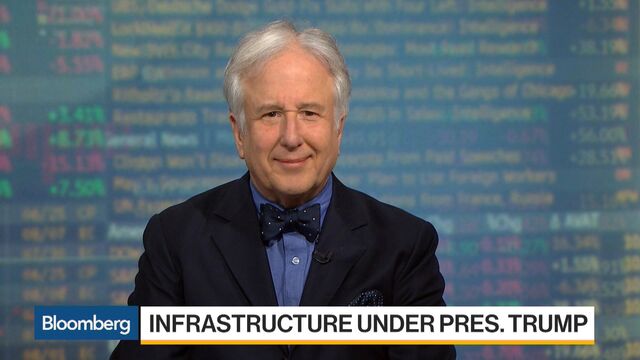 The reality check on AECOM shareholders -- and the Trump rally -- are its bondholders. AECOM bonds are also-rans in the hottest part of the credit markets, gaining only 3.7 percent over the last four months compared to the benchmark 4.2 percent of the Bloomberg Barclays U.S. Corporate High Yield Bond Index. Even industrial companies are doing better, returning 4.3 percent, according to data compiled by Bloomberg.
"'Show me the money' is essentially what the bond market is saying about AECOM in the context of the stock market's great expectations for infrastructure," says Joel Levington, a credit analyst for Bloomberg Intelligence.
That caution by lenders is a reflection of the uncertain politics of infrastructure spending. "The size of President Trump's proposed infrastructure spending plan remains in flux and may ultimately depend on the outcome of comprehensive tax-reform negotiations," wrote Bloomberg Intelligence analysts Carl Riccadonna and Yelena Shulyatyeva in a Feb. 28 report. "Fiscal conservatives in Congress will be opposed to funding the initiative through higher taxes; they are likely to be averse to taking a leap of faith on the notion that increased borrowing at present will pay for itself by generating faster growth in future years."
AECOM's Burke said he is confident that an infrastructure plan "will be in place before the end of 2017" and "implemented over the course of '18 and '19 and forward." He said the company expects "a long-term infrastructure boom" because "we're seeing alignment in Washington, both Democrats and Republicans are equally agreeable to infrastructure."
Such an outcome would be a bonanza for AECOM, which Burke predicted will be transformed into "the largest infrastructure firm in the world" handling "construction and design" projects especially for state and local governments in the U.S. and Canada amid less robust business in Europe and Asia. 
That helps explain why AECOM shares outperformed its five competitors in the Russell 1000 Engineering and Contracting Services Index since the presidential election, according to data compiled by Bloomberg. Even after their recent rally, the company's shares remain a bargain based on the forward-looking price to earnings ratio of 11.7, which is 24 percent less than the benchmark P/E ratio of 15.3. Analysts surveyed by Bloomberg expect AECOM to appreciate 23 percent during the next 12 months, well above their prediction of 16 percent for the benchmark. During the past year, AECOM's cash flow grew 6.5 percent as the benchmark suffered a loss of 21 percent, according to Bloomberg data. The current price-to-cash flow ratio of 6.8 is the lowest in its sector, suggesting AECOM shares still are relatively cheap.
Another measure of AECOM's profitability, Ebitda margin, which shows how much the company turns revenue into earnings before interest, taxes, depreciation and amortization expenses, increased to 4.7 percent, the most since its record of 2013. Much of this improved performance can be attributed to the company's $5.6 billion acquisition of URS Corp. in 2014, enabling AECOM to compete for bigger projects at home and abroad, Burke said. 
Some of the biggest money managers, including Blackrock Financial Management Inc., Vanguard Group and Dimensional Fund Advisors LP, increased their AECOM holdings in 2016, raising the percentage of institutional ownership to 88 percent from 83 percent two years ago, according to data compiled by Bloomberg. State pension funds, led by Alaska, Texas and Switzerland, also have become bigger buyers than sellers of AECOM during the past year. California remains the biggest such investor, even as it reduced its holding to 816 million shares from 909 million in 2016's first quarter, Bloomberg data show.
Burke said the confidence in AECOM is buoyed by the rare convergence of politicians, taxpayers and private investors in support of infrastructure.
He said that global investors, including the Qatari Investment Authority, Chinese sovereign wealth managers and Canadian pension funds, tell him weekly that they want to invest in infrastructure and ask, "Can we do it through AECOM?"
"So we really are at a unique point in time," Burke said. "We have alignment in Washington. We have taxpayer agreement to pay for it. And we have private sector money rushing in."
(With assistance from Shin Pei)
This column does not necessarily reflect the opinion of the editorial board or Bloomberg LP and its owners.