view
Why Hungary Dares to Lock Up Asylum Seekers
Prime Minister Viktor Orban is using Eastern Europe's anti-immigration mood to challenge the rest of the EU.
by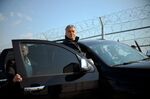 Immigration opponents in Europe and the U.S. often point to Australia as an example of how migrants should be handled: Detain them if they don't have a valid visa and vet them properly before letting them in or sending them back. Now, Australia has its first official European follower: Prime Minister Viktor Orban's Hungary. 
On Tuesday, the Hungarian parliament voted overwhelmingly to detain all asylum seekers for the entire time it takes to process the application. The applicants will be fingerprinted, photographed and kept indefinitely in converted shipping containers, unless they choose voluntarily to give up their asylum claims and go back to the country from which they entered Hungary. The Central European nation was never particularly welcoming -- Orban was apoplectic throughout 2015, when hundreds of thousands crossed his country, mostly to ask for shelter in Germany or the Scandinavian nations, and he openly calls migration a "Trojan horse of terrorism." But automatic, indefinite detention isn't just tough -- it's illegal in the European Union.
A 2013 EU directive clearly states that "Member States shall not hold a person in detention for the sole reason that he or she is an applicant." There are plenty of legitimate reasons -- for example, the need to examine certain aspects of an asylum application, especially when there's a risk that the asylum seeker may run away, to "decide, in the context of a procedure, on the applicant's right to enter the territory," or to ensure public order and safety. Any of these grounds could be used to detain every asylum applicant, but no European country does that. The internationally accepted practice -- which the United Nations High Commissioner for Refugees reiterated in its rebuke to the Hungarian government -- is to exhaust alternatives before detaining a potential refugee. 
National rules and practices vary. Some countries, such as Germany, don't detain asylum seekers unless they are charged with crimes, convicted of them, or scheduled for deportation. If people live in container camps, it's only until better housing can be found, and they can come and go freely. Others, such as the Czech Republic, where the number of detained asylum seekers increased from just a few hundred in 2013 to 8,500 in 2015, have opted for tougher implementations of the EU directive. Everywhere in Europe, though, asylum seekers are mostly allowed to move around freely as long as the authorities know their place of residence; sometimes they are also required to stop by a police station at regular intervals. The idea is not to inflict additional trauma on people who just endured a perilous journey from a war zone.
Officially, the Hungarian government, which recently commenced work on a second fence on its southern border, says "increased threat of terrorism and security risks" are behind the new legislation. But Hungary's overall crime rate decreased in 2015 and 2016, and a slight increase in homicides was ascribed to domestic violence. The only terror attack of note last year was a nail bomb explosion in Budapest, which injured two police officers. It was later pinned on a 23-year-old Hungarian. And there are no more than 400 asylum seekers left in the country, according to human rights organizations: Few people ever wanted to stay there in the first place, both because Hungary is far from prosperous and because it's never made a secret of not wanting immigrants without a Hungarian background.
There are, however, political reasons aplenty for Orban and the far-right Jobbik party that backs him. 
Last October, Orban tried holding a referendum to ban the placement of refugees in his country through any EU quota system. Embarrassingly, Hungarians stayed away in droves, and the vote was ruled invalid. So Orban needed another way to establish himself as the biggest champion of the Australian approach.
Orban, with his illiberal ways, was something of an outcast in the EU for years, always facing obstacles because other national leaders and the bureaucracy in Brussels frowned at his style. But since a nationalist populist party won an election in Poland in 2015, an opportunity emerged for him to lead an informal coalition of Eastern European countries unhappy with the dominance of Western liberal elites in the EU. It was easiest for the East Europeans to find a common ground on immigration: Even the more liberal of these countries, such as the Baltics or the Czech Republic, didn't feel they were wealthy enough to offer asylum and integration to thousands of newcomers. 
Orban waited until securing final approval from the EU for a Russian-backed project to build two additional reactors at the Paks nuclear plant -- something that cost the Hungarian government a lot of time and trouble -- and moved ahead with legislation on obligatory refugee detention. Even if the EU had the means to slap him down, fear of deepening east-west divisions inside the bloc would hold it back. 
Nor, however, will Western Europe follow him. Even though asylum seekers suffer enough indignities in France, Greece, Italy, the Netherlands and other countries where detention conditions can be rough and asylum decisions can take months, anti-immigrant sentiment hasn't yet overwhelmed their basic values. In those nations, automatic isolation for would-be refugees is politically impossible. 
More likely, Hungary's provocative move will harden Western European leaders' resolve to pursue a multi-speed Europe -- namely, to forge a closer union, leaving behind the eastern member states with their nationalist governments. It's an elegant way not to challenge them on specific policies.
To contact the author of this story:
Leonid Bershidsky at lbershidsky@bloomberg.net
To contact the editor responsible for this story:
Mike Nizza at mnizza3@bloomberg.net
Before it's here, it's on the Bloomberg Terminal.
LEARN MORE